Affordable Cedar Fence Lumber For Sale in Wisconsin
Cedar lumber for pickup or delivery throughout the Midwest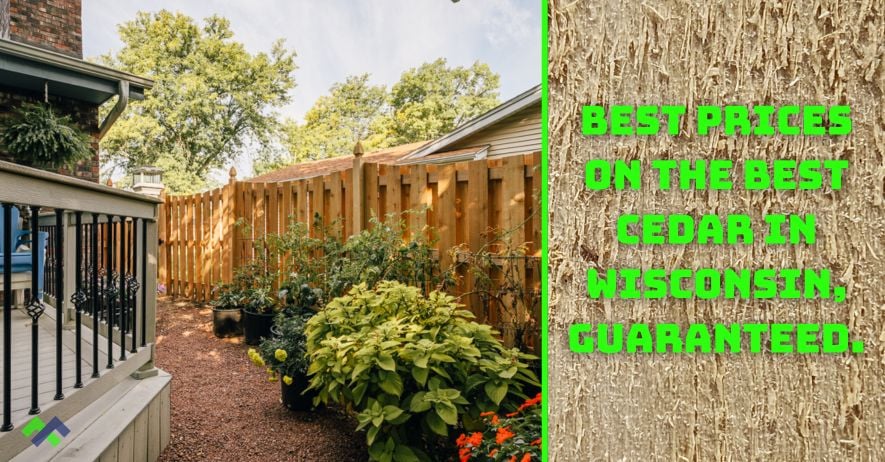 Unmatched Quality in Cedar Fencing Lumber in WI
DIY Fence Lumber and Contractor Fence Supplier in Waukesha
When it comes to fencing, cedar stands out as a top choice for homeowners and contractors alike. Its natural resilience, stunning appearance, and lasting quality have made it a classic choice for fencing materials. But at Milwaukee Fence Finders, we take cedar to the next level.
Superior Fence Pickets: Unlike the conventional 5/8″ thickness found in big home improvement stores, we offer Cedar Fence Pickets with an unparalleled 3/4″ thickness. This extra thickness ensures a more robust and durable fence that can withstand the test of time and weather. Our Cedar Fence Pickets are crafted with precision to meet the exacting standards of both homeowners and professional contractors.
Quality Cedar Products: Beyond the pickets, our Cedar 4 x 4 (true) Fence Posts and Cedar 2 x 4 x 8 (true) maintain the same level of quality and dedication to excellence. Milled with utmost care and attention to detail, these products are true to size and free from common defects.
See the Difference in our Fence Picket Quality. Thicker Material, Denser Wood.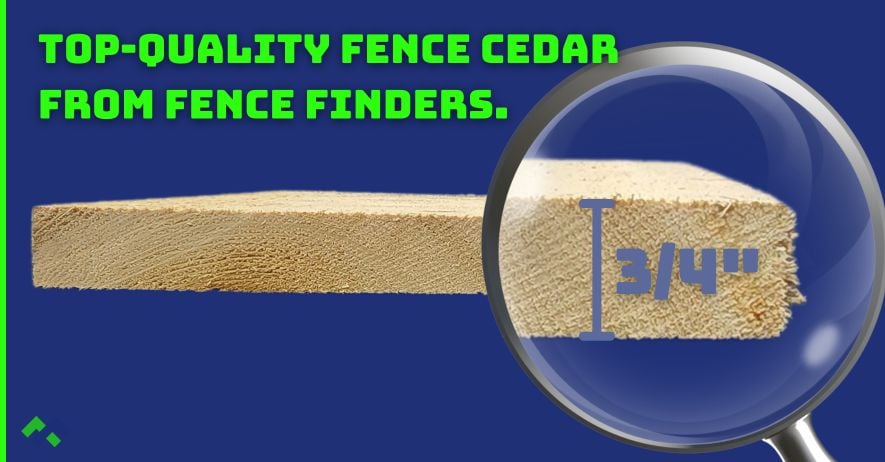 Our Locally Sourced Cedar from the Midwest
Moisture Content & Drying Process:
Natural Resistance (Insects & Decay):
Customization & Special Requests:
Community Impact & Support:
Customer Service & Expertise:










Sourced in WI and Michigan
3/4" Pickets & True 2x4's, 4x4's
Consistant Color & Appearance
8% - 12% Moisture Content
Much more dense & higher tannin content
Can custom cut and Deliver
1% of Profits to One Tree Planted
Real people here when you need us!
Moisture Content & Drying Process:
Natural Resistance (Insects & Decay):
Customization & Special Requests:
Community Impact & Support:
Customer Service & Expertise:










May include mixed sources and potentially less focus on local or sustainable harvesting.
Quality and grading can vary widely, and information may be less readily available.
Potentially more variability and less control over appearance.
Inconsistant drying process, 10% - 35% moisture content.
May lack specificity to regional needs.
More variability in knots and imperfections due to mass production.
Likely competitve pricing, but potential trade-offs in quality.
Less flexibility in meeting specific customer needs or preferences.
Less connection to local community and economy.
May offer less personalized service and less specialized expertise in Cedar products.
Order Cedar Fence Pickets for Pickup or Delivery
Cedar Fence Pickets (Dog Ear) 3/4″ Thick 
Introducing our top-of-the-line Cedar Fence Pickets (Dog Ear), specially milled at a thickness of 3/4″ to provide unrivaled durability and aesthetic appeal. These pickets are designed for those who desire quality without compromise. Crafted with meticulous attention to detail, our cedar pickets add a rustic charm to any fencing project, whether residential or commercial.
Benefits & Features:
Durability: The 3/4″ thickness adds substantial strength, ensuring that the fence will endure the elements and maintain its structural integrity for years to come.
Appearance: The rich texture and natural color variations of cedar provide a warm and inviting look that complements any outdoor setting.
Resistant to Decay: Cedar's natural oils make it resistant to decay, rot, and insect attacks, reducing the need for chemical treatments.
Eco-Friendly: Sourced from sustainable forests, our cedar pickets are a responsible choice for the environmentally conscious consumer.
Ease of Installation: Our precisely cut Dog Ear design enables effortless installation, making it a favorite among both DIY enthusiasts and professional contractors.
Pricing & Bulk Discounts: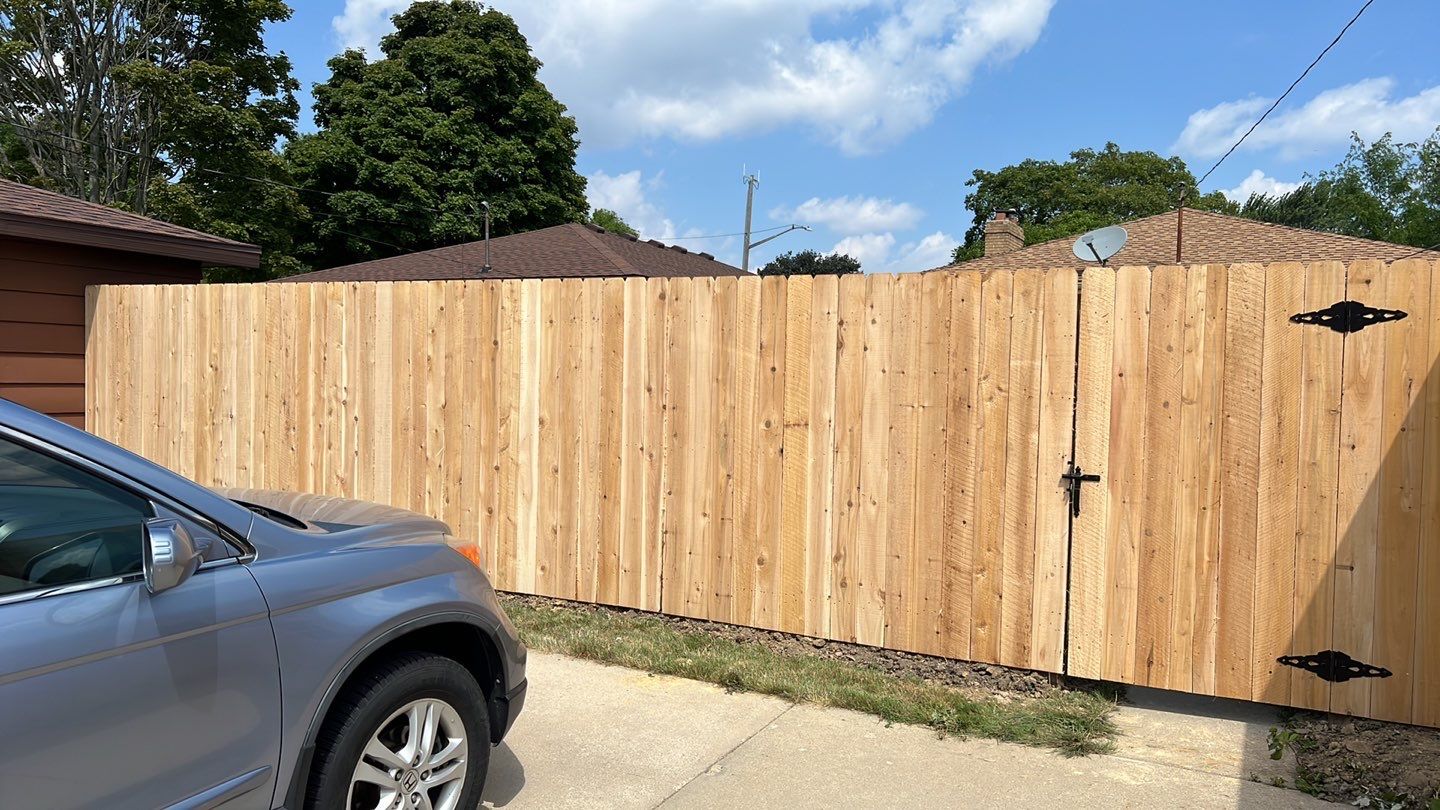 Q: Can I stain or paint these pickets?
A: Yes, our Cedar Fence Pickets accept stain and paint beautifully, allowing for customization to match your desired aesthetic.
Q: What makes the 3/4" thickness special?
A: The extra thickness ensures added durability, making the fence more resilient against wind, weather, and wear. Additionally, the thicker fence pickets are less likely to warn, twist or crack.
Q: Are these pickets treated?
A: Our cedar pickets are naturally resistant to decay and insects but can be treated if additional protection is desired. However, treating or sealing cedar is not necessary like it is for pine.
Order Cedar 4 x 4 x 9 Fence Posts for Pickup or Delivery
Cedar 4 x 4 x 9′ Fence Posts
Introducing our robust Cedar 4 x 4 x 9′ Fence Posts, the foundation of any strong and elegant fence. These posts are crafted from the finest cedar, providing an optimal balance of strength, weather resistance, and visual appeal. Their extended 9-foot length offers flexibility for various installation depths, ensuring a stable and secure fence structure.
Benefits & Features:
Strength: Milled from dense cedar, these posts offer exceptional load-bearing capabilities, making them ideal for both residential and commercial applications.
Weather Resistance: Naturally resistant to decay, rot, and moisture, our cedar posts withstand harsh weather conditions without losing their integrity or appearance.
Versatility: Suitable for various fence designs and heights, these 9-foot posts can be cut to fit specific needs.
Sustainable: Responsibly sourced from renewable forests, our cedar posts are an environmentally conscious choice for your fencing projects.
Easy to Work With: Cedar is a woodworker's delight, known for its workability, allowing for seamless installation and finishing.
Pricing & Bulk Discounts: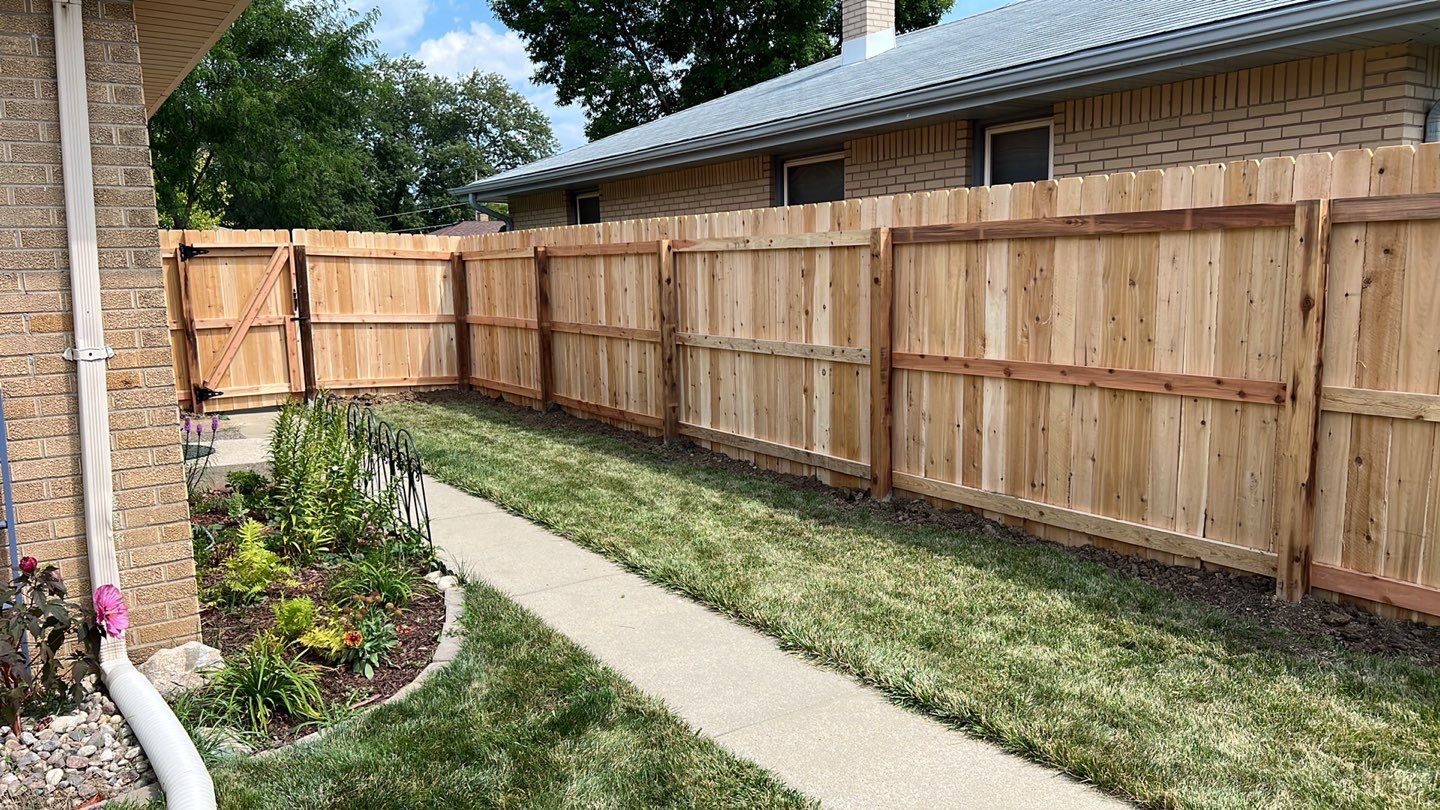 Q: What is the recommended installation depth for these posts?
A: Typically, a depth of 2-3 feet is recommended, but it can vary based on soil type and fence height. In Wisconsin, it's advisable to set fence posts to a minimum of 36″ or 3 feet to avoid frost heaving.
Q: Can these posts be used with other types of fencing material?
A: Yes, our Cedar 4 x 4 x 9′ Posts are versatile and can be used with various fencing materials and styles.
Q: How do I maintain the posts to ensure longevity?
A: Regular inspection and applying a protective sealant can help maintain the appearance and durability of the posts. Also, it's good practice to keep grass and greenery trimed away from the fence so moisture does not cause issues.
Online Fence Estimates in Under 5 Minutes!
Hey Milwaukee, Waukesha, and Madison, Wisconsin folks! 📣 Get ready for a game-changing fence estimate experience! 🌟 With our cutting-edge satellite estimating tech, simply sketch your dream fence, pick a style, and BOOM 💥 Instant price!
Order Cedar 2 x 4 x 8 for Same Day Pickup or Delivery
Presenting our exceptional Cedar 2 x 4 x 8 (true) lumber, your go-to solution for diverse building projects. These true-to-size cedar boards exemplify quality, offering unmatched versatility for both indoor and outdoor applications. Milled with precision, our Cedar 2 x 4 x 8's are perfect for fencing, framing, and more.
Benefits & Features:
Versatility: Ideal for a multitude of projects, from fencing to home construction and garden structures.
Quality Construction: Milled from the finest cedar, these boards are free from knots and defects, ensuring consistent performance.
Weather Resistance: Naturally resistant to moisture, decay, and insects, making them suitable for outdoor use.
Workability: Known for ease of cutting, staining, and finishing, our Cedar 2 x 4 x 8's are a preferred choice for both DIY enthusiasts and professional builders.
Eco-Friendly: Sourced from responsibly managed forests, aligning with our commitment to sustainability.
Pricing & Bulk Discounts: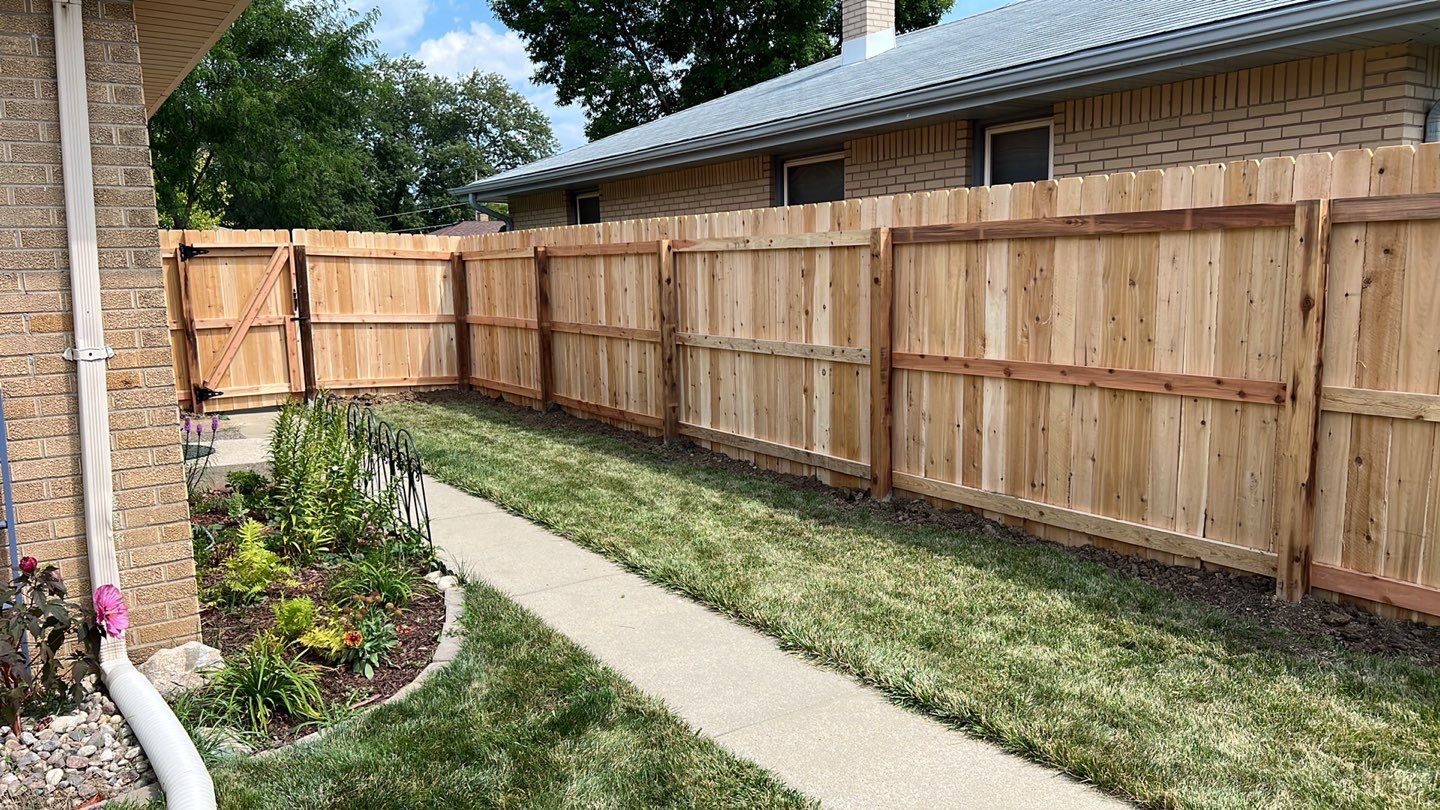 Q: What makes Cedar 2 x 4 x 8's ideal for cedar wood fence building?
A: Our Cedar 2 x 4 x 8's offer true dimensions and robust quality, making them an ideal choice for fence building. The natural oils in cedar wood provide resistance against decay and pests, ensuring a long-lasting and beautiful fence.
Q: Can these cedar lumber boards be used for both consumers and contractors?
A: Absolutely, the versatility and quality of our Cedar 2 x 4 x 8's make them suitable for DIY enthusiasts working on home projects and professional contractors in need of reliable and consistent lumber.
Q: Can these cedar boards be customized for specific fencing styles or outdoor projects?
A: Yes, our Cedar 2 x 4 x 8's are easily customizable and can be cut, shaped, stained, or painted to match various fencing styles or outdoor aesthetics.
Q: Are bulk discounts available for large fence building or commercial projects in Wisconsin?
A: We offer attractive bulk discounts for large purchases and can cater to the specific needs of fence builders and contractors in Wisconsin. Please contact us for custom pricing.
Q: How does the quality of Milwaukee Fence Finders' Cedar 2 x 4 x 8 compare to big home improvement stores?
A: At Milwaukee Fence Finders, we prioritize quality and precision. Our Cedar 2 x 4 x 8's are milled to true dimensions from select cedar wood, ensuring superior quality compared to generic options found at big home improvement stores.
Cedar Fence Solutions by Milwaukee Fence Finders
Cedar Lumber for Sale: Your One-Stop Destination
Looking to buy cedar wood online? Look no further. At Milwaukee Fence Finders, we specialize in cedar lumber for sale, providing DIY enthusiasts, contractors, and wholesalers with the highest quality cedar wood fencing solutions.
From cedar fence panels to red cedar lumber, our extensive inventory ensures we stand out among local cedar wood suppliers. With us, you get the best cedar for fencing that suits all types of projects, be it residential or commercial.
Premium Cedar Fence Products
Cedar Privacy Fence & Cedar Picket Fence: Enjoy the aesthetic beauty of our custom cedar fencing, available in various styles including cedar shadow box fence, horizontal cedar fence, and decorative cedar fence.
Wholesale Cedar Lumber: Are you a contractor? Benefit from our contractor cedar lumber discount on cedar fence boards for sale. Get high-quality cedar wood planks, cedar fence posts, and more from the best cedar wood suppliers near me.
Western Red Cedar Fence & Aromatic Cedar Lumber: Our selection features sustainable cedar lumber, including the highly sought-after western red cedar fence that offers superior durability and elegance.
Cedar Fence Cost & Installation: Whether you need cedar fence installation or are on the lookout for DIY cedar fence kits, we have the solution. From cedar fence building guide to cedar fence installation cost, our comprehensive services cover it all.
Prefab Cedar Fence Panels & Custom Cedar Fence Design: Choose from our prefab cedar fence panels or opt for custom cedar fence design for a unique look. Our cedar fencing solutions also include cedar fence extensions and ornamental cedar fence designs.
Cedar Fence Maintenance & Services: From cedar fence repair services to cedar fence staining contractors, our cedar fence restoration services ensure that your fence stays in pristine condition. Explore cedar wood fence maintenance and staining cedar fence options for longevity.
Residential & Commercial Cedar Fencing: We cater to both residential cedar fencing and commercial cedar fencing needs, offering pressure treated cedar fence options, cedar rail fence, cedar split rail fence, and more.
Eco-Friendly Cedar Fencing & More: With a commitment to the environment, we offer eco-friendly cedar fencing, including rough cut cedar lumber and cedar wood fence wholesale options. Explore our modern cedar fence design and affordable cedar fencing for a contemporary look.
Why Choose Milwaukee Fence Finders?
Local Expertise: As cedar fence builders near me, our knowledge in building a cedar fence is unmatched. From cedar fence planning to cedar wood fence posts, our expertise in fencing cedar vs pine sets us apart.
Innovative Ideas: Need cedar wood fencing ideas? From cedar fence for garden to pre-stained cedar fence, our creative solutions align with your needs.
Quality Construction: With quality cedar fence construction, our offerings include cedar lattice fence, cedar fence brackets, cedar fence rails, and cedar fence pickets wholesale.
Accessories & Customization: From cedar wood fence accessories to cedar fence capping, we provide everything you need, including cedar fence customization.
Pricing & Discounts: Use our cedar fence pricing calculator to get the best deals. Explore cedar fence clearance and avail special pricing on cedar fence for pets and more.
Weather Resistance & Warranty: Our cedar fence weather resistance ensures long-lasting beauty. Plus, we provide a reliable cedar fence warranty.
Versatile Design Options: From cedar fence with metal posts to cedar fence with brick columns, and cedar fence with stone base, we cover all design choices.
Enhance the Value of Your Property Today!
From cedar fence value to home to cedar wood fence cost per foot, our comprehensive offering enhances the beauty of your space. Whether it's cedar fence for sloped yard, cedar fence with wire mesh, or cedar fence upkeep, Milwaukee Fence Finders is your go-to destination for all cedar-related needs.
Now that you're a Fence Expert – Ready for a Quote?
Choose from 3 easy options that are catered to fit YOUR needs. Wherever you're at in the fence buying process is OK, we're here to help.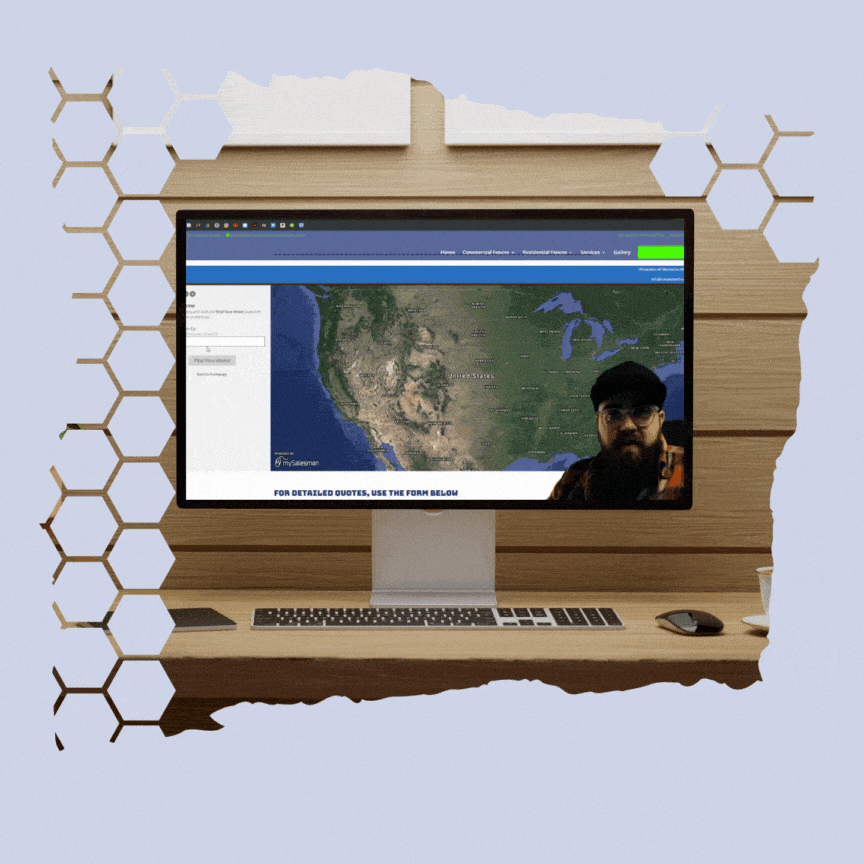 ONLINE – Use our online tool to generate a estimate based on your input. This works well 70% of the time. Some areas have alot of trees obstructing the view of property lines making it difficult. If you experience this, schedule an in-person appointment.
IN PERSON – Meet with one of our 4 fence consultants to discuss your fence project. They will measure the yard, go over the Fence Finders Difference, and flag the yard on the proposed fence line. Estimates are typically sent within 24-hours of your appointment.
DIGITAL CONSULTATION – Looking to have a discussion about your fence project before having someone out? No problem. We can schedule a Zoom/Screen Share meeting where our fence consultant will use satellite tech to measure your yard and provide an estimate – typically within 2-hours of the appointment.