Faux Stone and Wood Fences in Milwaukee and Waukesha – Your Perfect Alternative to Natural Fencing
Experience Customizability, Durability, and Effortless Design with Milwaukee Fence Finders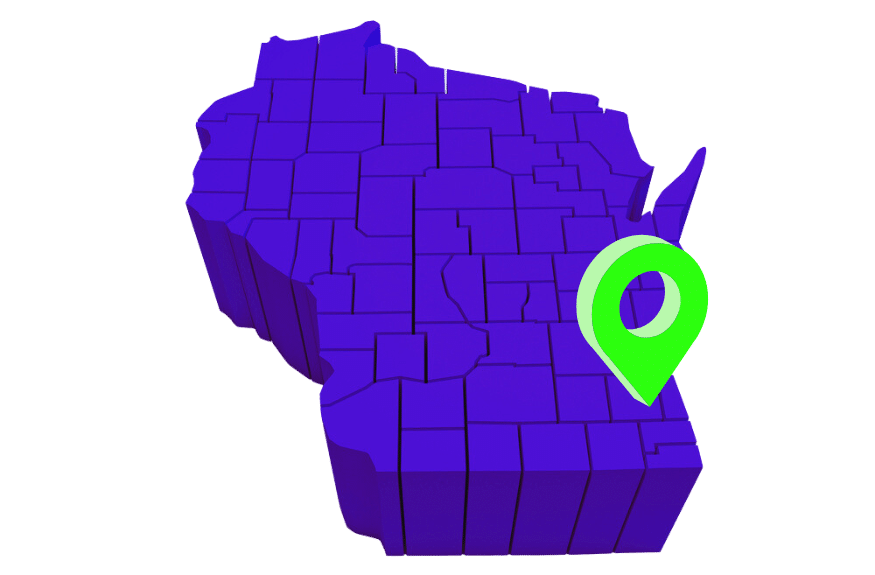 Discover the Beauty of Faux Stone and Wood Fencing
Call Today for a Free Fake Stone or Fake Wood Fence Estimate!
Welcome to our world of superior, maintenance-free fencing. We offer a diverse range of artificial stone fences and synthetic wood fences perfect for properties in the Milwaukee and Waukesha regions. Explore our collections of Bufftech fences by Certainteed, and more – all designed to beautifully frame your outdoor living spaces while offering unparalleled durability and performance.
Start the quoting process online in just minutes!
Faux Stone and Wood Fences: Colors, Textures, Styles and More
According to our customers throughout Milwaukee and Waukesha, these are the most popular fake stone, brick and wood fences
Faux stone fences by Milwaukee Fence Finders bring the beauty of nature right to your backyard, while offering an unparalleled mix of durability and maintenance-free living. Our stunning color palette includes variations of granite to perfectly complement your home and landscaping. The warm Beige Granite radiates a soft, natural appeal. Brown Granite presents a more robust, earthy tone, while Dark Brown Granite lends depth to your yard. Grey Granite offers a subtle yet elegant touch, perfect for contemporary homes. Finally, our Black Granite gives a striking, modern look that truly makes a statement. Experience the perfect blend of aesthetics and functionality with our faux stone fences.
Our faux wood fences from Milwaukee Fence Finders come in an array of meticulously crafted colors that emulate the authentic charm of natural wood. Walnut Brown replicates the richness of classic timber, adding an air of sophistication to any landscape. Red Cedar, on the other hand, channels the timeless allure of cedar wood, its vibrant hues invigorating your outdoor spaces. Nantucket Grey offers a unique aesthetic, the understated grey hues elegantly capturing the weathered look of coastal wood, whereas Black Oak delivers a bold, striking contrast, making your fence a stand-out feature in your backyard. Every color provides you with the beautiful illusion of natural wood, but without the need for constant upkeep.
Experience the Bufftech Advantage
Ever wondered how amazing it would be to have a durable fence that requires almost zero maintenance and still looks brand new even after years? Bufftech fences offer just that and a whole lot more. Manufactured with the highest quality materials, our faux wood fences and artificial stone fences bring you the perfect blend of aesthetics and functionality.
Why Choose Faux Stone Fences and Synthetic Wood Fences?
Whether you're seeking the rustic charm of a traditional wooden fence or the timeless elegance of a stone wall, our fake wood fences and imitation stone fences offer you the best of both worlds. From the impressive Bufftech fence to the reliable CertainTeed fence, we've got an extensive range of options to suit every style and budget. Here's why you should consider them:
Superior Durability: Built to withstand the diverse Wisconsin weather, our fences offer a high level of resistance against warping, peeling, and cracking. Our Bufftech extruded fence products even feature a steel reinforced bottom rail for added rigidity.
Eye-Catching Aesthetics: Our stone look-alike fences and wood look-alike fences have finishes molded from real stone and wood, delivering the most authentic look available today. Be it the faux stone fences in beige granite, brown granite, or the synthetic wood fences in dark gray oak or red cedar, our collections will have you spoilt for choice.
Minimal Maintenance: Forget about regular painting, staining, or repairing. Our vinyl stone fences and vinyl wood fences are designed to maintain their appearance and strength for years with minimal upkeep.
Sustainable: We respect the environment through the responsible development of sustainable building products and systems. That's why our plastic stone fences and plastic wood fences are a great eco-friendly alternative to traditional fencing materials.
Simtek, Allegheny, Sherwood – Choose From the Best
From Simtek's weather-resistant, sound-blocking design to Allegheny's robust durability and Sherwood's stunning wood grain textures, we offer a wide range of industry-leading brands. So, whether you're looking for a fake stone fence in Milwaukee or a fake wood fence in Waukesha, we've got you covered with the best brands in the business.
Transform Your Space Today!
With a wide range of textures, colors, and styles, our faux stone and wood fences are the perfect solutions for your fencing needs in Milwaukee and Waukesha. Ready to give your property an aesthetic boost? Connect with us today and let's explore the perfect fence for your unique living space.
Experience the difference a quality fence can make. Join the many happy homeowners and businesses that have trusted us for their fencing needs. From the weathered blend of Chesterfield CertaGrain® to the sophisticated Sierra blend of Brookline CertaGrain® – we offer it all. And remember, a well-installed, stylish fence not only increases your property's curb appeal but also its value. So, let's start building today!
Let's Begin Your Fencing Journey
Ready to get started? Contact us today to speak with a member of our friendly team. We'll guide you through every step of the process, from selecting the right product to professional installation. Here's to the beauty of a perfectly fenced home or business! We can't wait to help you make it happen.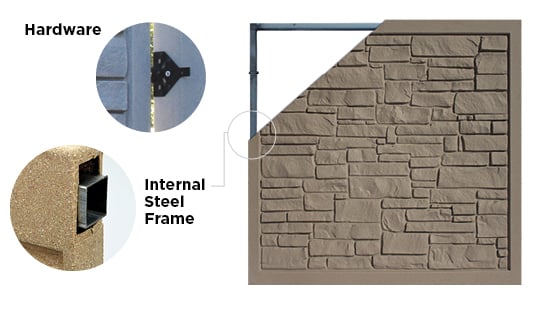 Experience the Magic of Our Ashland and EcoStone Fence Material Calculator
For those looking to streamline the fence selection process, we're proud to introduce our Ashland and EcoStone fence material calculator. This tool is a game-changer for homeowners in Milwaukee and Waukesha who value speed, efficiency, and customization.
Interactive, User-Friendly Design
Gone are the days of waiting for a consultant to visit and evaluate your property before you can get an estimate. With our Ashland and EcoStone fence material calculator, you can take matters into your own hands. Its interactive design lets you draw the layout of your fence directly on a digital map of your property. This ensures you're getting the most accurate quote possible, down to the last inch.
Choose Your Desired Product, Colors, and Texture
After you've plotted the layout, it's time to get creative! Our calculator lets you choose from our extensive range of faux stone and wood fence products, colors, and textures. Whether you're into the rustic feel of Sherwood's faux wood or the sleek sophistication of Simtek's artificial stone, we've got you covered. You can experiment with different combinations until you find one that perfectly matches your home's aesthetic.
Generate a Beautiful, Detailed PDF
Once you're happy with your choices, our calculator generates a detailed PDF containing your layout and the materials required. This PDF isn't just a simple list – it's a comprehensive guide, complete with images and specifications. It's also very practical – you can save it, print it, or share it with others.
Speed Up the Quoting Process
When you provide us with your generated PDF, we can quickly create an accurate quote for your project. This cuts out a lot of the back-and-forth and gets your project started sooner. The calculator's precision also helps us ensure that we're delivering exactly what you want, with no surprises or misunderstandings.
Try our Ashland and EcoStone fence material calculator today and start your journey to a stunning, durable fence with Milwaukee Fence Finders.
Q: What Makes an Artificial Stone Fence a Great Investment?
A: An artificial stone fence, like those offered by CertainTeed and Bufftech, is an excellent investment for property owners. These fences offer the aesthetic appeal of traditional stone without the weight, cost, and installation difficulties. They are low maintenance, highly durable, and resistant to weathering, making them a cost-effective solution that doesn't sacrifice aesthetics.
Q: Why Opt for a Synthetic Wood Fence?
A: Synthetic wood fences are a great choice for those seeking the classic look of wood without the maintenance. Unlike natural wood, synthetic wood fences won't rot, warp, or attract pests. Plus, they're eco-friendly and available in a variety of colors and textures to match your property's aesthetic.
Q: How Durable is a Faux Stone Fence?
A: A faux stone fence is designed for durability and longevity. Made from high-quality vinyl or plastic, these fences withstand the elements, resist fading, and maintain their beauty for years. They're also resistant to impacts, making them a reliable choice for high-traffic areas or properties with active kids or pets.
Q: What are the Benefits of a Vinyl Wood Fence?
A: Vinyl wood fences combine the best of both worlds: the timeless beauty of wood and the durability of vinyl. They don't require painting or staining, won't splinter or rot, and they resist insect damage. A vinyl wood fence is a low-maintenance, long-lasting solution that adds value to any property.
Q: Why Choose Bufftech Fence for Maintenance-Free Fence Options?
A: Bufftech fences are synonymous with quality and durability. Their products, including artificial stone and synthetic wood fences, require minimal maintenance and are designed to withstand harsh weather conditions. In addition to being maintenance-free, Bufftech fences come with a limited lifetime warranty, providing homeowners with peace of mind for their investment.
Q: Are Imitation Stone Fences as Realistic as Actual Stone?
A: Absolutely! Imitation stone fences, like those from CertainTeed or Bufftech, have the texture and variance in color that closely mimic natural stone. Available in several colors, they add a touch of elegance and timelessness to any property, just like real stone fences. But, they come with the added benefits of cost-efficiency, durability, and ease of installation.
Q: What are the Advantages of Choosing a Faux Wood Fence Over a Real Wood Fence?
A: Faux wood fences offer several significant advantages over real wood. They're maintenance-free, meaning no more staining, sealing, or painting. They also resist weathering, fading, and decay. Plus, faux wood fences come in a variety of colors and textures, providing the beauty of wood without the associated upkeep.
Q: Is a Vinyl Stone Fence a Good Alternative to a Traditional Stone Fence?
A: Yes, a vinyl stone fence is an excellent alternative to traditional stone. It offers the same aesthetic appeal but without the hefty installation costs and maintenance. Vinyl stone fences are robust, weather-resistant, and require minimal upkeep. They're also lighter and easier to install than traditional stone fences.
Q: How Does a Composite Wood Fence Stand Up Against Traditional Wood?
A: Composite wood fences outshine traditional wood in several ways. They're resistant to rot, insects, and decay, making them more durable. These fences retain their color and texture longer, resisting fading and wear. They also require less maintenance, freeing you from staining, painting, or sealing duties.
Q: What Makes Plastic Wood Fences a Durable Fence Option?
A: Plastic wood fences are made from high-quality materials designed to withstand the test of time. They're resistant to weathering, fading, and cracking, ensuring they remain looking new for years. Plus, these fences resist pests, like termites, that can compromise the integrity of natural wood fences. They're a durable, attractive, and maintenance-free choice for any property.