Wood Fence Installation in Milwaukee & Waukesha, WI: High-Quality, Affordable Fencing Solutions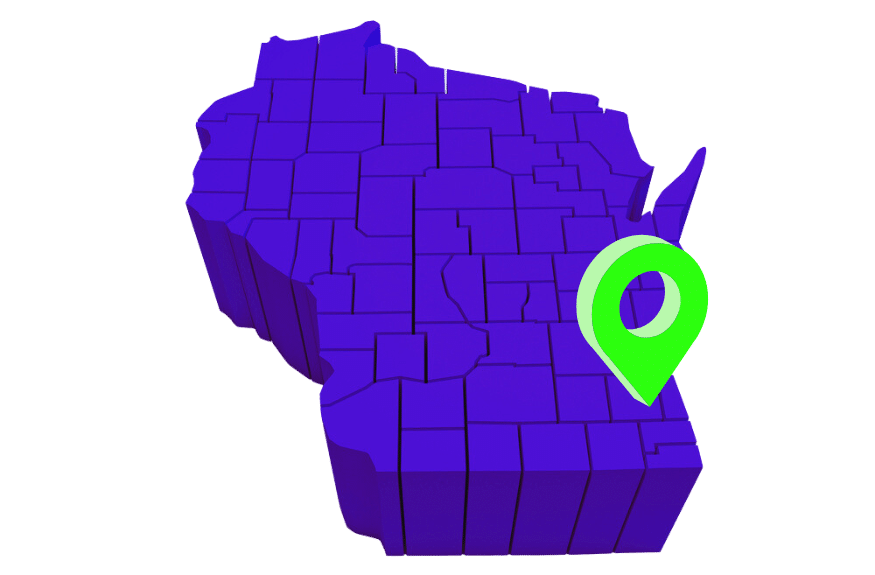 Quality & Affordable Wood Fencing Services
Call Today for a Free Wood Fence Estimate!
Looking for top-notch wood fence installation in Milwaukee and Waukesha, WI? Look no further! Our experienced team specializes in providing high-quality, affordable, and customizable wood fencing solutions for residential and commercial properties. Enhance the privacy, security, and curb appeal of your home or business with our expertly crafted wood fences.
Popular Wood & Cedar Fence Styles
According to our customers throughout Milwaukee and Waukesha, these are the most popular wood Fences
Cedar Dog Ear Privacy Fence
The Dog Ear Privacy Fence style is a popular, classic design that offers both privacy and aesthetics for residential properties. Characterized by its evenly spaced vertical boards with "dog ear" shaped corners, this fence style is an excellent choice for homeowners looking to secure their property while enhancing its curb appeal. With various wood types and stain options, the Dog Ear Privacy Fence can be customized to match any exterior design, making it a versatile and timeless fencing solution.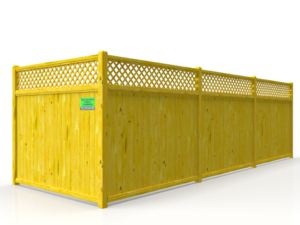 Cap and Trim Fence with Lattice
The Cap and Trim style wood fence, with an optional lattice top, is an elegant, functional fencing solution that adds a touch of sophistication to any property. This design features a horizontal top cap and bottom trim that enclose the vertical boards, enhancing durability and providing a polished appearance. The optional lattice or spindle top not only adds a decorative element but also allows for increased airflow and visibility without compromising privacy. With a range of wood choices and finishes, the Cap and Trim fence can be tailored to suit various architectural styles, making it a popular choice for homeowners.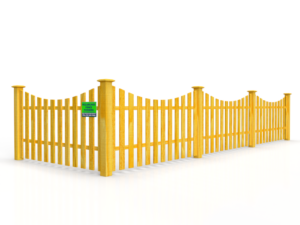 The 4'H wood picket fence is a timeless and charming option for homeowners seeking to define property boundaries without obstructing the view. This classic fence style features evenly spaced vertical pickets with pointed or rounded tops, creating a welcoming and visually appealing barrier. Ideal for front yards, gardens, or pet enclosures, the 4'H wood picket fence is versatile and customizable with various wood types, finishes, and spacing options. It provides a perfect balance between aesthetics and function, making it a popular choice for enhancing curb appeal and adding a touch of traditional charm to any property.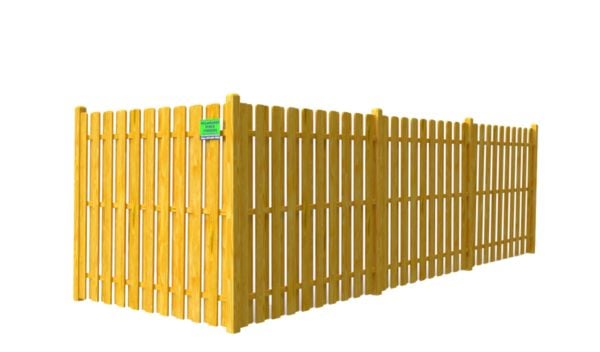 The wood shadowbox fence is an elegant and versatile choice for those looking to strike a balance between privacy and openness in their outdoor spaces. This distinctive fence design features overlapping wooden panels on both sides, creating a visually appealing pattern that offers privacy while still allowing light and air to pass through. The interlocking panels create a seamless look from both sides of the fence, making it an ideal option for shared property lines or spaces where aesthetics matter.
The board-on-board fence is a versatile and aesthetically pleasing fencing option that offers both privacy and a visually appealing design. Composed of overlapping vertical boards, this style creates a seamless and solid barrier that effectively blocks the view from outside while providing a sense of openness from within. The design of the board-on-board fence ensures that there are no gaps between the boards, providing maximum privacy and security for homeowners and their families. The overlapping pattern not only adds to its sturdiness but also enhances its visual appeal, creating a beautiful backdrop for any outdoor space.
At Fence Finders, We're Fence Fanatics.
What's the Fence Finder difference? Take a look below and just a couple of the details we commit to while others skip right over them.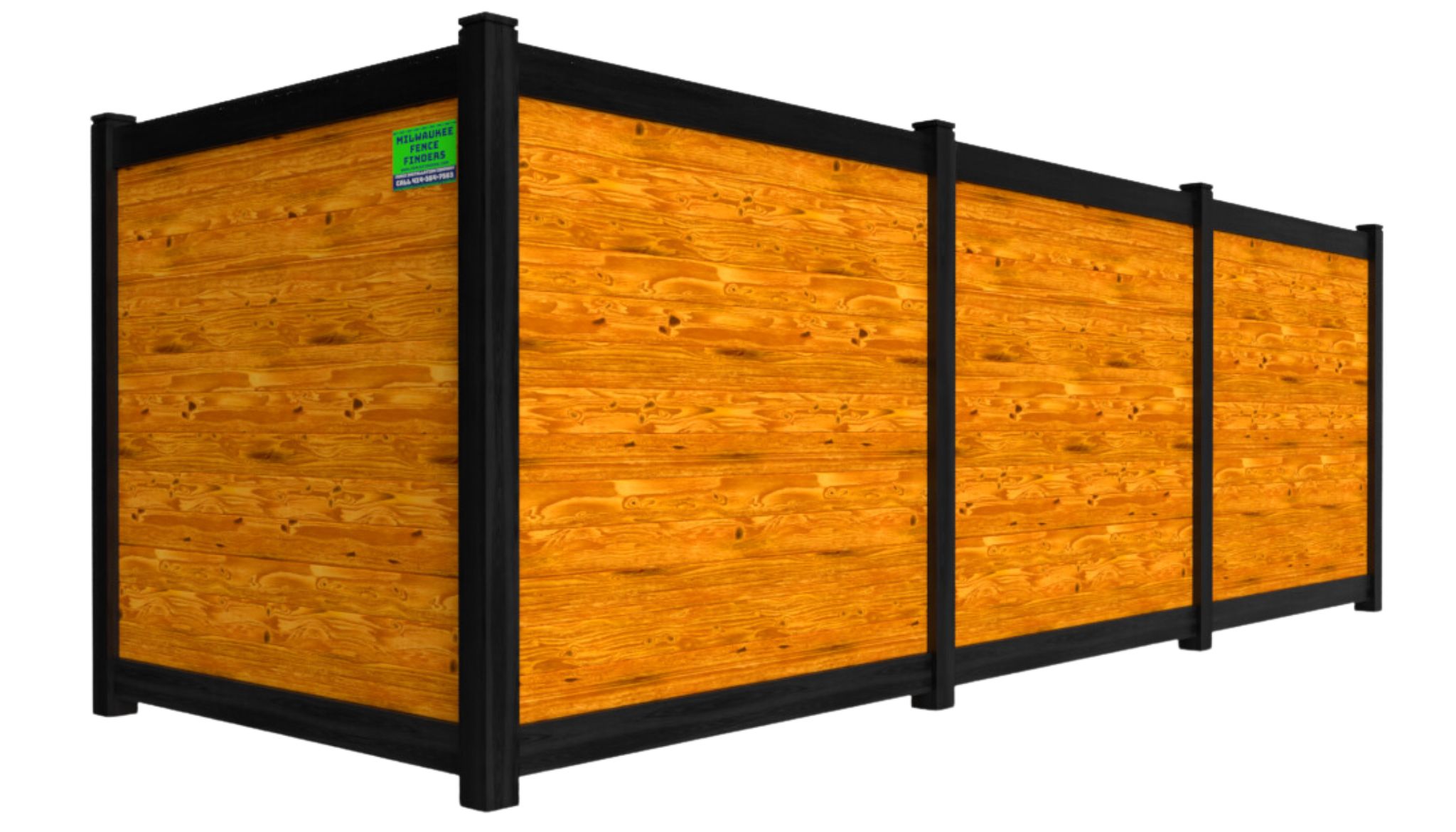 Fence Finders installs all fence posts using an excusive 'hourglass' shaped post hole. This design locks the footing in place when Wisconsin frost begins to build.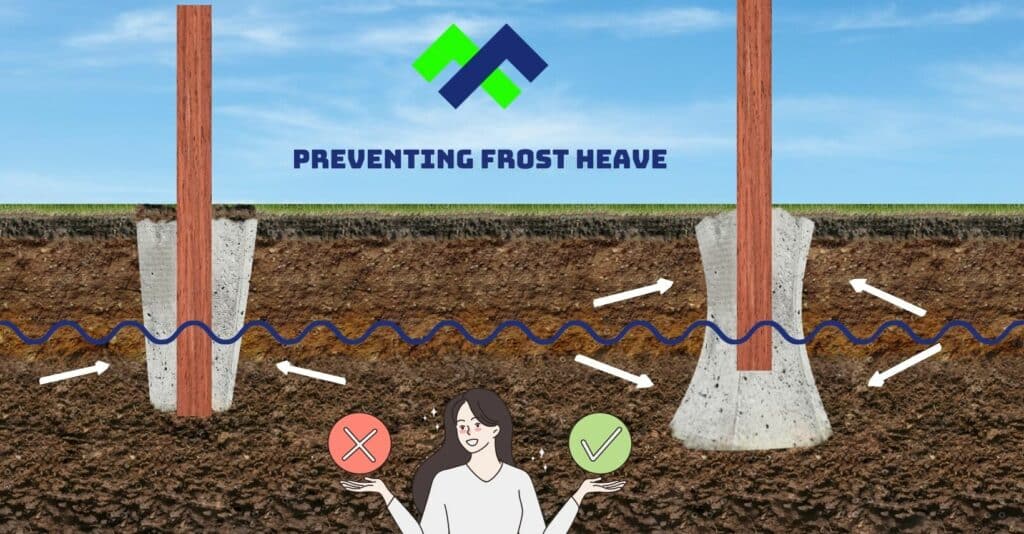 Premium grade cedar stringers are used on all wood fences we build. Some companies use treated pine 2×4's which are prone to warping and twisting.
All of the fasteners used on our cedar pickets are premium ring-shank stainless steel. Cheaper galvanized alternatives will rust eventually leaving unsightly stains stains below each nail – this can happen in just a  few short months!
We bring high grade cedar pickets in from Washington State by the truck load. This allows us to recieve a much higher quality product. 
Online Fence Estimates in Under 5 Minutes!
Hey Milwaukee, Waukesha, and Madison, Wisconsin folks! 📣 Get ready for a game-changing fence estimate experience! 🌟 With our cutting-edge satellite estimating tech, simply sketch your dream fence, pick a style, and BOOM 💥 Instant price!
Flexible Wood Fence Quote Options for Anyone!
Choose from 3 easy options that are catered to fit YOUR needs. Wherever you're at in the fence buying process is OK, we're here to help.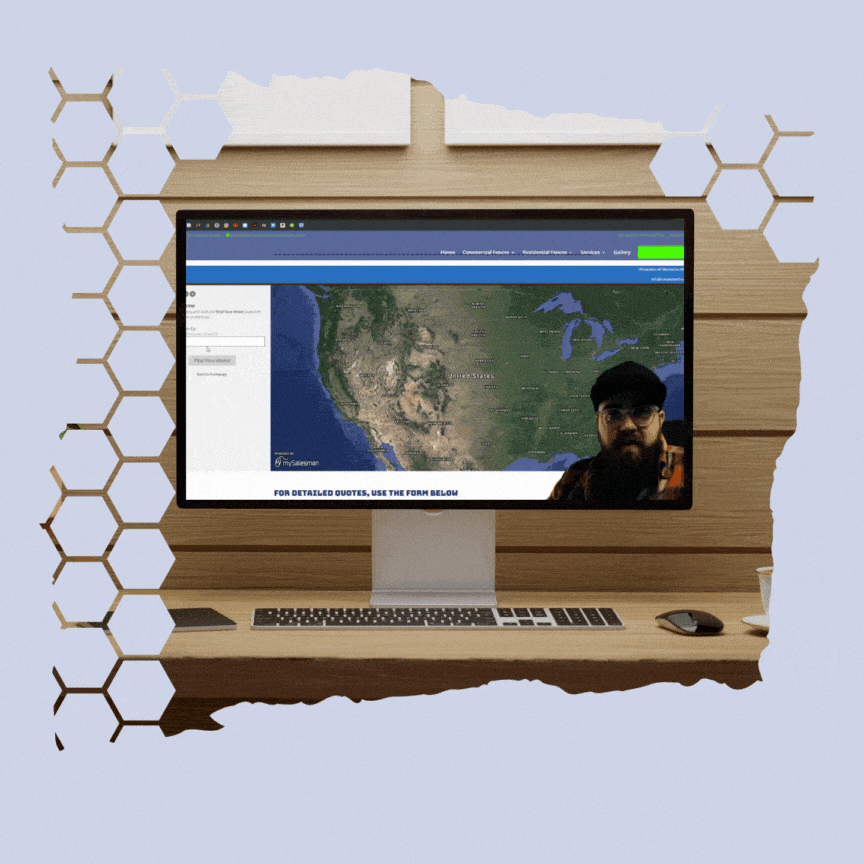 ONLINE – Use our online tool to generate a estimate based on your input. This works well 70% of the time. Some areas have alot of trees obstructing the view of property lines making it difficult. If you experience this, schedule an in-person appointment.
IN PERSON – Meet with one of our 4 fence consultants to discuss your fence project. They will measure the yard, go over the Fence Finders Difference, and flag the yard on the proposed fence line. Estimates are typically sent within 24-hours of your appointment.
DIGITAL CONSULTATION – Looking to have a discussion about your fence project before having someone out? No problem. We can schedule a Zoom/Screen Share meeting where our fence consultant will use satellite tech to measure your yard and provide an estimate – typically within 2-hours of the appointment.
How long will my wood fence last?
The lifespan of a wood fence can vary depending on the type of wood, the climate, and how well it is maintained. Generally, a well-maintained wood fence can last anywhere from 15 to 30 years.
Can a wood fence be painted or stained?
Yes, wood fences can be painted or stained to achieve a desired color or finish. This can also help protect the wood from moisture and UV damage. Milwaukee Fence Finders is one of the only companies that offer pre-staining on our cedar fences.
How much does a wood fence cost?
The cost of a wood fence can vary depending on the type of wood, the height and length of the fence, and other factors. Generally, wood fences are a more affordable option compared to other materials like vinyl or wrought iron.
How do I maintain my wood fence?
Proper maintenance is essential to keep your wood fence looking its best. This includes regular cleaning, staining, and sealing to protect the wood from moisture and UV damage. W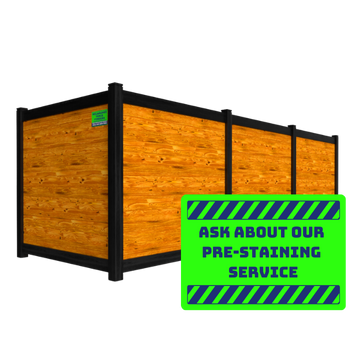 Benefits of Wood Fences
When most people think about fences, they generally picture a wooden fence. Wood fences date back to some of the earliest documented cases of civilization, they've been used for privacy, security, and protection for centuries. Why? Well here are just a few of the benefits of installing a wood fence…
Show More
Wood is a renewable resource – most of the large lumber suppliers in North America actually focus a lot of their resources on conservation.
Beauty – it's hard to beat the aesthetics a professionally installed wooden fence can provide.
Cost – when compared to other fabricated fences, wood is generally cheaper.
Maintenance & Repairs – staining and sealing most quality wood fences are optional, natural resins found in the heartwood of cedar act as a natural sealer. Additionally, repairs are much easier and can usually be done without the need for a professional.
Endless Styles – it's wood! You can customize the style of your fence with nearly no limitations
Cedar Fences: A Wisconsin Classic
Milwaukee Fence Finders custom installs a variety of high-grade western red cedar fences. Get a classic wooden fence installed by a local contractor for privacy you and your family can count on. There is no limit to the style or design of our wood fencing projects! If you can dream it we can bring it to reality, custom wood fencing is our expertise.
The Success or Failure of Your Wood Fence Hinges on Construction and Materials
Milwaukee Fence Finders constructs wood fences with the best materials on the market. All of our wood fence material is graded #2 or better, which means the boards are at least 50% clearer than other wood materials on the market. We also offer clear-grade pickets and # 1-grade materials upon request…
Show More
The second major factor to consider for residential wood fencing is the way your fence is constructed. Milwaukee Fence Finders practices the best construction mechanisms to build a long-lasting fence. We use 4×4 Western Red Cedar posts on our typical wood fences. Every post is set in concrete, and the height of the fence determines the depth at which we set the posts. These depths range from 24″ to 48″ and sometimes deeper.
Are you in need of a commercial application? We also provide commercial wood fencing services.
​#1 Fence Company for Custom Wood Fences
A wood fence provides a beautiful option for just about any home. Staining & painting gives you the option to change the look!
The Details of the Framework & Gate Make a Difference
When building the framework for our wood fencing projects, we use three 2×4 Western Red Cedar horizontal rails. The first two rails connect the posts of the fence horizontally near the top of the posts and closer to the ground. The third rail adds stability to the fence and is necessary for a long-lasting fence.
Don't get Fenced In! Milwaukee Fence Finders also Builds Custom Gates
Complete your new wooden fence with a custom gate, whether you just need a simple walk gate for family and friends to gain access or a drive gate for vehicles and lawn equipment, we have you covered. We have a 3-year warranty on all our gates!
Stain Your Wood Fencing for the Best Long-Term Quality
Milwaukee Fence Finders offers fence staining services to prolong the life of your investment. Staining your fence helps protect the wood against ultraviolet rays and moisture, and ensures your pickets keep their bold color. For our typical Western Red Cedar fences, we recommend re-staining your fence every couple of years, which is much less expensive than having to replace your entire fence in the long run. If you are considering a wood fence for your home, one of our sales representatives will gladly listen to your needs and discuss the many options and designs available through Milwaukee Fence Finders. Are you interested in learning how much a wood fence may cost you? Get a free wood fencing estimate today and make the right choice for your current needs.