Pool Fence Installation in & near Milwaukee, WI
Pool Fence solutions for in-ground pools, above ground pool railings, pool code compliant gates & more!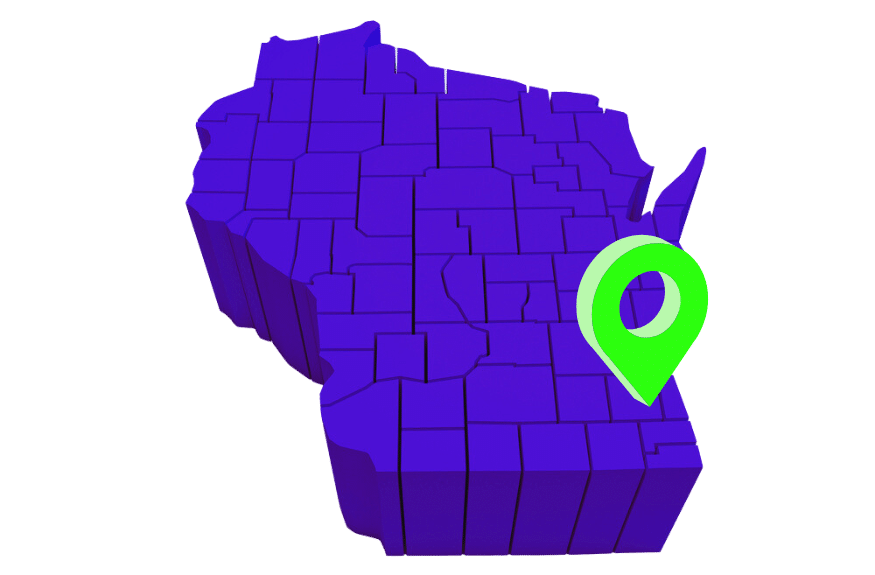 Quality Pool Fences, Gates for Pools, and Pool fence repairs
Call Today for a Free Pool Fencing Estimate!
Discover top-tier residential and commercial pool fencing solutions with Milwaukee Fence Finders. Offering a seamless blend of safety, style, and durability, our pool fences are designed to elevate the aesthetic appeal of your property while ensuring the safety of your loved ones or patrons. We understand the varying needs for pool fencing in different spaces – from cozy backyard pools in residences to large-scale commercial pools. Our variety of materials, styles, and designs caters to these diverse needs, ensuring optimal privacy and security. Whether you're a homeowner wanting to safeguard your pool area or a business seeking to enhance your pool's safety measures, Milwaukee Fence Finders is your go-to source. Start a conversation with us today about your pool fencing needs and let us guide you to the best solution. Optimize safety without compromising on style with Milwaukee Fence Finders.
Online Fence Estimates in Under 5 Minutes!
Hey Milwaukee, Waukesha, and Madison, Wisconsin folks! 📣 Get ready for a game-changing fence estimate experience! 🌟 With our cutting-edge satellite estimating tech, simply sketch your dream fence, pick a style, and BOOM 💥 Instant price!
Popular Pool Fence Styles and Materials in Wisconsin
According to our customers throughout Milwaukee and Waukesha, these are the most popular types of pool fencing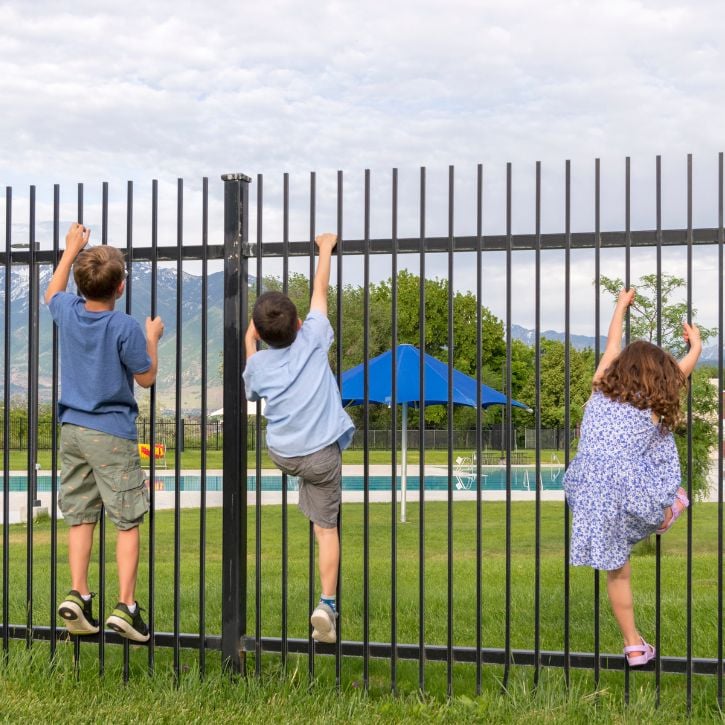 While Wisconsin may not be renowned for its year-round pool weather, many Milwaukee residents enjoy their own above-ground or in-ground pools. Ensuring these pools are secure and safe can sometimes pose a challenge. That's where Milwaukee Fence Finders steps in. As a proud member of a national fence contractor network, we benefit from shared knowledge and expertise from regions with a higher density of pools. This allows us to offer top-notch safety solutions, tailored to your specific pool fencing needs. We blend this wealth of knowledge with local understanding, bringing Milwaukee homeowners the best of both worlds. So, whether you're securing your backyard oasis or enhancing safety measures for your community pool, let us guide you to the ideal solution.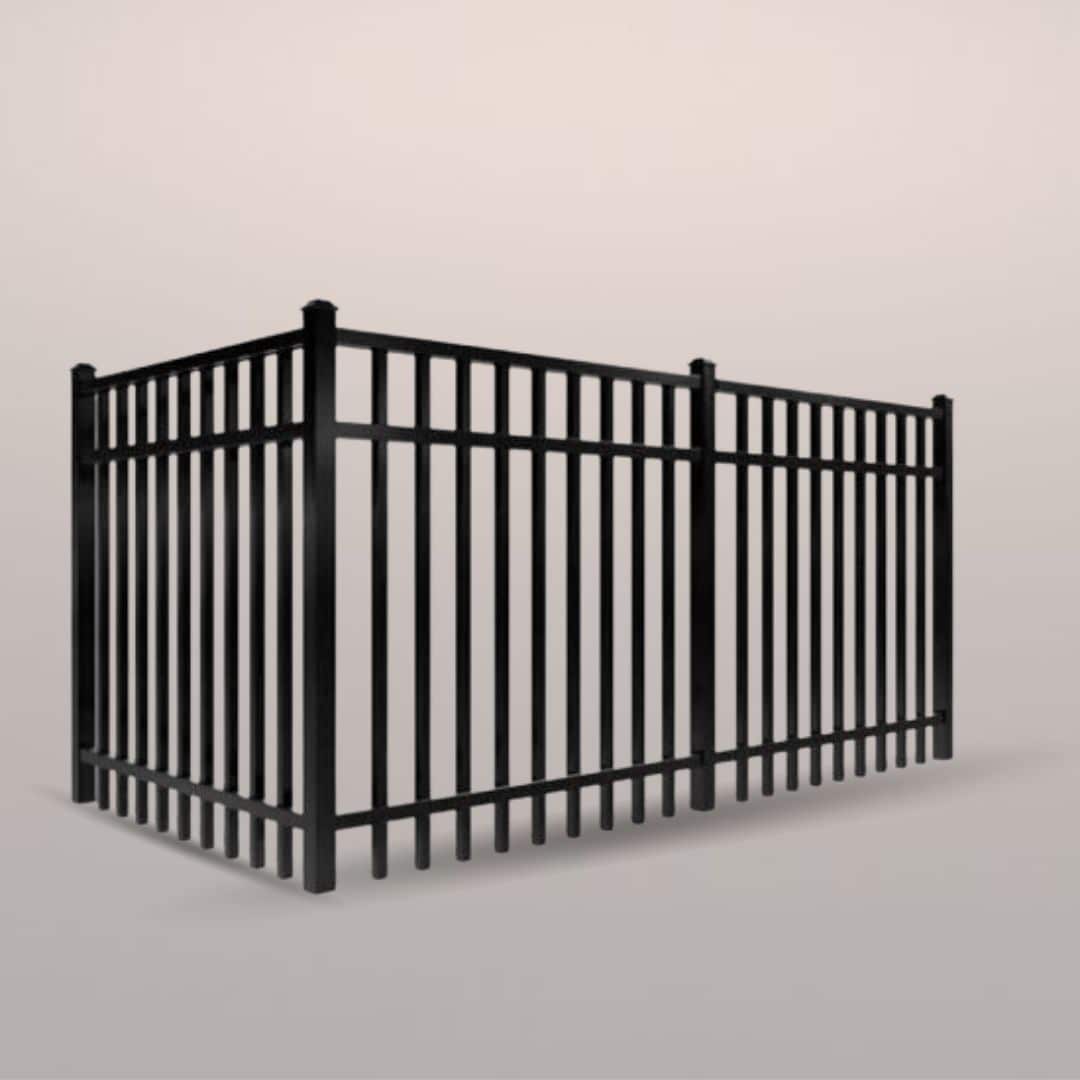 Aluminum Fences for Pools
Ready to dive into the world of aluminum pool fences and gates? They're really something special! Not only do they add a certain level of elegance to your poolside, but they also score high on durability and safety. Thanks to their rust-resistant and low-maintenance nature, these aluminum fixtures keep looking great year after year, no matter what Mother Nature throws their way.
The best part? Aluminum is super versatile, meaning it can be shaped into pretty much any design you like. Whether you're going for that sleek, modern look or something more classic, there's an aluminum style just waiting for you.
And let's not forget about the gates. They aren't just there for safety (although they're great at that); they also add a chic touch to your property. So, if you're a pool owner seeking a blend of style and safety, let's chat about our aluminum pool fences and gates. I promise, it's an investment you won't regret!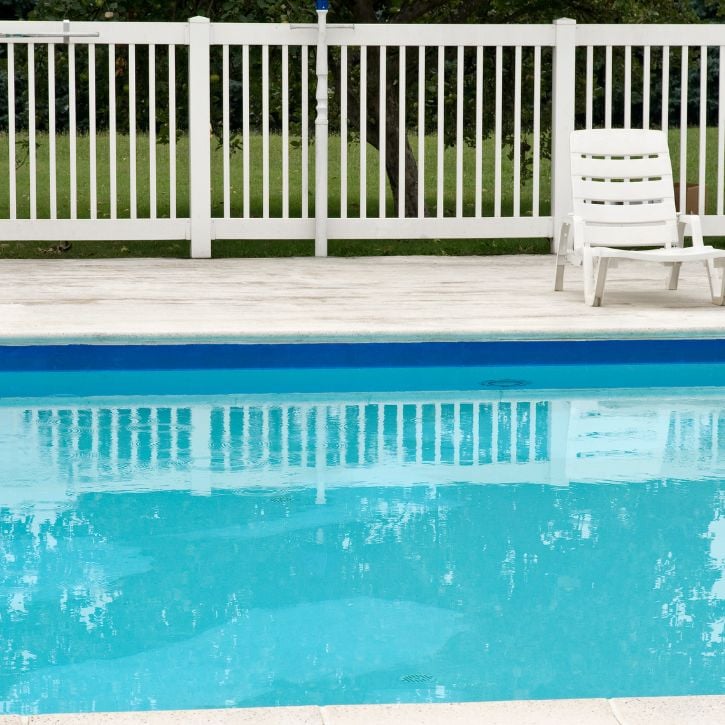 Ever thought about going for a vinyl pool fence or gate? Trust me, they're game-changers! Vinyl brings this blend of simplicity and sophistication that's hard to resist. But don't be fooled by its refined appearance – this material is one tough cookie. It's built to resist weather, wear, and yes, even those excited splash wars!
What's more, vinyl is a breeze to maintain. It won't fade or chip like other materials. Just a quick wipe down and your fence or gate looks as good as new, every single time.
And when it comes to style? The sky's the limit. From a sleek, modern vibe to a cozy, classic feel, there's a vinyl design that'll make your pool area 'you.'
Now, let's talk gates. Vinyl gates offer secure access to your pool area while adding to the overall aesthetics. So if you're looking to step up your poolside style without skimping on safety, let's chat about vinyl pool fences and gates. They really are a fantastic choice!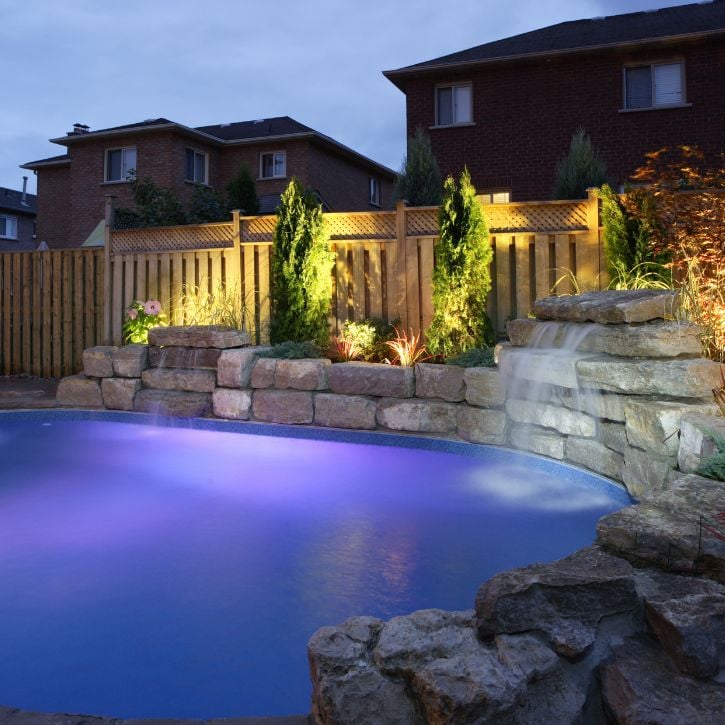 Have you considered the charm of a wooden pool fence or gate? There's something so timeless and inviting about it. You see, wood isn't just a traditional choice; it brings this warm, natural vibe that turns your pool area into a cozy oasis. And hey, who wouldn't love their own little getaway, right in their backyard?
But wooden pool fences and gates aren't just about looks. They're also super sturdy and durable, offering you the safety you need for your pool area. And with different kinds of wood and finishes available, you can decide how your fence ages with time.
Here's another cool thing about wood – it's incredibly versatile. Whether you're looking for a tall, privacy fence or a shorter one that's more decorative, wood's got you covered. You can even play around with different styles and stains to really make it your own.
And what about the gates? Well, a wooden gate can be both a safe entry to your pool and an appealing feature of your backyard. So, if you're up for creating a pool area that's safe, stylish, and oozes charm, let's chat about our wood pool fences and gates. Trust me, they're a choice you'll love for years to come!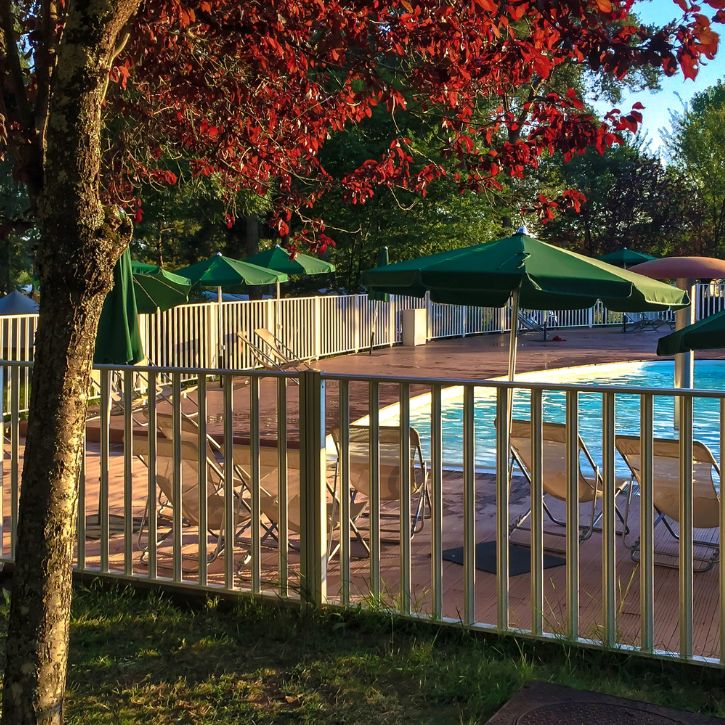 Looking for the perfect fencing solution for your commercial pool? You're at the right place! Commercial pools require a unique blend of style, safety, and durability – and that's exactly what we offer. Our commercial pool fences are designed to meet safety regulations while adding an appealing aesthetic to your property.
The material? That's your call! Aluminum provides a sleek, modern look with great durability. Vinyl offers a low-maintenance option with plenty of style choices. Or maybe you prefer the classic appeal of wood?
But no matter the material, rest assured that our commercial pool fences are built to withstand high traffic and all types of weather conditions, keeping your guests safe and your maintenance costs low.
Let's not forget the gates! Secure yet easy to operate, our pool gates offer controlled access without being a hassle. Plus, they can be customized to complement the design of your fence and overall property.
So, if you're ready to elevate your commercial pool space with a fence that screams style and safety, let's talk! We're ready to help you find the best fit for your needs.
You might want to consider horizontal pool fences. Horizontal fencing is all the rage these days, thanks to its clean lines and contemporary look. But it's not just about aesthetics – horizontal pool fences are also a solid choice when it comes to safety and durability.
Here's why: The horizontal lines not only create a visually pleasing pattern, but they also offer strength and sturdiness. And let's not forget privacy – a closely spaced horizontal fence can provide the same level of seclusion as a traditional privacy fence.
And the best part? You can customize your horizontal pool fence according to your needs. From choosing the material – be it wood for a natural look, vinyl for low maintenance, or aluminum for extra strength – to deciding the spacing between the slats, the options are endless.
So, if you're ready to bring a modern twist to your pool area while keeping safety and privacy in check, a horizontal pool fence might be just what you need. Let's talk about it, and together we can create a pool area that is as safe as it is stylish!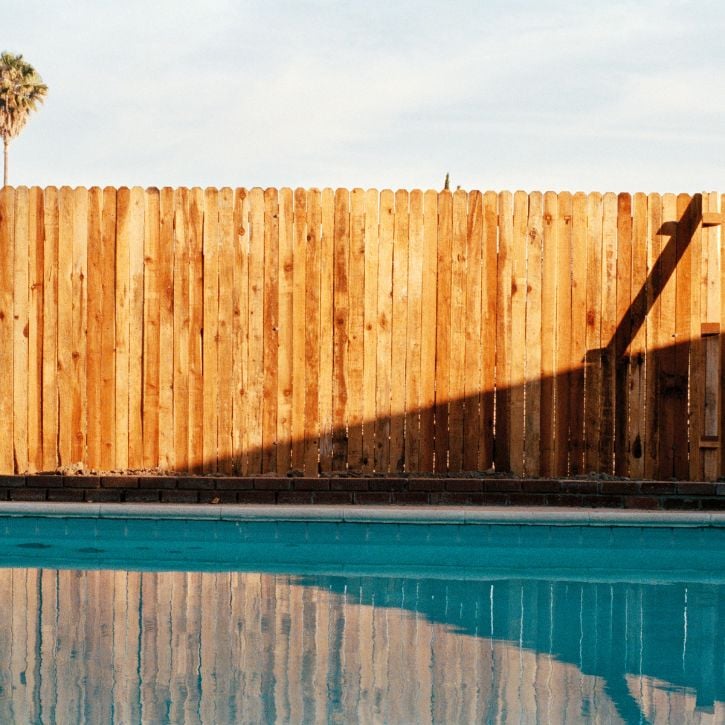 Craving some pool time that's private and uninterrupted? Privacy pool fences are your answer! They're designed to keep prying eyes out while letting you enjoy your pool in peace.
But privacy doesn't mean compromising on style. Our privacy pool fences come in an array of materials and designs. Love the natural charm of wood? Or perhaps you prefer the low-maintenance appeal of vinyl? What about the durable and sleek lines of aluminum? We have it all!
And here's the best part – a privacy pool fence isn't just a solid wall. We can customize the design to suit your taste, from the classic board-on-board style to decorative lattice tops. Plus, our fences are engineered for safety, meeting all pool fencing regulations.
Even the gates are designed with privacy in mind, offering secure access without sacrificing the secluded feel.
So, ready to enjoy your pool in your own private oasis? Let's chat! We're here to help you choose the perfect privacy pool fence for your needs.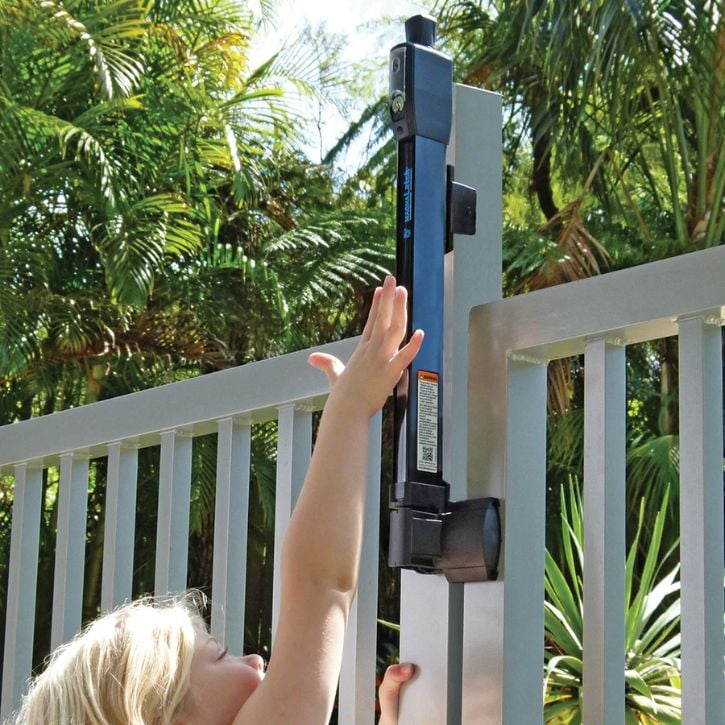 Self Closing Hinges and Self Latching Latches for Pool Gates
Self-closing hinges and self-latching latches are essential safety components of a pool fence gate, providing an important layer of protection to prevent accidental drownings, particularly for young children.
Self-closing hinges, as the name implies, automatically close the gate after it has been opened. This function is achieved through a spring-loaded mechanism within the hinge. Once the gate swings open, the energy stored in the spring is released, pulling the gate back to the closed position. This automatic closing feature ensures that the gate will not accidentally be left open, providing a constant barrier between children and the pool.
Self-latching latches, like the MagnaLatch, play a complementary role. When the gate swings shut, the latch automatically engages, securing the gate in the closed position. This happens without the need for any human intervention, again preventing situations where the gate could be inadvertently left unsecured.
The MagnaLatch, in particular, has been lauded for its innovative design and functionality. It incorporates magnetic technology, hence the name, which offers precise, dependable latching without any mechanical jamming. It's also designed to be mounted high on the gate, well out of reach of young children, further enhancing pool safety.
The importance of these features cannot be overstated. Pool gates that do not close and latch automatically present a significant risk. Children can quickly and quietly make their way to a pool while adults are distracted. Having self-closing and self-latching mechanisms drastically reduces this risk, making them an integral part of a robust pool safety plan. By investing in high-quality hardware like the MagnaLatch, pool owners can provide a safer environment around their pools.
Pool Fence Requirements
While you should always check with your local municipality for the most up to date information and code for your pool fence, the below fence specifications are typically standard and required around pools in Southeast, WI.
The fence surrounding the pool must be at least 4 ft (48″) in height.
The middle-rail (if your fence style has one) needs to be at least 45″ from the bottom rail of the fence.
The space in between each picket must be 4 inches or less.
The gap between the bottom rail and the ground or deck cannot exceed 4″.
All gates that surround the pool must use self closing hinges and latches.
All gates need to open outward, or away from the pool.
The opening mechanism of the latch for any gate surrounding the pool needs to be a minimum of 54″ above the ground.
If you have questions about pool fence requirements, feel free to contact Milwaukee Fence Finders.
| Municipality | Required Height | Allowed Style/Material | Gate Restrictions | Other Info |
| --- | --- | --- | --- | --- |