Pet Fence Installation Milwaukee and Waukesha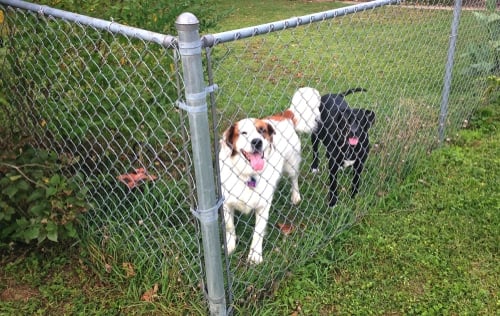 As animal lovers ourselves, Milwaukee Fence Finders knows how important the safety and well-being of your furry friends are. The addition of a fence to your yard, or even part of your yard can give you the peace of mind you need when dealing with the hectic day-to-day tasks. There are many options when it comes to suitable fences to keep your pets contained within the yard.
Wood Pet Fences:
Many people still to this day love the look of a wood fence, and we don't blame them! A wood fence can not only be a viable option for keeping your pets safe and sound but also add a touch of beauty to your yard. There are so many options when it comes to wood. Commonly installed in either 4′ or 6′ height, a wood fence can double as a pet fence and privacy fence. Check out our Wood Fence page for more information.
Vinyl Pet Fences:
The increasingly popular vinyl fence option is a terrific fence for pets. This zero maintenance solution offers a durable, long-lasting fence that is available in hundreds of color, texture, and style variations. The classic "White Picket" fence isn't limited to just wood anymore, in fact, the majority of picket-style fences we install today are vinyl. Visit our Vinyl Fence page for more information.
Chain Link Pet Fences:
A great all-around choice for pets, chain link fences give you an economical solution to large fenced-in areas. If a galvanized "raw metal" look does not appeal to you, then check out some of the vinyl-coated options. Black, brown, green and several other color options are available. Visit our Chain Link page for more information.
Ornamental Fences:
For those looking for a more distinguished look, ornamental fences can fit that need well. With many style variations, it is a great choice for pet owners wanting a touch of style added to their yard. Both aluminum and steel options are available, to see which material would be best and for more information visit our Ornamental Fence page.
Pet Fence Window
Give your four-legged friend their own window on your fence!