Black Vinyl Fence Installation
Ready for a change in your fencing? Here's a revelation that's sweeping Milwaukee, Waukesha, and the surrounding areas: the BLACKline hhp black vinyl fence. This is not just any regular fence; it's a revolution in the fencing industry!
Black Vinyl Fencing – The Rising Star
For years, homeowners and businesses have been itching to get their hands on black vinyl fences. The sleek, modern look is undeniably attractive, but the technical challenges have held us back. Picture this: a sizzling Wisconsin summer day and your black fence absorbing all that heat. It wouldn't be long before that black vinyl started to warp and distort, right? Plus, the harsh UV rays of the sun beating down day after day meant that the once vibrant black would quickly start to fade.
Enter the Game Changer: BLACKline hhp
But that was before the arrival of BLACKline hhp, the pioneering solution for black vinyl fences. Engineered specifically to handle high-heat performance, BLACKline hhp has solved the heat absorption issue that plagued traditional black plastic products. Their innovative thermoplastic formulations eliminate the warping and distortion, creating a product that stands strong and firm, even in our balmy summers in Waukesha and Milwaukee, WI.
And what about that notorious fading issue? BLACKline hhp has got it covered! They've mastered the art of color sustainability, meaning your black vinyl fence will remain as black as the day it was installed. Their secret? UV inhibitors mixed with just the right amount and type of colorant. The result is a long-lasting, fade-resistant color that withstands the test of time.
A Black Vinyl Fence Like No Other
Whether you're in downtown Milwaukee or the suburbs of Waukesha, a BLACKline hhp black vinyl fence will elevate the aesthetic of your property. It's not just a fence; it's a statement of style, a testament to cutting-edge technology, and the perfect blend of form and function.
So, are you ready to leave behind the days of warped and faded fences? Step into the future with BLACKline hhp black vinyl fencing, and add a touch of sophistication to your property that's built to last. Let's transform the face of fencing in Wisconsin together!
Awesome! You're sold on the sleek, game-changing black vinyl fencing, and you're ready to transform your property. The question is, where in Wisconsin do we bring this fencing revolution? Good news – we've got you covered, no matter where you are!
Your Black Vinyl Fencing Pros in Wisconsin
Milwaukee Fence Finders has been installing top-quality fences all around this great state, and we're super excited to bring BLACKline hhp black vinyl fences to you. With our teams stationed in key locations like Waukesha, Milwaukee, and Madison, we're never too far away!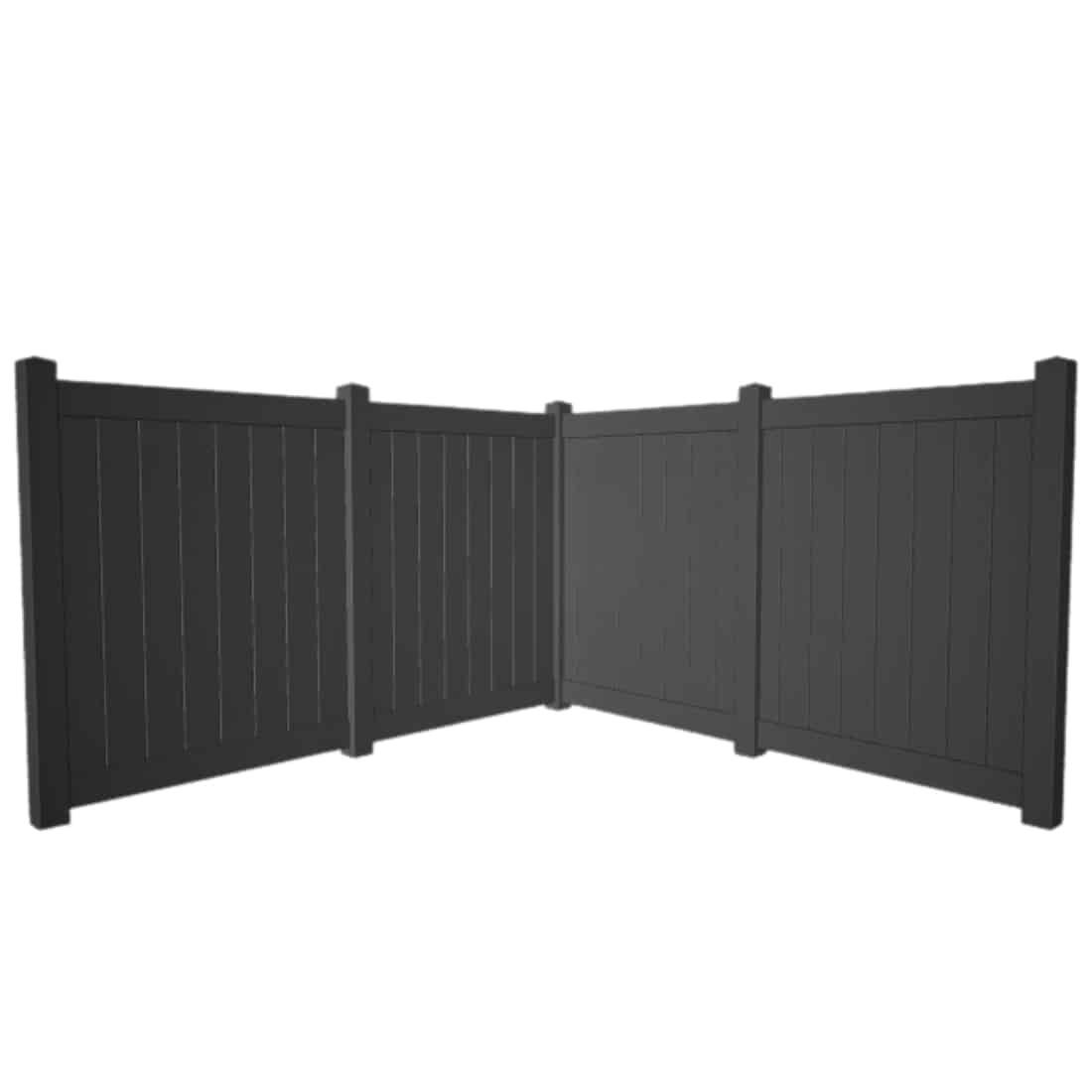 Our Waukesha Fence Experts
Situated in the heart of Waukesha, our team is on hand to install your black vinyl fence. Whether you're a resident of Waukesha or live in the surrounding areas, you can count on us to deliver a seamless installation service. No more worrying about the harsh Wisconsin summers – our BLACKline hhp fences can take it and then some!
Milwaukee's Premier Black Vinyl Fence Installers
In Milwaukee? No problem! Our professional installers are well acquainted with the diverse range of properties in this bustling city. Whether you're in downtown Milwaukee or in the quieter outskirts, our team will ensure your new black vinyl fence enhances your home while providing unbeatable durability.
Madison's Number One Choice for Fencing
Madison, we've got you too! Our fence professionals in Madison are ready and waiting to revolutionize your property with our stylish, fade-resistant black vinyl fences. From residential homes to commercial properties, we've got the experience and expertise to handle it all.
A Wisconsin Fencing Revolution
But our reach doesn't stop there. We serve communities all around Wisconsin – just give us a shout and we'll be there, ready to change your fencing game. At Milwaukee Fence Finders, we're not just about installing fences; we're about transforming spaces and redefining boundaries. So wherever you are in Wisconsin, give us a call – we can't wait to show you the magic of BLACKline hhp black vinyl fencing!
Alright folks, let's talk about the star of the show – the unique, one-of-a-kind styles and options you get with BLACKline hhp's black vinyl fencing. This lineup is like a smorgasbord of fencing goodness, tailored to suit every taste and need. As of 2022, here's what's on the menu!
A Solid Stand with BLACKline hhp's Black Privacy Fence
Starting off strong with their traditional solid panel privacy fence. It's a classic choice, but with a twist. The solid black design gives your property a sleek, modern look. You can choose from heights of 4 ft, 5 ft, or 6 ft to match your privacy needs perfectly. Each fence comes with aluminum reinforcements in both the top and bottom rail to prevent any sagging. Plus, you can add your personal touch with multiple styles of post caps to choose from!
Get Fancy with a Lattice Top Black Privacy Fence
Fancy something a bit more… 'extra'? How about their lattice top privacy fence? It's just like the solid privacy fence, but with a bit of lattice work on top, adding style and that semi-private feel. These fences come in heights of 4 ft, 5 ft, and 6 ft, making them perfect for any residential or commercial project. And remember, aluminum rail stiffeners run through the top and bottom rails to keep things nice and sturdy.
Picket Top Black Privacy Fence – Minimalism at its Best
If you're into a clean, modern aesthetic, you'll love the picket top fence. All the awesome features of the lattice top privacy fence are there, minus the lattice pattern. Simple, elegant, and minimalistic – just how we like it!
Horse & Ranch Rail Black Vinyl Fences – The Wild, Wild Midwest!
Now let's talk about their black vinyl farm and ranch rail fencing. We're talking about everything from a two-rail ranch fence to a diamond rail ranch fence. It's the perfect blend of function and style, bringing that countryside charm right into your yard, whether you're in the heart of Milwaukee or the outskirts of Madison.
Whether it's for a small urban yard in Waukesha or a sprawling farm in the Wisconsin countryside, BLACKline hhp has a black vinyl fencing solution that ticks all the boxes. Milwaukee Fence Finders is excited to bring these products to you, right here in Wisconsin. So, ready to join the black vinyl fencing revolution?
Ready to schedule an appointment?
We Made It Easy!