Security Fences in Milwaukee, Waukesha & Madison
When it comes to security there can be no flaws,  many companies and government facilities rely on fences to protect millions of dollars in assets, data, and their employees. The Milwaukee area is a booming center for business and industrial activity. We will work with general contractors to find the perfect solution to your fencing & security needs. For estimate requests, please forward documentation to our Email.
Steel Fences:
A clean looking, and highly functional option for many commercial and industrial applications. From Military applications to factories steel fences offer great security features. 
Razor Wire Fences:
For those with the need for an extreme level of security, incorporating razor wire into the fence may be the choice for you. Razor wire is highly regulated in terms of where it can and cannot be used in accordance with local regulations. 
Barbed Wire Fences: 
A more common solution for added security. Barbed wire can be used in most commercial applications. It is normally not allowed in residential areas – although if zoning is for agricultural use it may be accepted. Barbed wire can be put atop existing chain link fences if you find a need for heightened security.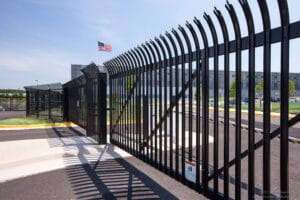 Ready to schedule an appointment?
We Made It Easy!
Residential Security Fences
To keep unwanted visitors at bay, a fence is a great deterrent. Several options fit the ticket for you, click the links below to learn more about your options.