Top 5 Most Popular Wood Fence Styles
Wooden fences are timeless, even with dozens of other highly engineered materials available today, thousands of people every year ask Milwaukee Fence Finders to install a wood fence, be it cedar, treated pine or other more exotic options. Let's be honest, it's hard to beat the look of a well-crafted Western Red Cedar fence, and despite being wood, cedar holds up extremely well to harsh outdoor conditions from coast to coast.
Throughout this page, we'll cover some of the tried and true wood fence styles that are most practical and popular in Milwaukee and Southeastern WI.
Some fence styles come and go — while these have remained. This is our "can't go wrong" wood fence style list!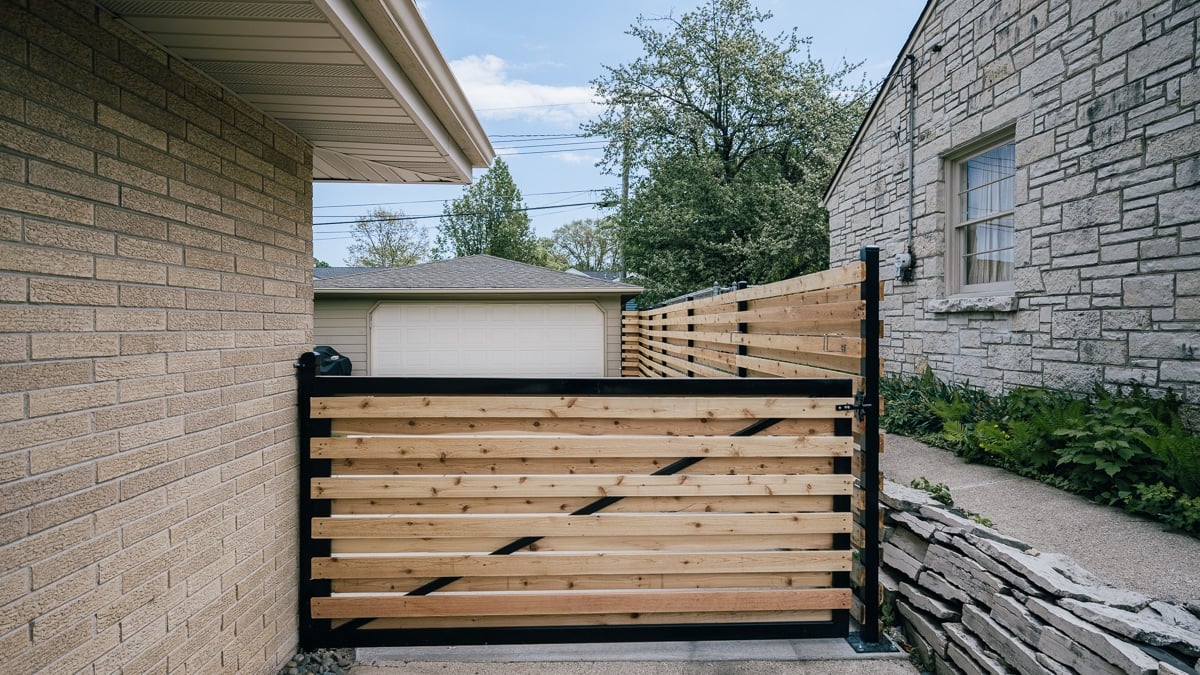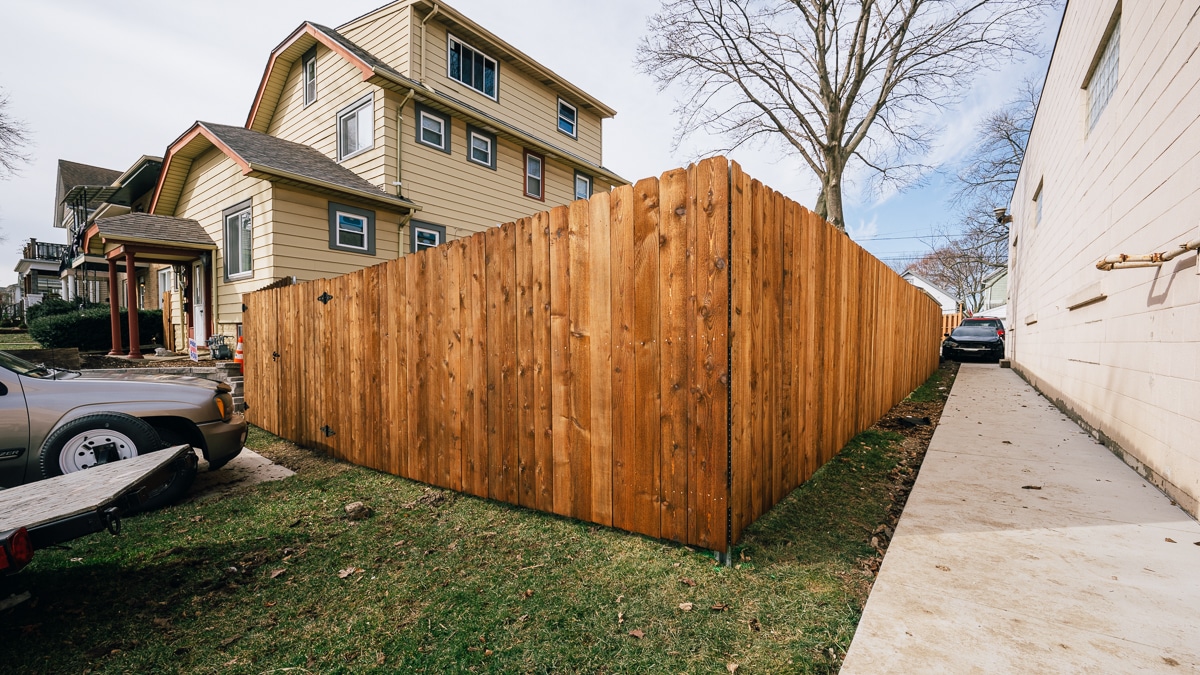 #1 – Dogeared Cedar Privacy Fence
It is truly hard to go wrong with a traditional dogeared picket privacy fence. At Milwaukee Fence Finders, this is our best selling fence style! When compared to flat-top wooden fences, dogear pickets have many benefits, which include:
Dogeared corners make following the grade of your yard look much more natural. Even small changes stand out much more when using flat top boards.
They are affordable! Because of their popularity, it is often easier to source quality dogeared cedar planks. Other styles, such as french-gothic are typically more expensive and difficult to find.
Easy to maintain and repair if needed.
#2 – Estate Plank Wood Fence
Available with or without lattice top, estate plank fences are probably one of the most beautiful styles of wooden fences. Although they're more expensive than a traditional cedar privacy fence because they require more material and labor, many people fall in love with this style.
Provides a high-end look and feel to your backyard.
Easily customize them to fit exactly what you're looking for by using different style post tops or by adding a lattice section on top.
Framing provides more rigiditity which makes estate plank fences great for areas prone to moderate wind.
Estate plank fences vary slightly in style, the image shown is not represenitive of a standard estate plank fence.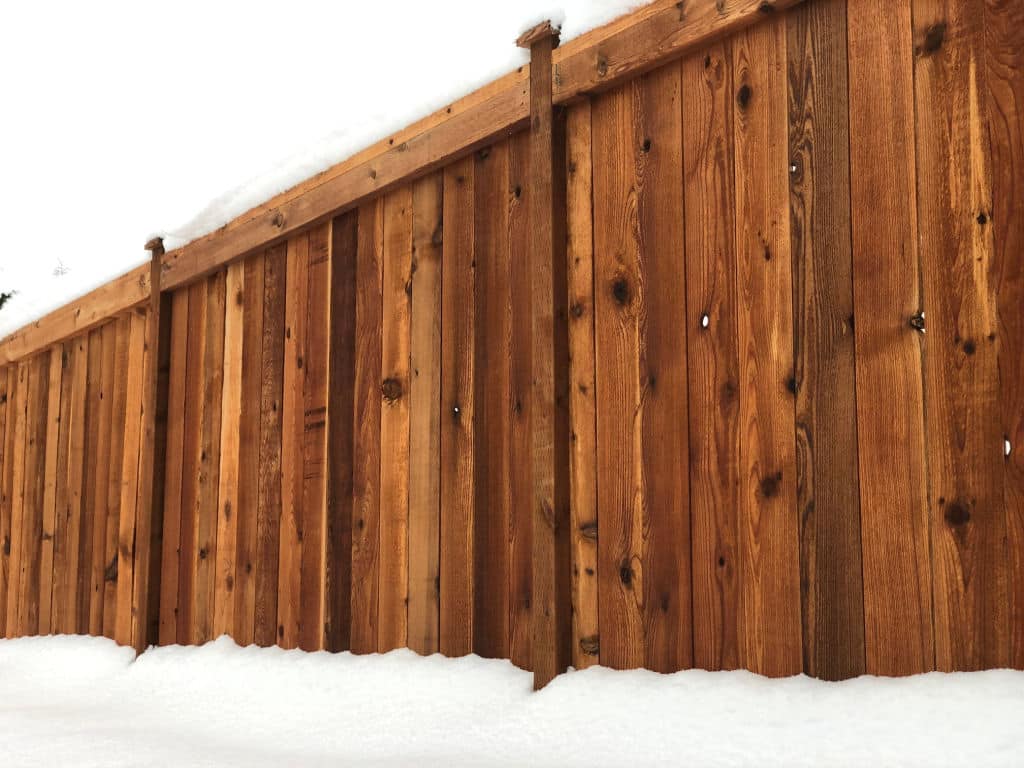 Did you know that on most styles of wooden fences you can add some style by choosing a concave (left) or convex (right) option?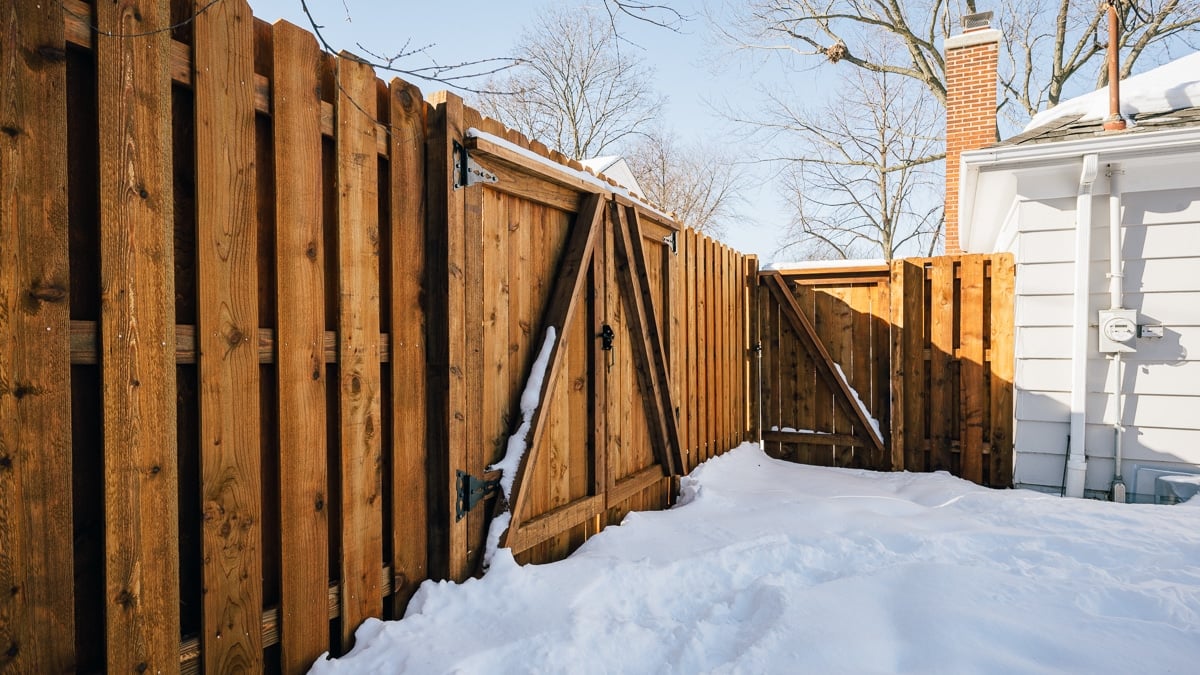 #3 – Shadowbox Wooden Fence
Shadowbox wood fences have been part of the fencing industry for over 50 years. When it comes to durability, shadowbox fences are tough to beat. Their design allows wind to pass-through, which lenghtens the life of the fence all while offering great privacy. For just a few bucks more than a traditional privacy fence, this might just be the perfect fit for your yard.
Great for areas that are prone to higher than average wind.
Works great around gardens! Plants need some airflow to keep the stalks healthy and strong.
Easy to maintain and repair when needed.
Like all wood fences, shoadowbox looks and functions great in both cedar and treated pine. Try CedarTone pine for great looks and money savings!
We've all heard of the "white picket fence" — and while there are other options today for white fences, sunch as vinyl, it's still tough to beat a wood fence!
Keep pets and children safe and secured within your yard.
Doesn't restrict your view of surrounding landscapes.
Adds a wonderful aesthetic to anyones property.
With more than a dozen styles of picket fences available, we're sure you can find your style!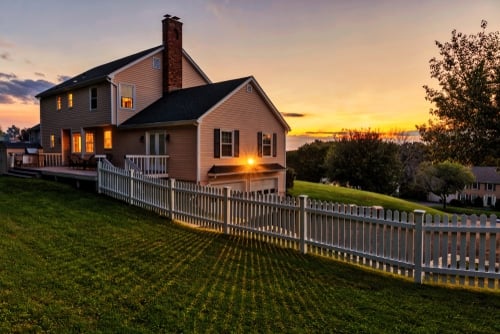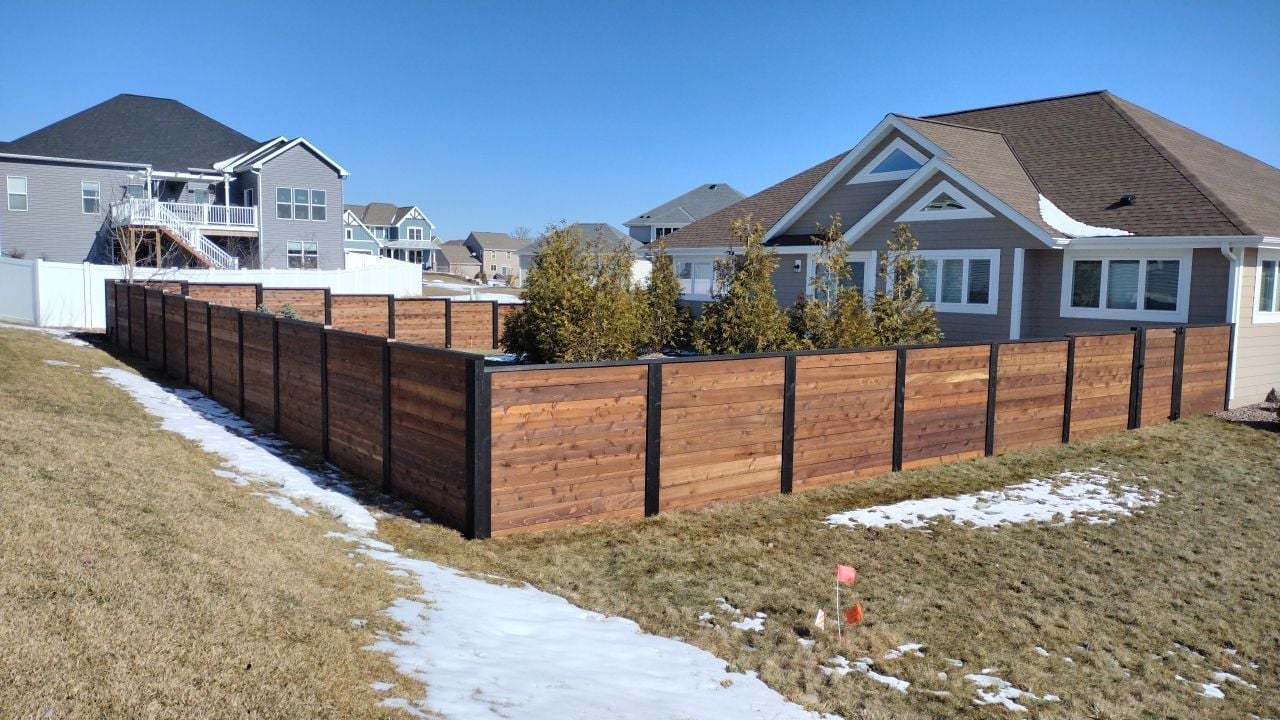 #5 – Horizontal Plank Wood Fence
Over the course of the last 15 years horizontal rail privacy and semi-privacy fences have become very popular. The great thing about horizontal rail wooden fences is they can be modified to fit nearly any look or feel you're going for.
Can be installed for total or semi-privacy.
Modern or contemporary looks.
Reduced ground exposure ensures a longer lasting fence with less maintainance.
Flexible Wood Fence Quote Options for Anyone!
Choose from 3 easy options that are catered to fit YOUR needs. Wherever you're at in the fence buying process is OK, we're here to help.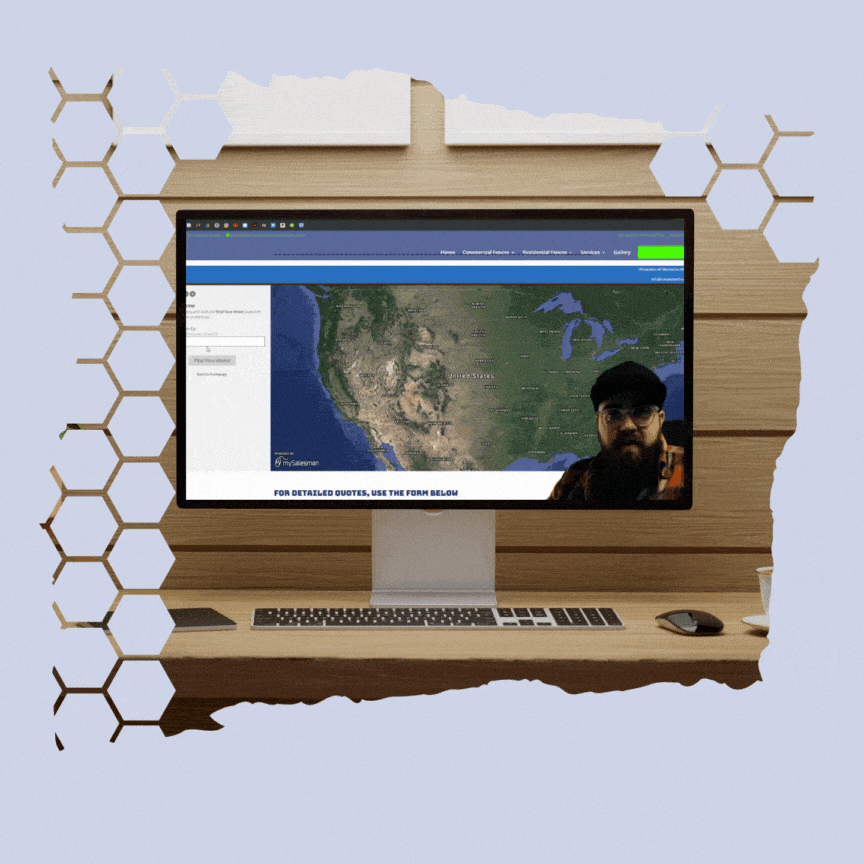 ONLINE – Use our online tool to generate a estimate based on your input. This works well 70% of the time. Some areas have alot of trees obstructing the view of property lines making it difficult. If you experience this, schedule an in-person appointment.
IN PERSON – Meet with one of our 4 fence consultants to discuss your fence project. They will measure the yard, go over the Fence Finders Difference, and flag the yard on the proposed fence line. Estimates are typically sent within 24-hours of your appointment.
DIGITAL CONSULTATION – Looking to have a discussion about your fence project before having someone out? No problem. We can schedule a Zoom/Screen Share meeting where our fence consultant will use satellite tech to measure your yard and provide an estimate – typically within 2-hours of the appointment.