Fence Installation Pewaukee, WI
Contact us for a Free Home or Business Fence Estimate
Milwaukee Fence Finders services all of Waukesha County, Including Pewaukee. We proudly install fences near WCTC, Waukesha County Airport, and Pewaukee Lake. Call or send us a message today to schedule a hassle-free consultation. 
Contact Milwaukee Fence Finders
Pewaukee Fence
Pewaukee, WI homeowners want a fence that will make their home stand out. But what if you don't have the time or money to make it a DIY project? That's where our company comes in. Our professional fence installation services will transform your property with a beautiful new installation that's perfect for your needs. We've got a variety of fence styles and fencing materials to choose from, and we'll work with you to find the perfect one for your home. Call our company today to get started with your fence installation project.
Pewaukee Commercial and Residential Fences
Fences are a huge investment for your home, and one that should not be taken lightly. There are many questions that homeowners need to ask themselves before deciding on the type of fence they want. What style do you want? What material do you want? What color do you want? What height do you want? What are your budget limits? Luckily, you have come to the right place for all of the answers to those questions, and more. Our experts at Milwaukee Fence Finders can help you with any questions you have about residential fences.
Fence Installation Service Area
Looking for a reliable fence company nearby? We can help!
If you start here:
City Hall | 235 Hickory St.
Pewaukee, WI 53072 | City Hall Hours
And live within a 25-mile radius, then we are your fence contractor!
Fence Services Offered near Pewaukee, WI
Milwaukee Fence Finders builds and installs all kinds of fencing, for both
commercial
and
residential
applications. Whether you need a security fence to keep your business safe or a beautiful white picket fence in the backyard of your home we have you covered. We have installed hundreds of fences throughout Waukesha's Lake Country and look forward to working with you on your next fencing project.
Types of Fences We Install & Repair
Popular Fences for Pewaukee Homeowners
Vinyl Fence Installation
We offer several vinyl product lines for a variety of fence projects. There are three main types of vinyl fences. Picket fences are inexpensive vinyl fences commonly found in yards. These are commonly used in residential applications. Semi-privacy fences are often used in both backyards and front yards, because most municipalities don't permit full privacy fences anywhere other than the rear of the yard. These are available in a variety of colors, textures and designs. The same material that makes vinyl such a popular material for residential fences also makes it an ideal material for a children's playhouse or play structure, because of it's great durability and how easy it is to clean.
Wood Fence Installation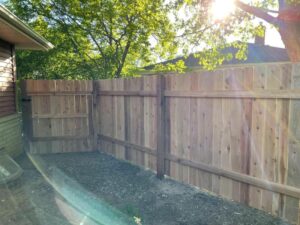 Western Red Cedar is an excellent natural material for your fencing needs. Cedar is a long-lasting wood that is resistant to rot and insects. Cedar is also a very attractive wood, with a rich, warm, reddish-brown color. Western Red Cedar is a durable, low-maintenance wood that will last for many years. Cedar is also attractive and lends a natural and rustic feel to your property. Our installation services are performed by an experienced, professional team who have worked with many types of fencing before. We are able to provide you with a free estimate and provide a list of the benefits of Western Red Cedar.
While we recommend cedar fences for most of our customers, pressure-treated pine fences are also viable and can be more affordable. The downside to treated pine is that it tends to shrink and warp over time, more so than cedar.