Chain Link Fence Installation in Milwaukee & Waukesha, WI: High-Quality, Affordable Fencing Solutions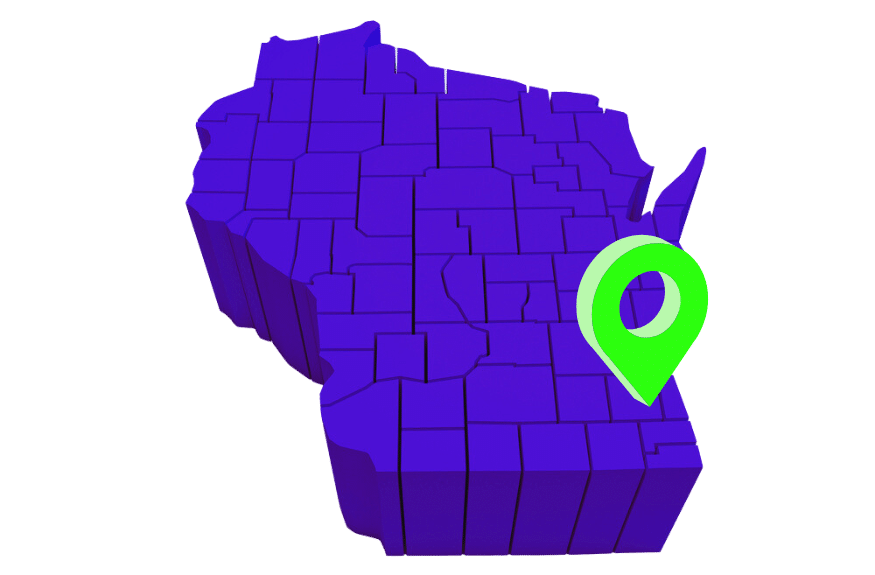 Chain Link Fence Installation in Milwaukee & Waukesha, WI
Affordable & Secure Fencing Solutions
As a trusted fence installation company in Milwaukee and Waukesha, WI, we are committed to customer satisfaction, exceptional workmanship, and competitive pricing. Our chain link fences are constructed from high-quality materials, ensuring long-lasting performance and security. Available in various heights, gauges, and coatings, our chain link fencing can be tailored to your specific needs and preferences.
Popular Chainlink Fence Styles
According to our customers throughout Milwaukee and Waukesha, these are the most popular chainlink fences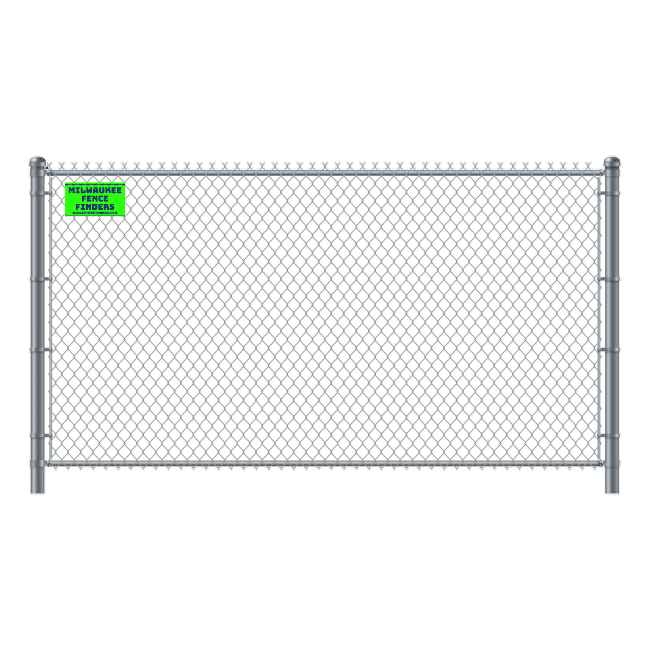 Galvanized Chainlink Fence
Galvanized and aluminized chain link fences are cost-effective and durable fencing solutions, ideal for both residential and commercial properties. Galvanized chain link fences are made from steel wire coated with zinc, offering rust resistance and a long-lasting, low-maintenance barrier. Aluminized chain link fences, on the other hand, feature a protective aluminum coating, providing enhanced corrosion resistance and a smooth finish. Both options provide security, durability, and easy installation, making them popular choices for property owners seeking a reliable and budget-friendly fencing solution with minimal upkeep.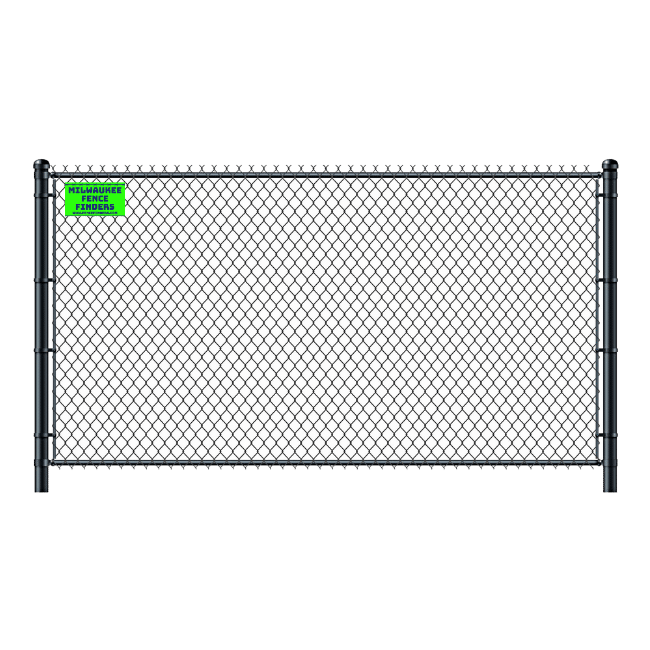 Vinyl Coated Chain Link – Black
Vinyl coated chain link fences are an appealing and durable fencing solution that combines the strength of traditional chain link with the added benefit of a weather-resistant vinyl coating. This coating not only improves the fence's aesthetics by offering a variety of color options but also enhances its resistance to rust and corrosion. The vinyl coated chain link fence is a popular choice for residential and commercial properties seeking a low-maintenance, secure, and visually appealing barrier. Its customizable appearance and long-lasting performance make it an ideal option for property owners looking for both functionality and style.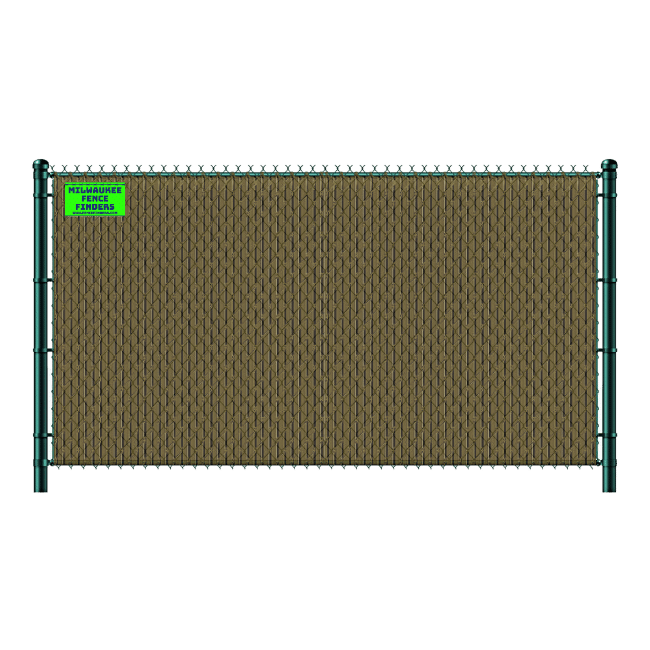 Chain link privacy slats are an effective and affordable solution for enhancing the privacy and aesthetics of a chain link fence. These slats are inserted vertically through the fence's mesh, providing a visual barrier that blocks visibility and increases seclusion. Available in a variety of colors, materials, and designs, privacy slats can be customized to complement any property's aesthetic. In addition to improving privacy, they also offer a degree of wind protection and noise reduction. Chain link privacy slats are an ideal choice for property owners seeking a cost-effective way to upgrade their existing chain link fence.
At Fence Finders, We're Fence Fanatics.
What's the Fence Finder difference? Take a look below and just a couple of the details we commit to while others skip right over them.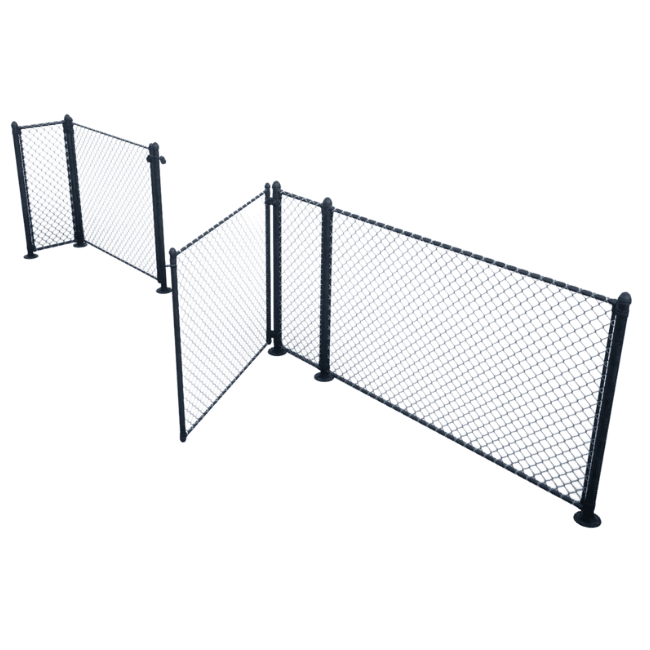 Fence Finders installs all fence posts using an excusive 'hourglass' shaped post hole. This design locks the footing in place when Wisconsin frost begins to build.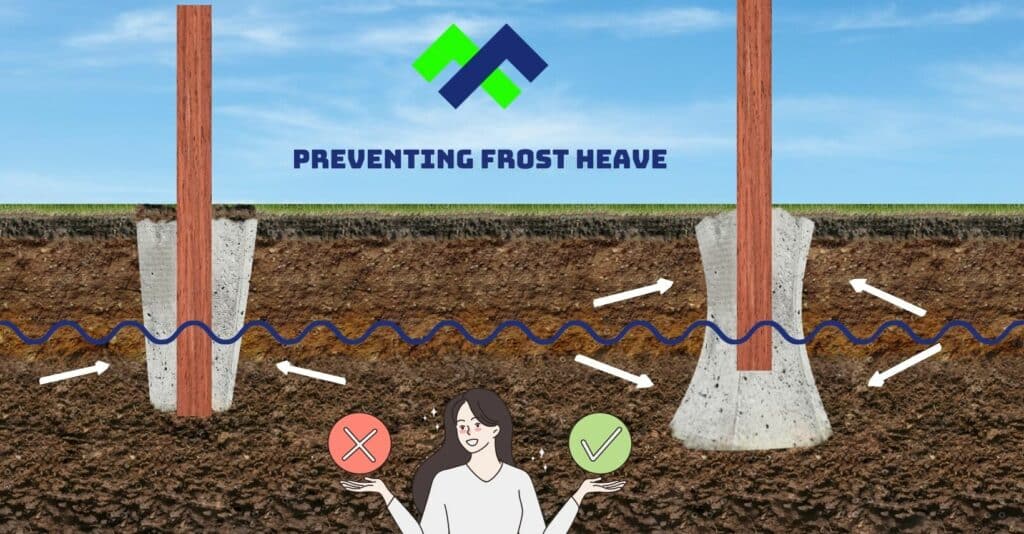 Fence Finders uses 9 gauge chain link fabric for all residential projects. This provides a much more durable product than 11 gauge, which is often used on residential fences.
Fence Finders has an in house fabricator and welder which allows us to build durable long lasting gates.
Heavy wall corner, end and gate posts are used to provide extra rigidity. 
Online Fence Estimates in Under 5 Minutes!
Hey Milwaukee, Waukesha, and Madison, Wisconsin folks! 📣 Get ready for a game-changing fence estimate experience! 🌟 With our cutting-edge satellite estimating tech, simply sketch your dream fence, pick a style, and BOOM 💥 Instant price!
Flexible Chain Link Quote Options for Anyone!
Choose from 3 easy options that are catered to fit YOUR needs. Wherever you're at in the fence buying process is OK, we're here to help.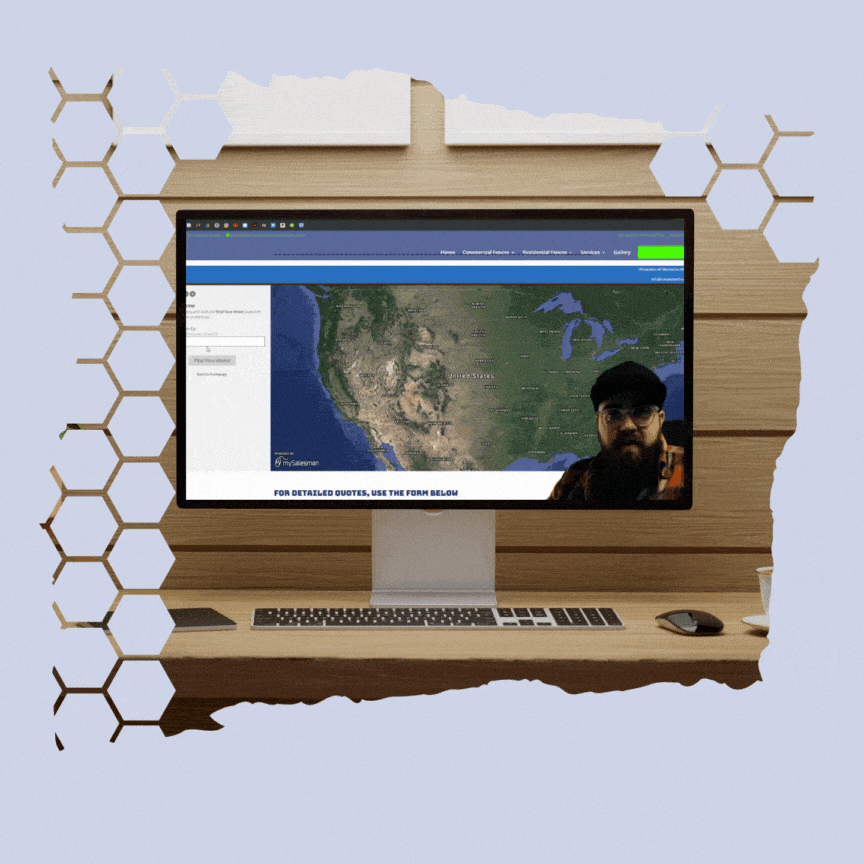 ONLINE – Use our online tool to generate a estimate based on your input. This works well 70% of the time. Some areas have alot of trees obstructing the view of property lines making it difficult. If you experience this, schedule an in-person appointment.
IN PERSON – Meet with one of our 4 fence consultants to discuss your fence project. They will measure the yard, go over the Fence Finders Difference, and flag the yard on the proposed fence line. Estimates are typically sent within 24-hours of your appointment.
DIGITAL CONSULTATION – Looking to have a discussion about your fence project before having someone out? No problem. We can schedule a Zoom/Screen Share meeting where our fence consultant will use satellite tech to measure your yard and provide an estimate – typically within 2-hours of the appointment.
What are the benefits of installing a chain link fence in Milwaukee and Waukesha, WI?
Chain link fences offer numerous advantages for property owners in Milwaukee and Waukesha, WI. They provide a cost-effective, durable, and low-maintenance fencing solution that effectively secures your property. Additionally, chain link fences can be customized with various coatings, heights, and privacy slats to suit your specific needs and preferences.
What types of chain link fence coatings are available?
Our Milwaukee and Waukesha, WI fence installation services offer three primary chain link fence coatings: galvanized, aluminized, and vinyl coated. Galvanized fences feature a zinc coating for rust resistance, while aluminized fences have an aluminum coating for enhanced corrosion resistance. Vinyl coated chain link fences come in various colors, providing improved aesthetics and added weather resistance.
How long does a chain link fence last in Milwaukee and Waukesha, WI?
With proper care and maintenance, chain link fences in Milwaukee and Waukesha, WI can last up to 20 years or more. The fence's longevity depends on the quality of materials, coating type, and environmental factors. Our fence installation services use high-quality materials to ensure durability and long-lasting performance.
Can I add privacy to my chain link fence?
Yes, you can add privacy to your chain link fence in Milwaukee and Waukesha, WI by installing privacy slats. These slats are inserted vertically through the fence mesh, creating a visual barrier and increasing seclusion. They come in various colors and materials, allowing for customization to match your property's aesthetic.
How do I get a quote for chain link fence installation in Milwaukee and Waukesha, WI?
Contact our experienced fence installation team in Milwaukee and Waukesha for a free, no-obligation quote on your chain link fence project. Our knowledgeable staff will help you choose the ideal chain link fence design and provide you with a competitive pricing estimate tailored to your specific needs.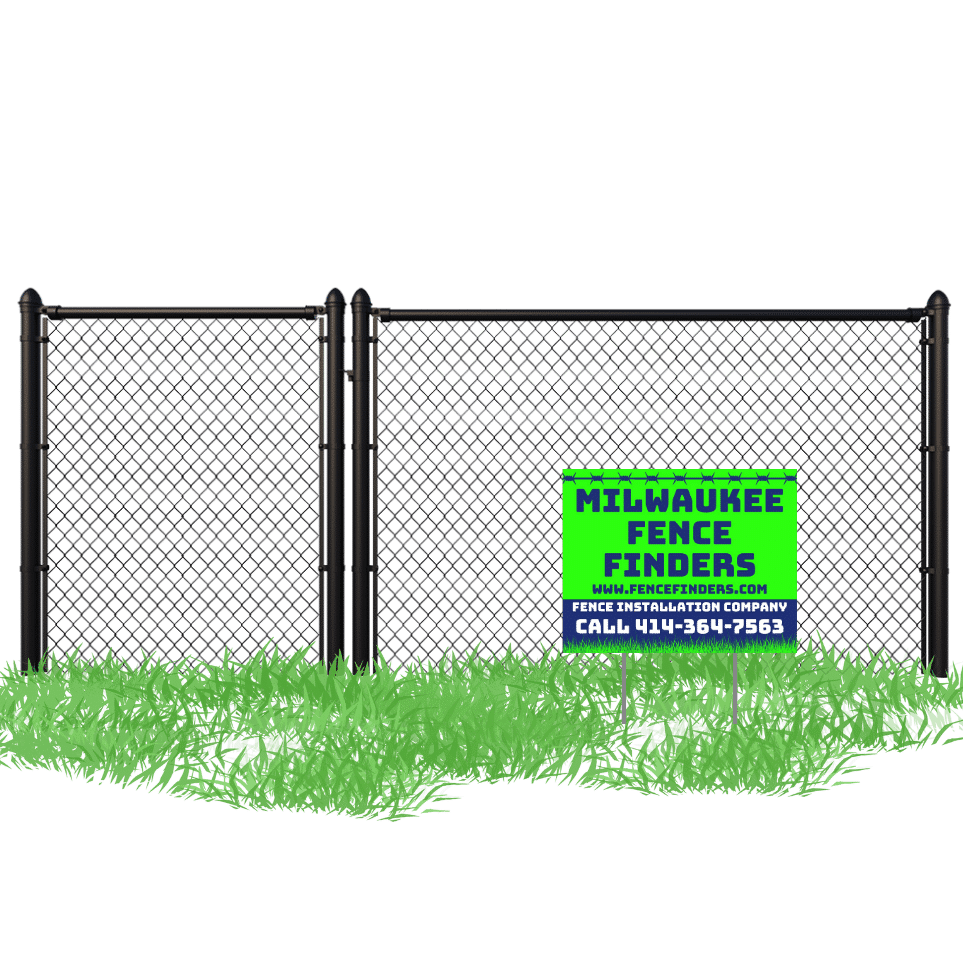 Benefits of Chainlink Fences
Chain link is one of the best options for someone looking to keep kids or pets safe, and not break the bank. Not everyone needs an expensive wood or vinyl fence. Chain link has several major advantages to both of those options. The chain link will last you much longer than any wood fence on the market. You can expect 25+ years of life out of a chain-link fence. You can affordably add more gates to your fence, chain link gates are cheaper and require less upkeep over the years than wood or vinyl gates will. Wood gates can sag over time and vinyl gates can be delicate in the cold Wisconsin winters. However, chain link gates are a solid welded tubular frame, the hinges and latches are made of heavy-duty galvanized steel and rarely require adjusting.
Learn More about Chain Link Fences
Residential Chain Link Fence Installation Area
We install residential chainlink fencing throughout Wisconsin. With locations in Waukesha, Milwaukee, and Madison we have your fencing needs covered.
Residential Chain Link Good, Better & Best Options
Like most types of fences, there are different styles and features that affect pricing. It's important to consider what your chain link fence will be used for when deciding what to install. Below we have outlined the three most common residential options we have.
Color Options
Uncoated, or galvanized chain link is the most common, however, black vinyl coated chain link is a close second. Brown, green, beige, redwood, and white are also available but may be subject to longer lead times.
Due to the manufacturing process of vinyl coated chain link, custom colors are not available.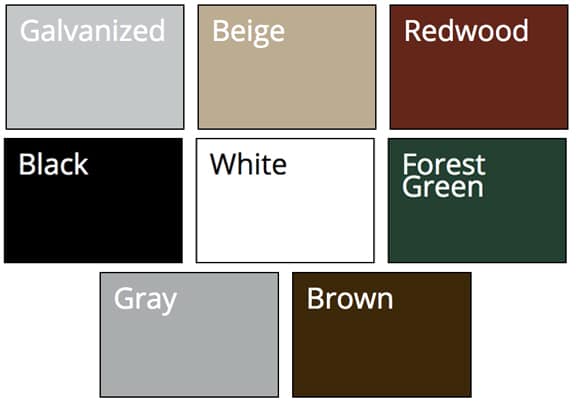 Why Chain Link Fence Gauge Matters
The vast majority of "Home Improvement" store employees would be quick to point you in the direction
of their 11.5 gauge chain link and thin-walled posts if you asked about a chain-link fence for your yard. We are here to tell you, that's a bad idea for most households. Most people who opt to install a chain link fence in their yard, want to do so for 1 or more of the following reasons:
A). To keep kids or pets safely in the yard.
B). To keep other people/neighbors from wandering into their yard.
C). Add slats to their chain link for privacy.
While 11.5 gauge chain link is suitable for some residential applications, you need to be aware that it does not possess the durability of 9 gauge. It's a great economical option for those looking to get 5-10 years out of the fence, but expect repairs after that amount of time has passed. Objects being thrown or kicked into a fence with 11.5 gauge wire will begin to show bends and kinks. It is common for kids to climb onto fences, which will also lead to damage with 11.5 gauge. It is simply not the best option for someone who needs long-term durability. Milwaukee Fence Finders typically recommends 9 gauge chain link wire for both commercial and residential chainlink.
Learn about the benefits of pounded posts for your next fence project and how it may save you money on the installation!
Vinyl Coated Residential Chain Link
If a plain metal fence does not appeal to you, a vinyl-coated chain-link fence may be the perfect option. Vinyl coated chain link fences have become increasingly popular in the last decade in residential fencing applications. They are available in dozens of colors, although the most common are Black, Brown, and Green. Although slightly more expensive than standard galvanized chain link, they are still a very affordable option.
Chain Link Gates
Adding additional openings or gates can be done affordably with chain link. Custom size chain link gates are much cheaper and faster to source than ornamental or vinyl for example. We have an in-house fabrication shop at our Waukesha, WI facility that can produce custom chain link gates within hours, not days or weeks like other area contractors.
Whether you need a single 3ft walk gate or a double swing 16′ wide gate for your lawn equipment, we can help.

11 Gauge (Good)
Economical
Galvanized or Aluminized
Great for Kids & Pets
Maintenance Free
15 Year Warranty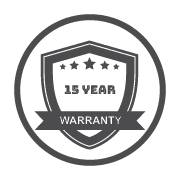 9 Gauge (Better)
Durable
Galvanized or Aluminized
IBC Compliant Options
Maintenance Free
Limited Lifetime Warranty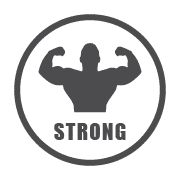 9 Gauge Coated (Best)
Durable
Maintenance Free
Multiple Color Options
Multiple Height Options
Limited Lifetime Warranty