Milwaukee Fence Finders Sports Center:
Football Stadium Fencing & Netting, Goal Post Installation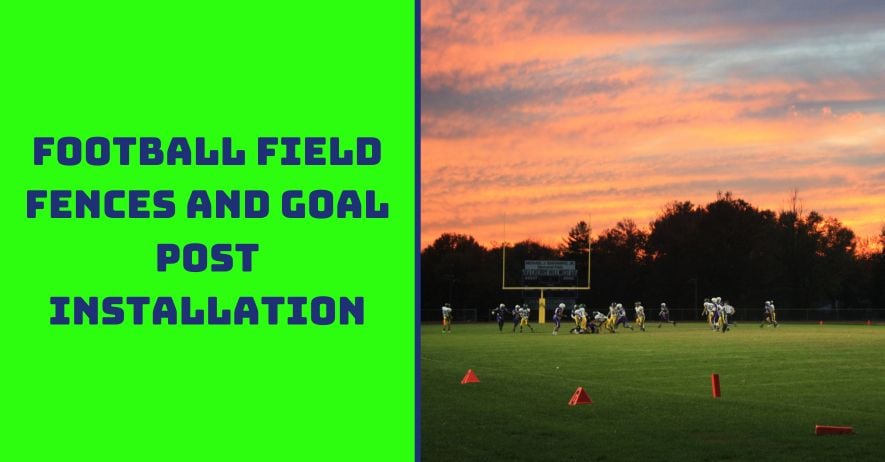 Elevate Your Game with Milwaukee Fence Finders' High-Quality Sports Infrastructure Solutions
Milwaukee Fence Finders specializes in providing state-of-the-art football field fencing, netting, and goal post installations throughout South Eastern Wisconsin. When it comes to creating a safe, secure, and functional environment for athletes and fans alike, we set the benchmark for excellence.
Why Football Field Fencing, Netting, and Goal Posts are Vital
High-quality fencing and netting are more than just boundary markers; they offer an indispensable layer of security, privacy, and aesthetics to any sports facility. Whether you're planning a community football field or an elite training ground, our services cater to a range of needs, ensuring durability, safety, and optimal play conditions.
Safety: Our fences are designed to safeguard players and spectators from potential accidents. Sturdy materials and precise installations minimize risks, such as stray balls injuring bystanders or animals intruding into the play area.
Security: Deter unauthorized access and vandalism with our robust fencing solutions, which also offer locking capabilities for added protection.
Compliance: Adherence to sports regulations is non-negotiable. Our goal posts are built to meet stringent standards, ensuring fair play and accuracy in the game.
Our Range of Services
Football Field Fencing
Chain-Link Fencing: Ideal for both security and visibility, this option is cost-effective and durable.
Vinyl Coated Fencing: Add an aesthetic appeal along with durability with our vinyl-coated options.
Wrought Iron Fencing: For venues that require an elite touch, our customized wrought iron fencing is the perfect choice.
Netting Solutions
Protective Barrier Netting: Ideal for protecting spectators from stray balls.
Ball Stop Netting: Positioned behind goal areas, this netting prevents balls from leaving the field, helping to speed up gameplay.
Custom Netting: Have specific needs? We offer custom solutions tailored to your requirements.
Goal Post Installation
Full-Size Goal Posts: For professional or semi-professional fields, designed to regulatory standards.
Junior Goal Posts: For schools and smaller fields, these are built to scale but maintain professional standards.
Portable Goal Posts: Need flexibility? Our portable options are easy to set up and takedown.
Why Choose Milwaukee Fence Finders?
Expertise: With years of experience serving South Eastern Wisconsin, we bring unparalleled expertise to every project.
Quality Materials: We use only the highest-grade materials, sourced from reputable suppliers, ensuring long-lasting installations.
Skilled Workmanship: Our team of qualified professionals ensures that every installation meets the highest standards of quality and safety.
Customer-Centric Approach: Your needs are our priority. We offer personalized consultation to help you choose the most suitable solutions.
Affordable Pricing: With a range of options to fit different budgets, our pricing plans are competitive and transparent.
FAQ
Q: Do you offer warranty options?
A: Yes, we offer a comprehensive warranty on all installations, ensuring peace of mind for our customers.
Q: Can I customize my fencing options?
A: Absolutely! We offer a range of customizable solutions to match your specific needs and aesthetics.
Q: How long does installation take?
A: The duration varies depending on the project's size and complexity. However, we strive to complete every project within the agreed timeframe.
Contact Us for a Free Estimate
Ready to elevate your football field with Milwaukee Fence Finders' top-of-the-line fencing, netting, and goal posts? Contact us today for a free estimate and consultation. Let's make your football facility a landmark in South Eastern Wisconsin!
Provides a secure boundary around the football field
Designed to catch stray balls and protect spectators
Professional-standard goal posts for accurate scoring
Expertise in delivering high-quality sports infrastructure
Get a free estimate for your project
Chain-Link, Vinyl Coated, Wrought Iron
Protective Barrier, Ball Stop, Custom Netting
Full-Size, Junior, Portable
Phone: 555-123-4567, Email: info@milwaukeefencefinders.com
Safety, Security, Compliance
Safety, Improved Gameplay, Aesthetics
Fair Play, Durability, Safety
Expertise, Quality, Customer-Centric, Affordable Pricing
Personalized Consultation, Free Estimates
1-2 weeks depending on size and type
2-5 days depending on complexity
For more information, reach out to us at info@milwaukeefencefinders.com or fill out our online inquiry form. We look forward to working with you and making your athletic visions a reality.
---
Related Services: Residential Fencing, Commercial Fencing, Security Fencing, Service Area
---
Fence Finders – Your Gateway to Superior Athletic Fencing Solutions.