Milwaukee Fence Finders Sports Center:
Hockey Rink Fencing, Ice Arena Barriers, and Indoor Sports Fencing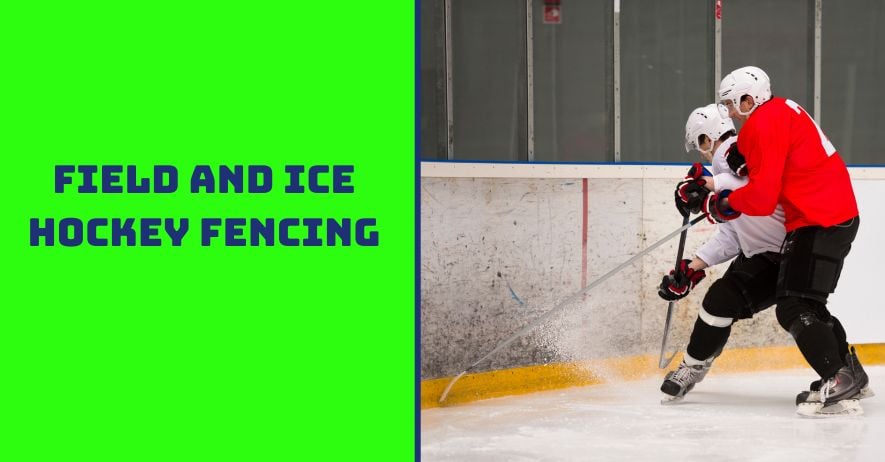 When it comes to sports facilities, one thing that should never be compromised is safety. At Milwaukee Fence Finders, we specialize in providing top-of-the-line hockey rink fencing, ice arena barriers, and indoor sports fencing solutions. We have been serving South Eastern Wisconsin with dedication and passion, ensuring that we exceed your expectations every time. Let us help you build a state-of-the-art arena that not only offers superior performance but also guarantees unparalleled safety.
Why Choose Milwaukee Fence Finders for Your Sports Fencing Needs?
We understand that every sports facility has unique requirements. That's why our fencing solutions are tailor-made to meet the individual needs of your hockey rink, ice arena, or indoor sports complex. Here are some reasons why you should choose Milwaukee Fence Finders for your next project:
Unbeatable Quality
We only use premium-quality materials that are designed to withstand harsh conditions and high-impact collisions. Our fencing solutions are engineered to last, offering you long-term reliability and durability.
Experienced Team
Our highly skilled team of experts has extensive experience in creating top-quality, reliable fencing for a wide range of sports applications. We handle everything from design to installation, ensuring seamless execution of your project.
Safety First
Our fences and barriers are constructed to comply with all safety standards. We incorporate state-of-the-art design features that prioritize the well-being of players, spectators, and staff.
Cost-Effective
Our customizable solutions allow you to get the best value for your investment. Whether you are a small local hockey rink or a large commercial sports facility, we provide cost-effective solutions without compromising on quality.
Key Features of Our Sports Fencing Solutions
Hockey Rink Fencing
Plexiglass Barriers: High-grade plexiglass barriers offer unobstructed views while ensuring the puck stays within the rink.
Safety Nets: Our protective nets are designed to keep both players and spectators safe from flying pucks.
Gate Systems: Designed for ease of access and secure closure, our custom gate systems make entering and exiting the rink a breeze.
Ice Arena Barriers
Glass Paneling: Our high-strength glass barriers are ideal for ice arenas, offering maximum visibility and resilience.
Handrails: Customizable handrail options ensure safety and ease of movement for spectators.
Indoor Sports Fencing
Chain-Link Fencing: Durable and versatile, our chain-link fencing is suitable for a variety of indoor sports applications.
Retractable Nets: Easily divide your indoor space for multi-sport use with our retractable net systems.
How to Get Started
Consultation: Contact us to discuss your needs and to get a customized quote.
Design: Our experts will work with you to design a fencing system that meets your specific requirements.
Installation: Once the design is finalized, our skilled team will handle the installation, ensuring everything is up to our exacting standards.
Milwaukee Fence Finders is committed to delivering exceptional quality when it comes to hockey rink fencing, ice arena barriers, and indoor sports fencing. With our expert solutions, you can focus on the game while we take care of the safety aspects. Don't settle for less when you can have the best. Contact us today to make your sports facility a safer, more enjoyable space for everyone.
Comparison Table: Hockey Rink Fencing, Ice Arena Barriers, and Indoor Sports Fencing
High visibility with clear plexiglass barriers
High-impact resistance, long-lasting
Protective nets, secure gates
Size, gate systems, net height
Custom solutions for various budgets
Hockey rinks, multi-sport arenas
Adheres to all sports and safety regulations
Custom quote based on requirements
High-Strength Glass, Handrails
Maximum visibility through high-strength glass panels
Resilient against temperature changes, durable
Customizable handrails, shatterproof glass
Glass panel thickness, handrail design
Cost varies based on features
Ice skating arenas, curling facilities
Meets all safety and sports arena standards
Custom quote based on requirements
Chain-Link, Retractable Nets
Highly durable, versatile
Strong chain-links, retractable net systems
Height, link thickness, retractability
Customizable based on budget
Multi-sport indoor arenas, practice facilities
Compliant with indoor sports safety guidelines
Custom quote based on requirements
For more information, reach out to us at info@milwaukeefencefinders.com or fill out our online inquiry form. We look forward to working with you and making your athletic visions a reality.
---
Related Services: Residential Fencing, Commercial Fencing, Security Fencing, Service Area
---
Fence Finders – Your Gateway to Superior Athletic Fencing Solutions.