Milwaukee Fence Finders Sports Center:
Skate Park Fencing, Ramp Safety Barriers, and Enclosures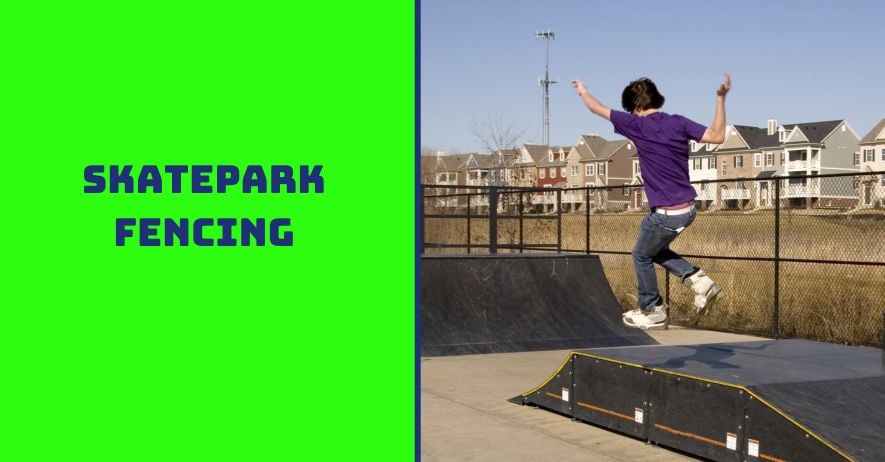 Welcome to Milwaukee Fence Finders, where we don't just sell fences; we provide comprehensive solutions for skate park safety and functionality. Based in South Eastern Wisconsin, we specialize in crafting technologically advanced skate park fencing, ramp safety barriers, and skate park enclosures. In this article, we dive into the technical aspects of our offerings, including material options and specifications that are crucial for this specialized application.
The Importance of Technical Specifications in Skate Park Fencing
Skate parks are a test bed for high-impact activities, and the fencing around them has to withstand forces that regular fences don't typically encounter. From UV-resistant coatings to the tensile strength of the materials, a host of technical considerations go into crafting the perfect boundary for a skate park.
Material Options
Chain-Link Fencing
Tensile Strength: Minimum 75,000 PSI
Mesh Size: 50mm x 50mm
UV-resistant Coating: Yes
Wrought Iron Fencing
Tensile Strength: Minimum 90,000 PSI
Corrosion-Resistant Treatment: Hot-dip galvanizing
Design: Customizable
Aluminum Fencing
Tensile Strength: Minimum 50,000 PSI
Corrosion Resistance: Marine-grade
Weight: Lightweight option for easier installation
Ramp Safety Barriers
Safety barriers around ramps need to meet specific requirements in terms of height and tensile strength, while also maintaining an aesthetically pleasing design.
Material Specs
Tensile Strength: 80,000 PSI
Height: 42-48 inches, meeting ASTM F2376 standards
Visibility: 75% minimum open area for proper visibility
Skate Park Enclosures
These are larger structures meant to encapsulate an entire park, offering maximum security and safety.
Material Specs
Tensile Strength: Minimum 100,000 PSI for steel frames
Mesh Size: 25mm x 75mm for optimal visibility and safety
Coating: UV- and corrosion-resistant coatings are standard
Cutting-Edge Features
Smart Lock Systems
Our enclosures come with smart locking mechanisms that can be accessed via key cards or mobile applications, ensuring only authorized personnel can enter the premises.
Vibration-Detection Technology
We offer an optional add-on of vibration-detection technology embedded within the fencing material. This can detect tampering and alert security personnel.
Why Choose Milwaukee Fence Finders for Technical Excellence?
ISO-Certified Materials
All materials used comply with ISO 9001 quality standards, ensuring long-lasting durability.
In-House Engineering Team
Our in-house team of engineers works tirelessly to develop and test fencing solutions that meet all regulatory and safety requirements.
Custom Computational Models
We provide custom computational models to test the tensile and compressive forces our fences can handle, providing you with a reliable and secure solution.
The American Society for Testing and Materials (ASTM) sets out specific standards that apply to various types of fencing, including Skate Park Fencing, Ramp Safety Barriers, and Enclosures. These standards are intended to guide the selection of materials, design, and installation to ensure safety and durability.
Standard Practice for Installation of Chain-Link Fence
Standard Specification for Fence Fittings
Standard Specification for Polyvinyl Chloride (PVC)-Coated Steel Chain-Link Fence Fabric
Standard Specification for Strength and Protective Coatings on Steel Industrial Chain Link Fence Framework
Standard Specification for Pipe, Steel, Hot-Dipped Zinc-Coated (Galvanized) Welded, for Fence Structures
Standard Specification for Long Barbed Tape Obstacles
Standard Practice for Installation of Barbed Tape
Standard Specification for Expanded Metal Fence Systems for Security Applications
Standard Guide for Design and Construction of Chain Link Security Fencing
Standard Practice for Testing Forced Entry, Ballistic and Low Impact Resistance of Security Fence Systems
Standard Guide for Design and Construction of Expanded Metal Security Fences and Barriers
Standard Specification for Polymer Privacy Insert Slats for Chain Link Fabric
Standard Specification for High Strength Structural Bolts, Steel and Alloy Steel, Heat Treated
For more information, reach out to us at info@milwaukeefencefinders.com or fill out our online inquiry form. We look forward to working with you and making your athletic visions a reality.
---
Related Services: Residential Fencing, Commercial Fencing, Security Fencing, Service Area
---
Fence Finders – Your Gateway to Superior Athletic Fencing Solutions.