Top-rated Fence Installation Services in

Addison, WI
Discover the Perfect Fence for Your Addison, WI Property
Addison is a town in Washington County, Wisconsin, with a population of 3,341. It is home to several unincorporated communities, such as Addison, Allenton, Aurora, Nenno, and Saint Anthony. Addison is a rural area with scenic landscapes and rich history. It is also a great place to install a fence for your home or business. Whether you need privacy, security, or curb appeal, a fence can enhance the value and functionality of your property. That's why you need Milwaukee Fence Finders, the best fence contractor near Addison, WI. We have over 20 years of experience in fence installation, repair, replacement, and gate installation. We offer a variety of fence materials and styles to suit your needs and budget. We also offer a lifetime craftsmanship warranty on all our fences.
Why Milwaukee Fence Finders is the Best Fence Contractor near Addison, WI

When it comes to finding the best fence contractor in Addison, look no further than Milwaukee Fence Finders. We take immense pride in our commitment to delivering exceptional customer service and unmatched craftsmanship. Our team of experienced professionals goes the extra mile to ensure your complete satisfaction. As a licensed and trusted fencing company, we use only premium quality materials, whether it's durable wood, versatile vinyl, or sturdy chain link. We take your vision and turn it into a reality, creating fences that not only stand the test of time but also add value and charm to your property. With our lifetime craftsmanship warranty, you can have peace of mind knowing your investment is well-protected.
Check out what our
Addison, WI

Customers are saying!
These guys are the real experts and have exceeded my expectations. Glad I went with them!
Heatherlee Muehlius
2023-07-10
Deb, Karen, Chad, Oscar and the installation team built a beautiful cedar fence for me. It was exactly what I wanted. I would recommend them to anyone!
I had a small job - to fix a chain link fence gate - and they treated me like I had an acre of fencing that needed to be put in. These people CARE about customer satisfaction and they do quality work - above what I was hoping for and below what I was paying for. I can't thank or recommend them enough for the quality work and personable service they provided - Highly recommend!
Milwaukee Fence Finders did an excellent job installing vinyl fence on my property. They were professional from the beginning to the end of the project. Arrived on time and completed the job on time. They also followed up after the project to ensure we were happy with the result.
Easy. Simple process. Really fast team. We had one small miscommunication where they zig'd instead of zag'd and put a post in the wrong spot. When I told them, they quickly fixed it and didn't ask any questions. Great experience.
Carrie Vande Zande
2023-06-28
We had a wonderful experience with Milwaukee Fence Finders. They were very quick to respond to any question or concerns. The installers called me during the install to clarify items and keep me posted on the progress and timeline. Our fence is beautiful and functions just as we hoped to keep our dogs from wandering and offering us privacy and a beautiful backdrop as well. I would definitely return to Milwaukee Fence with any needs in the future.
Fence looks great
Even though the schedulers were a little less communicative then we would have liked, the three gentleman that installed our fence were amazing! They worked hard with clay ground and rocks that were hidden, to put up an absolutely beautiful fence! They worked hard and were pleasant to talk to! Any questions we had they had the answers! We are so grateful for our beautiful fence!
Did a repair job of a chain link fence for me. Company was very responsive, price was competitive and they did a good job. There was one minor mistake they made, which when I brought it to their attention they were apologetic and promptly took care of it. Thank you for the good service.
See why
Germantown, WI

homeowners Choose us for their fence installation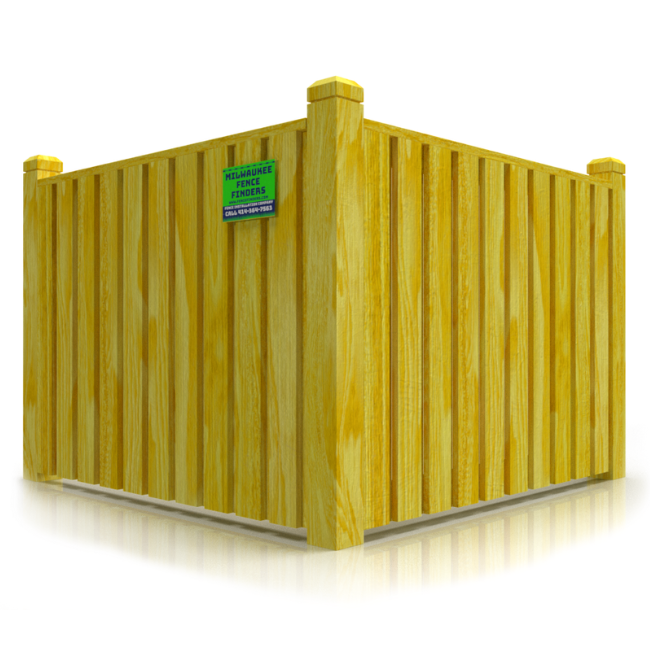 Enhancing Privacy and Security – Your Peaceful Sanctuary
Unwind in Seclusion with Our Privacy Fences
In Addison, nothing is more essential than finding a peaceful sanctuary to call your own. Our privacy fences are meticulously designed to offer you just that. Whether you want to shield your backyard from prying eyes or create a safe space for your kids and pets to play freely, our privacy fences have got you covered. With a variety of materials and styles to choose from, you can customize your fence to perfectly match your preferences and property aesthetics.
Aesthetic Appeal – Elevate Your Curb Appeal
Unleash the Beauty of Your Property with Our Aesthetic Fences
Make a lasting impression with a fence that beautifully complements your property's unique charm. Our aesthetically pleasing fences come in a range of styles, from classic picket fences to modern and sleek designs. Let our experts guide you in selecting the perfect fence that not only enhances your curb appeal but also adds value to your home or business.
Durability and Low Maintenance – Fences That Endure
Long-lasting Fences without the Hassle
Our fences are built to withstand the test of time and weather. Whether you opt for the natural beauty of wood or the low-maintenance convenience of vinyl and chain link, rest assured that your fence will retain its elegance and structural integrity for years to come. Spend less time worrying about maintenance and more time enjoying your beautiful, durable fence.
Customization – Unleash Your Creativity
Your Vision, Our Expertise
At Milwaukee Fence Finders, we believe in turning your fencing dreams into reality. With our custom fencing solutions, you have the creative freedom to design a fence that perfectly complements your property and reflects your style. Let our team bring your ideas to life and create a fence that truly stands out in Addison.

Frequently Asked Questions
Q: What are the height restrictions for fences in Addison, WI?
A: The height restrictions for fences in Addison vary based on their location on your property. In general, front yard fences must not exceed 3 feet, while back and side yard fences can go up to 6 feet in height.
Q: Can I install a fence on a corner lot in Addison?
A: Yes, you can install a fence on a corner lot in Addison. However, it's essential to be aware of the local regulations and ensure your fence meets the required setback distances from the property lines and intersections.
Q: How can I find affordable fence installation services near me in Addison, WI?
A: To find affordable fence installation services near you in Addison, WI, look for reputable local fence contractors that offer competitive pricing and a range of material options. Request quotes and compare prices to find the best deal that fits your budget.
Q: What types of fences are popular in Addison?
A: In Addison, you'll find a mix of classic and contemporary fence styles. Wood fences, especially cedar and redwood, are quite popular for their natural beauty. Vinyl fences are favored for their low maintenance and longevity, while chain-link fences are commonly used for security and pet containment.
Q: Do you offer fence repair services near me in Addison?
A: Yes, at Milwaukee Fence Finders, we offer reliable fence repair services near you in Addison, WI. Whether your fence needs fixing due to storm damage, wear, or other issues, our skilled team can restore it to its former glory.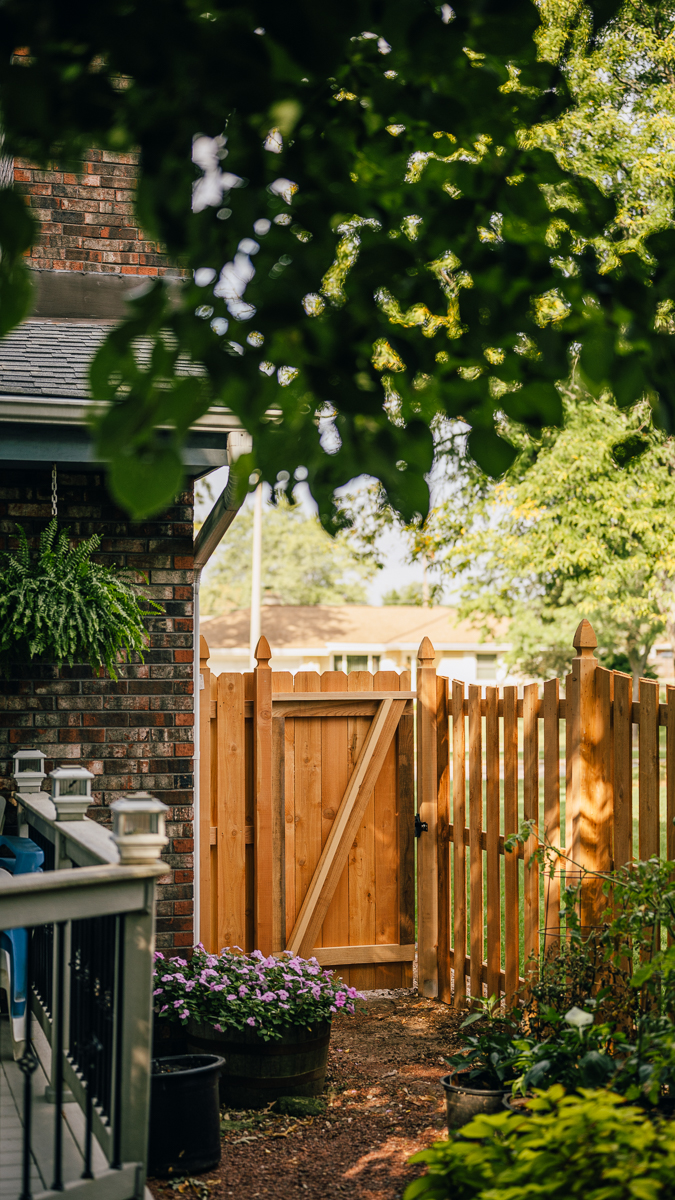 Fence Installation of Various Materials in Addison, WI

Exploring the Beauty of Different Fencing Materials
When it comes to fence installation in Addison, WI, Milwaukee Fence Finders offers a diverse selection of materials to suit your preferences and requirements. Let's dive into the unique features and benefits of each fencing material:
Wood Fences – Natural Elegance and Timeless Charm
Whether you seek a rustic appeal or a classic touch, wood fences are a popular choice in Addison. The warmth and natural beauty of wood add a touch of elegance to any property. Choose from various styles, including picket, board-on-board, and shadowbox, and let our team install a wood fence that complements your surroundings.
Vinyl Fences – Low-Maintenance Durability
Vinyl fences are a practical and stylish option for homeowners seeking a low-maintenance solution. Resistant to weather, insects, and decay, vinyl fences offer lasting beauty without the need for frequent upkeep. Explore a wide range of colors and styles, including privacy, semi-privacy, and decorative designs.
Chain Link Fences – Versatile and Secure
Ideal for residential and commercial properties alike, chain link fences provide security and visibility. They are a cost-effective option for containing pets and protecting your property. Available in various heights and gauges, our chain link fences offer both security and a clear view of your surroundings.
Popular Fence Styles in Addison, WI
Embrace the Charm of Local Favorites
In Addison, WI, certain fence styles have become iconic for their versatility and appeal. Let's explore the popular fence styles that have won the hearts of local residents:
Cedar Picket Fences – A Charming Classic
Cedar picket fences evoke a sense of nostalgia and charm, making them a favorite among homeowners in Addison. The timeless design features pointed pickets arranged in a scalloped or straight pattern, adding character to your property while maintaining an open feel.
Vinyl Privacy Fences – Seclusion and Beauty Combined
In a bustling town like Addison, vinyl privacy fences offer an oasis of seclusion. These solid, tall fences create a private sanctuary in your backyard, shielding you from outside view and creating a serene space to relax and unwind.
Chain Link Security Fences – Safety First
For commercial properties and homeowners seeking enhanced security, chain link fences are a practical choice. These sturdy and transparent fences provide a robust barrier while allowing visibility, making them suitable for both safety and aesthetics.
Fence Repair, Replacement, and Gates
Expert Solutions for Long-lasting Fencing
At Milwaukee Fence Finders, we go beyond fence installation to provide comprehensive services for existing fences. Whether you need fence repairs, replacement, or custom gates, our team is equipped to handle it all.
Fence Repair Services – Restoring Beauty and Functionality
Over time, wear and tear or unexpected incidents can damage your fence. Our skilled technicians can assess the damage and perform necessary repairs, ensuring your fence remains as sturdy and beautiful as ever.
Fence Replacement – Upgrading Your Fencing
If your current fence is beyond repair or you wish to upgrade to a different style or material, our team can help you choose the perfect replacement. We handle the entire process, from removal to installation, so you can enjoy a seamless transition.
Custom Gates – The Perfect Entrance
Complete your fencing project with a custom gate that adds a touch of elegance and functionality. Whether it's a charming wooden gate or a modern vinyl gate, we can design and install one that complements your fence and property.
Fence Permits and Regulations in Addison, WI
DOWNLOAD ADDISON WI FENCE PERMIT APPLICATION FORM
Your Guide to Compliant and Beautiful Fencing
Before starting any fence installation project in Addison, WI, it's essential to understand the local regulations and obtain the necessary permits. Here's a step-by-step guide to help you navigate the process:
Step 1: Research Local Regulations
Begin by researching the fence regulations specific to Addison, WI. Check the city's official website or contact the local building department for the most up-to-date information.
Step 2: Identify Property Lines
Ensure you know the exact boundaries of your property before planning your fence installation. Hiring a professional surveyor can help you determine property lines accurately.
Step 3: Choose Fence Material and Style
Select the type of fence material and style you wish to install. Different materials may have varying regulations, so ensure your choice complies with local rules.
Step 4: Obtain Necessary Permits
In Addison, you'll likely need a building permit for most fence installations. Visit the city's permit office and submit the required documents, including your property survey and fence plans.
Step 5: Comply with Height Restrictions
Adhere to the height restrictions for fences in different areas of your property. Typically, front yard fences must not exceed 3 feet, while back and side yard fences can reach up to 6 feet.
Step 6: Fences on Corner Lots
If you have a corner lot, additional regulations may apply. Ensure your fence meets setback requirements from both the property lines and the intersection.
Step 7: Maintenance and Repair
Keep your fence in good condition by performing regular maintenance and prompt repairs. This not only ensures compliance with regulations but also prolongs the life of your fence.
Front Yard Height Restrictions:
Addison Wisconsin Fence Height Restrictions
Please note that these regulations are subject to change, and it's crucial to verify the current guidelines with the local authorities before proceeding with your fence installation.
Disclaimer:
The information provided by Fence Finders LLC regarding building permits and regulations is for general informational purposes only. All information on the site is provided in good faith, however, we make no representation or warranty of any kind, express or implied, regarding the accuracy, adequacy, validity, reliability, availability, or completeness of any information on the site.
Disclaimer Cont.
While we strive to keep the information up to date and correct, we are not responsible or liable for any errors or omissions, or for the results obtained from the use of this information. Regulations and requirements may change, and the specific circumstances of your situation may affect the applicability of certain regulations.
We strongly recommend that you consult with your local municipality or a legal expert to understand the specific permit requirements for your fence installation project. Fence Finders LLC is not responsible for any decisions made based on the information provided on our site or in our communications.
By using our site or services, you agree to this disclaimer and our terms of service. If you do not agree, please do not use our site or services.