Fence Installation in and near
Farmington, WI
Your Trusted Local Fence Installation Experts
Farmington, WI: Embrace Quality Fencing
Nestled in the picturesque landscapes of Wisconsin, Farmington is a charming town known for its friendly community and stunning natural beauty. From the historic landmarks like Farmington Community Church to the scenic trails of Lake Kegonsa State Park, the town exudes a serene and inviting atmosphere.
At Milwaukee Fence Finders, we are proud to be a part of the Farmington community, offering exceptional fence installation services that blend seamlessly with the town's rustic charm. Our dedicated team understands the unique fencing needs of Farmington residents and businesses, and we take pride in delivering top-notch solutions that not only enhance security and privacy but also add a touch of elegance to your property. Whether you need a classic wooden fence, a modern vinyl enclosure, or a sturdy chain-link boundary, we have the expertise to create your dream fence. Experience reliable craftsmanship, unparalleled service, and the assurance of a Lifetime Craftsmanship Warranty. Discover the finest fence installation near you with Milwaukee Fence Finders today!
We are the best rated fence company serving
Farmington, WI
These guys are the real experts and have exceeded my expectations. Glad I went with them!
Heatherlee Muehlius
2023-07-10
Deb, Karen, Chad, Oscar and the installation team built a beautiful cedar fence for me. It was exactly what I wanted. I would recommend them to anyone!
I had a small job - to fix a chain link fence gate - and they treated me like I had an acre of fencing that needed to be put in. These people CARE about customer satisfaction and they do quality work - above what I was hoping for and below what I was paying for. I can't thank or recommend them enough for the quality work and personable service they provided - Highly recommend!
Milwaukee Fence Finders did an excellent job installing vinyl fence on my property. They were professional from the beginning to the end of the project. Arrived on time and completed the job on time. They also followed up after the project to ensure we were happy with the result.
Easy. Simple process. Really fast team. We had one small miscommunication where they zig'd instead of zag'd and put a post in the wrong spot. When I told them, they quickly fixed it and didn't ask any questions. Great experience.
Carrie Vande Zande
2023-06-28
We had a wonderful experience with Milwaukee Fence Finders. They were very quick to respond to any question or concerns. The installers called me during the install to clarify items and keep me posted on the progress and timeline. Our fence is beautiful and functions just as we hoped to keep our dogs from wandering and offering us privacy and a beautiful backdrop as well. I would definitely return to Milwaukee Fence with any needs in the future.
Fence looks great
Even though the schedulers were a little less communicative then we would have liked, the three gentleman that installed our fence were amazing! They worked hard with clay ground and rocks that were hidden, to put up an absolutely beautiful fence! They worked hard and were pleasant to talk to! Any questions we had they had the answers! We are so grateful for our beautiful fence!
Did a repair job of a chain link fence for me. Company was very responsive, price was competitive and they did a good job. There was one minor mistake they made, which when I brought it to their attention they were apologetic and promptly took care of it. Thank you for the good service.
See why
Farmington, WI

homeowners Choose us for their fence installation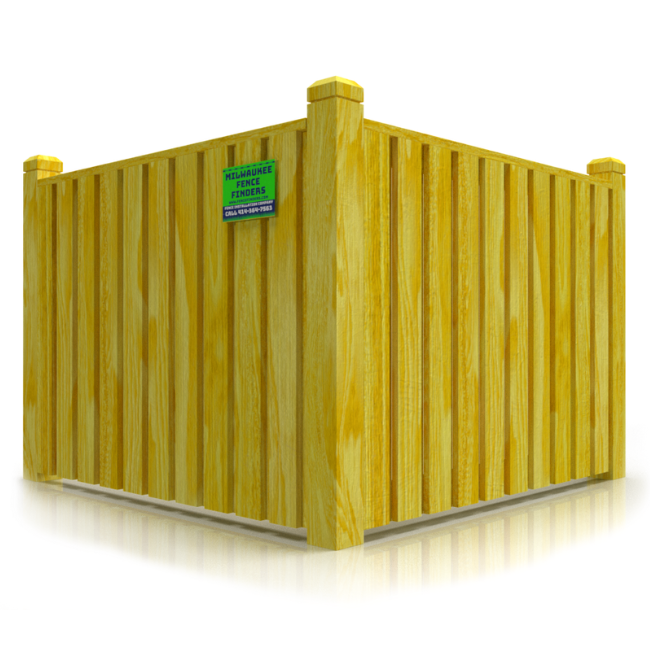 Customized Fencing Solutions for Your Farmington Property
Embrace the beauty of a fence that complements your property's unique style. At Milwaukee Fence Finders, we understand that every property is distinct, and cookie-cutter solutions won't do justice. Our skilled team works closely with you to understand your preferences, budget, and functional needs. Whether you desire the timeless elegance of wood, the low-maintenance appeal of vinyl, or the practicality of chain link, we've got you covered. Our customization process ensures your fence becomes an extension of your property, enhancing its overall appeal and value.
Professional Gate Installations for Added Security and Convenience
Complete your fence with our expert gate installation services. A well-designed gate not only adds a touch of grandeur but also provides enhanced security and convenience. Whether you need a sliding gate for your driveway or a walk-through gate for easy access, we have a range of options to suit your needs. Our skilled craftsmen pay attention to every detail, ensuring seamless integration with your fence and landscape.
Reliable Fence Repair Services Near You
Even the sturdiest fences might encounter wear and tear over time. That's why we offer prompt and reliable fence repair services in Farmington, WI. Don't let a damaged fence compromise your property's security or appearance. Our team is well-equipped to handle various repair needs, from fixing broken pickets to repairing sections affected by weather damage. Let us restore your fence to its former glory.
Enhance Privacy and Security with Quality Fencing
Your safety and privacy are of utmost importance to us. We take pride in delivering fences that offer security and seclusion for your property. Whether you need a tall fence to deter intruders or a decorative one to maintain a sense of openness, we strike the perfect balance between aesthetics and functionality.

Frequently Asked Questions
Are you a local fence contractor in Farmington, WI?
Absolutely! Milwaukee Fence Finders is a proud local fence contractor serving Farmington, WI, and surrounding areas. We have deep roots in the community and take pride in being a part of its growth and development.
What types of fences do you offer for residential properties in Farmington?
We offer a wide selection of fencing materials for residential properties in Farmington, WI. Choose from classic wood for a timeless look, durable vinyl for low maintenance, or practical chain link for cost-effectiveness. Each material comes with its unique set of benefits to match your preferences and budget.
Can you assist with commercial fence installations in Farmington?
Absolutely! Our expertise extends beyond residential properties to cater to commercial fence installations in Farmington, WI. Whether you need security fencing for your business or an ornamental fence for a welcoming touch, our team is well-equipped to handle projects of all sizes.
How long does the fence installation process usually take?
The timeline for fence installation can vary depending on factors such as the size of the project, the type of fence selected, and weather conditions. However, we strive to complete most installations within a few days to ensure minimal disruption to your daily routine.
Do you provide financing options for fence installations?
Yes, we understand that a fence installation is an investment, and we want to make it as convenient as possible for you. Milwaukee Fence Finders offers flexible financing options to suit your budget, making your dream fence more attainable.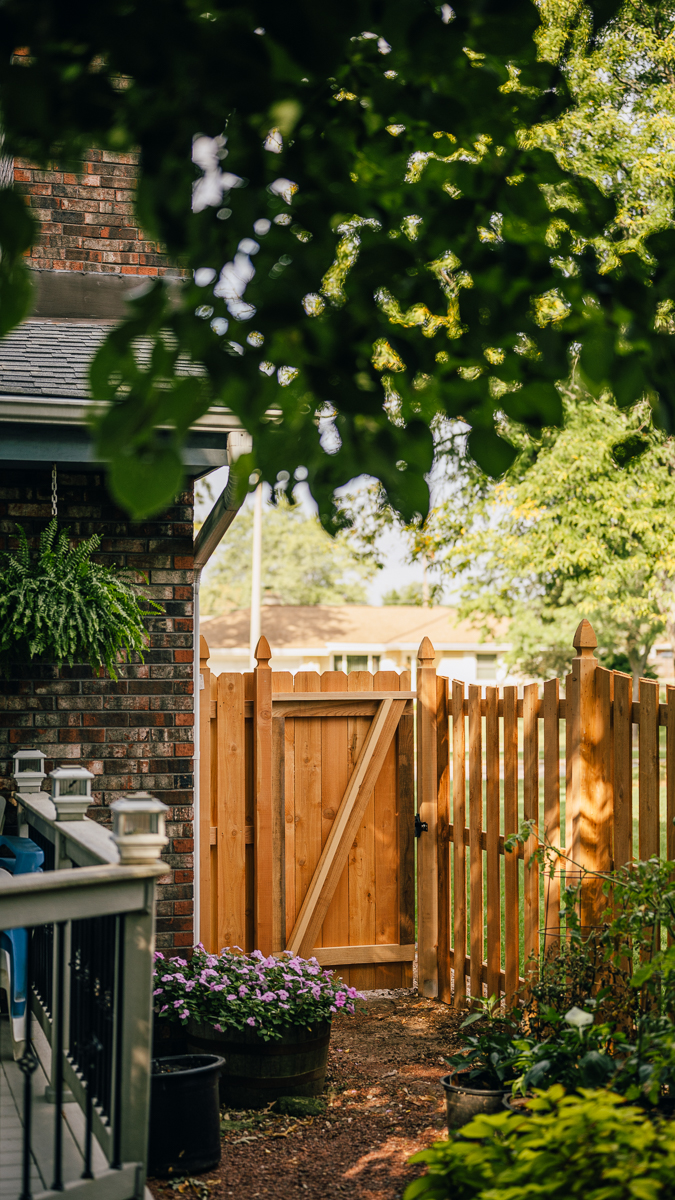 Fence Installation Services in Farmington, WI: Enhancing Your Property with Quality Fencing
Popular Fence Styles for Farmington Properties:
When it comes to fence installation in Farmington, WI, we offer an array of popular styles to suit different preferences and needs.
Wood Fences: The timeless charm of wood fences blends seamlessly with the rustic landscapes of Farmington. Choose from various designs, including picket, privacy, or split rail fences, to add a touch of traditional elegance to your property.
Vinyl Fences: If you seek a low-maintenance option with remarkable durability, vinyl fences are an excellent choice. These fences require minimal upkeep and retain their appearance even in harsh weather conditions.
Chain Link Fences: For practicality and cost-effectiveness, chain link fences are a preferred option. They provide security without obstructing the view, making them ideal for commercial properties or areas where visibility is essential.
Fence Repair Services to Preserve Your Investment:
At Milwaukee Fence Finders, we understand that fences endure wear and tear over time. That's why we offer reliable fence repair services in Farmington, WI. Whether it's storm damage, rotting wood, or loose posts, our skilled team will promptly address the issues and restore your fence to its original condition.
Gate Installations: Combining Style and Functionality:
Complete your fence with our expert gate installations. Our range of gate styles includes single swing, double swing, sliding, and walk-through gates. We carefully consider the architecture of your property to design gates that seamlessly integrate with your fence, adding both security and convenience.
Other Services We Offer:
Beyond fence installation and repairs, we offer additional services to cater to all your fencing needs:
Fence Staining and Sealing: Enhance the longevity and appearance of your wood fence with our professional staining and sealing services. Choose from a variety of colors to complement your property.
Fence Removal and Disposal: If you have an old, damaged fence that needs replacement, our team can efficiently remove and dispose of it, leaving your property clean and ready for the new installation.
Comprehensive Guide to Fence Regulations in Farmington, WI
Adding a fence to your property in Farmington, WI can enhance its aesthetics, security, and privacy. To ensure your fence installation complies with local regulations, here's a detailed guide to follow:
Types of Fences and Definitions
Fence: A fence is an enclosed barrier made of wood, plastic, stone, or metal, designed to prevent ingress or egress. It must not consist of unsightly or dangerous materials that could create a nuisance.
Boundary Fence: This type of fence is placed along the property lines of adjacent properties.
Protective Fence: A protective fence is constructed to enclose a hazard, promoting public health, safety, and welfare.
Architectural or Aesthetic Fence: This decorative fence enhances the appearance of a structure or landscape, with the decorative or finished side facing the adjoining lots or streets.
Hedge: A hedge is a row of bushes or small trees planted closely together, forming a barrier, enclosure, or boundary.
Picket Fence: A picket fence consists of pointed posts, stakes, pales, or pegs laced vertically with the point or sharp part pointing upward, forming a part of the fence.
Fence Construction Requirements
The decorative or finished side of the fence must face the adjoining properties and streets.
Height of Fences Regulated
General Height Regulations:
Fences or walls along a lot line can have a maximum height of six (6) feet above the ground level.
Fences or walls located in a required front or corner side yard cannot exceed a height of three (3) feet.
Fences exceeding six (6) feet in height must be set back at least three (3) feet from all lot lines.
If a lot line is adjacent to a non-residentially zoned property, the height of a fence or wall along that line should not exceed eight (8) feet.
Height Regulations for Business or Industrially Zoned Properties Adjacent to Residential Zones:
Fences on business or industrially zoned properties adjacent to residentially zoned properties should not exceed eight (8) feet in height.
Height Limitation in Residence Districts:
Fences in any residence district cannot exceed three (3) feet above the street grade within twenty-five (25) feet of the intersection of any street lines or projected street lines.
Setback Requirements for Fences
Fences may be constructed on lot lines but should not extend into the road right-of-way.
Security Fences
Security fences are allowed on property lines in all districts except residential districts.
Security fences must not exceed a height of ten (10) feet and must be of an open type, similar to woven wire or wrought iron fencing.
Prohibited Fences
Residential fences must not be in a dangerous condition or conduct electricity to shock.
Barbed wire is prohibited in residential areas but can be used in industrially zoned areas if secured ten (10) feet above the ground and projecting toward the fenced property, away from any public area.
Fences to be Maintained
All fences must be kept safe and in a state of good repair.
Temporary Fences
Fences erected temporarily for planting protection or construction warnings must be clearly visible and marked with colored streamers or warning devices at four (4) foot intervals.
Such fences must comply with the setback requirements.
Existing Nonconforming Fences
Any fence existing on the effective date of this Code of Ordinances and not in conformance with these regulations may be maintained.
Alterations, modifications, or improvements of more than fifty percent (50%) of the fence will require bringing the entire fence into compliance.
Locating Your Fence Properly
As the property owner, you are solely responsible for ensuring that the fence is located properly on your property.
Private or Residential Swimming Pools
Definition of Private or Residential Swimming Pools
A private or residential swimming pool is an outdoor structure containing a body of water with a depth greater than one and one-half (1-1/2) feet located above or below the ground elevation. It is intended for use solely by the owner, operator, or lessee and their family and friends invited to use it. The term includes all structural facilities, appliances, appurtenances, equipment, and other items used for the operation and maintenance of the pool.
Fences for Swimming Pools
All in-ground pools must be entirely enclosed with a non-climbable fence, with a minimum height of four (4) feet, and a locking gate.
Above-ground pools with deck heights above four (4) feet at any point are exempt from fencing requirements, but access points, such as ladders or steps, must have a locking gate.
A portion of a building may be used as part of the fence, provided the pool is located at least ten (10) feet from the building.
Disclaimer:
The information provided in this guide is for general informational purposes only and is subject to change. For accurate and up-to-date fence regulations and requirements in Farmington, WI, please consult the official Town ordinances and zoning codes. It is the responsibility of the property owner to ensure compliance with all relevant regulations and obtain any necessary permits before starting fence or swimming pool construction.
Disclaimer Cont.
While we strive to keep the information up to date and correct, we are not responsible or liable for any errors or omissions, or for the results obtained from the use of this information. Regulations and requirements may change, and the specific circumstances of your situation may affect the applicability of certain regulations.
We strongly recommend that you consult with your local municipality or a legal expert to understand the specific permit requirements for your fence installation project. Fence Finders LLC is not responsible for any decisions made based on the information provided on our site or in our communications.
By using our site or services, you agree to this disclaimer and our terms of service. If you do not agree, please do not use our site or services.