Milwaukee Fence Finders Sports Center:
Equestrian Fencing and Horse Track Barriers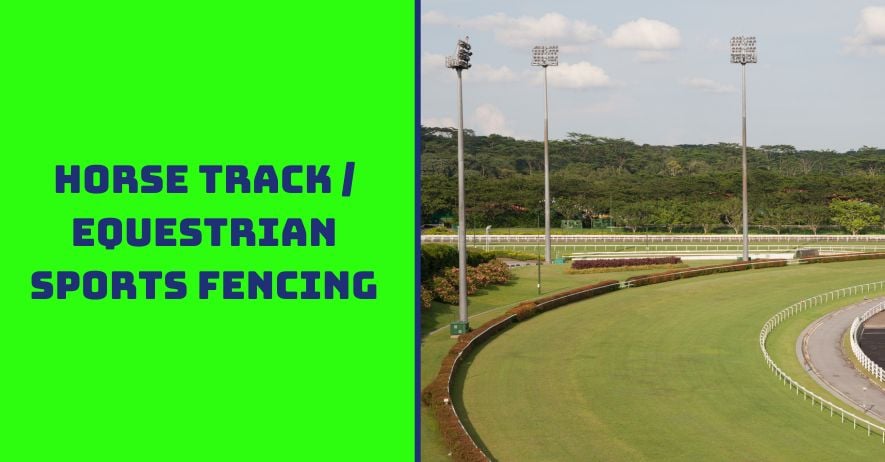 Your Horse's Safety Is Our Priority
When it comes to equestrian sports and horse racing, nothing is more important than the safety of your horses and riders. At Milwaukee Fence Finders, we specialize in offering top-notch Equestrian Fencing, Horse Track Barriers, and Animal Safety Fencing solutions. With years of experience serving South Eastern Wisconsin, we've become the state's go-to fence contractor for all things equestrian.
---
Table of Contents
---
Why Choose Our Equestrian Fencing?
If you own or manage a stable, farm, or horse racing track, you know that the right fencing is essential for maintaining the health and well-being of your animals. Our equestrian fencing is designed with the following key features:
Durability: Built from high-quality materials like oak and steel, designed to withstand all weather conditions.
Visibility: High-contrast colors and designs to ensure that your horses can clearly see the fence boundaries.
Flexibility: Easily customizable to fit the specific needs of your facility, including various heights and styles.
Advanced Horse Track Barriers
When it comes to horse racing, having secure and effective track barriers is crucial. The barriers not only protect the jockeys and spectators but also ensure fair competition. Our advanced horse track barriers come with:
Quick Release Systems: In the event of an emergency, our barriers can be easily and quickly opened.
High Visibility Markings: Striking color combinations to ensure they're easily visible to horses and jockeys.
Impact Absorption: Engineered to minimize injuries to horses and jockeys upon accidental collision.
Animal Safety Fencing Solutions
Beyond horses, Milwaukee Fence Finders also offers fencing solutions designed to protect a variety of animals, including livestock and domestic pets. Our animal safety fencing features:
Electrified Options: For preventing predation or containing more assertive animals.
Weather-resistant Materials: Built to last in the challenging Wisconsin climate.
Expert Installation: Ensuring that your animals remain safely enclosed at all times.
Why Milwaukee Fence Finders?
Experienced Team: Our skilled craftsmen have years of experience in the fencing industry, specifically in the niche of equestrian and animal safety fencing.
Customer-Centric Approach: Our mission is to provide top-quality fencing solutions that meet your unique needs. We offer free consultations and will work closely with you from concept to completion.
Innovative Technology: Leveraging state-of-the-art technology, we create fencing solutions that set industry standards for safety and durability.
Get a Free Quote Today
Don't compromise when it comes to the safety of your animals and riders. Contact Milwaukee Fence Finders today for a free quote on our premium Equestrian Fencing, Horse Track Barriers, and Animal Safety Fencing solutions. Trust us to be your partners in building a safer, more secure environment for your animals.
Designed for Animal Well-being
Professional Horse Trainers
Reinforced Steel with Quick Release
Emergency Safety & Fair Competition
Impact Absorption Technology
Electrified & Weather-resistant Materials
Predator Prevention & Animal Containment
Strategic Placement for Maximum Visibility
Expert Installation for Secure Enclosure
For more information, reach out to us at info@milwaukeefencefinders.com or fill out our online inquiry form. We look forward to working with you and making your athletic visions a reality.
---
Related Services: Residential Fencing, Commercial Fencing, Security Fencing, Service Area
---
Fence Finders – Your Gateway to Superior Athletic Fencing Solutions.