Milwaukee Fence Finders Sports Center:
Tennis Court Fencing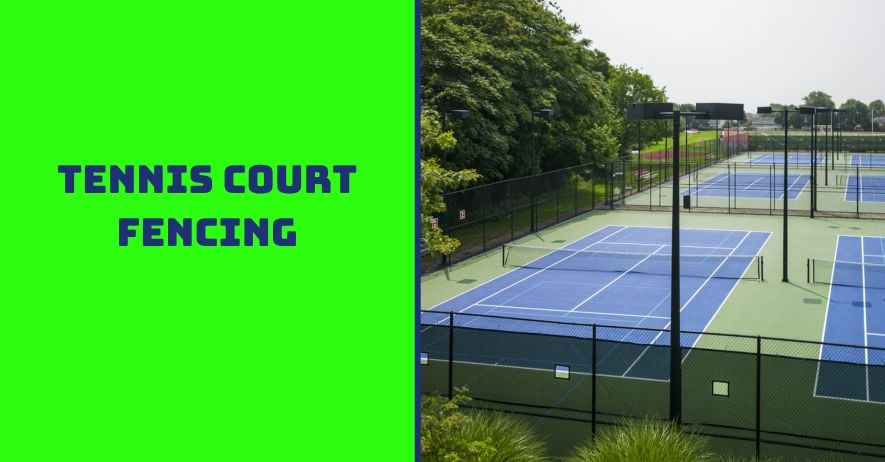 Elevate Your Game with High-Quality Tennis Court Fencing
At Milwaukee Fence Finders, we understand that a tennis court is not just a piece of ground but a sanctuary for tennis enthusiasts. That's why we specialize in providing top-of-the-line tennis court fencing solutions that not only secure your court but also elevate the aesthetics and functionality of your sporting space.
---
Key Services
Tennis Court Fencing
Creating a safe and functional environment is our priority. Our tennis court fencing is designed to maximize visibility while providing the robust security you need.
Windbreak Fencing
Wind can be a considerable disturbance during a tennis match. Our windbreak fencing solutions are engineered to minimize wind interference, letting you focus on your game.
Outdoor Court Fencing
We offer specialized fencing solutions that are perfect for outdoor courts. Our products are weather-resistant, durable, and designed to stand the test of time.
---
Why Choose Our Tennis Court Fencing Solutions?
Expertise in Sports Facility Fencing
With years of experience in the industry, we have the skill and the expertise to deliver fencing solutions that meet the specific requirements of sports facilities.
Customization Options
From height and material to design and color, we offer a plethora of customization options to make sure your tennis court fencing aligns with your aesthetic and functional requirements.
Advanced Material
Our fencing solutions employ advanced materials like galvanized steel and high-density polyethylene to ensure durability and resistance to weather conditions.
Professional Installation
Our team of experienced installers will ensure that your tennis court fencing is installed with utmost precision, ensuring longevity and superior performance.
---
The Process
Consultation: Our experts will visit your site to assess your needs and provide you with a free estimate.
Design & Planning: Based on your requirements, we will design a custom fencing solution for your tennis court.
Installation: Our team will take care of the entire installation process, ensuring a seamless finish.
Quality Check: Post-installation, we will conduct a thorough quality check to ensure the fencing meets our high standards.
After-Sales Service: Our relationship doesn't end with installation. We offer excellent after-sales services to keep your fencing in top shape.
---
Frequently Asked Questions
What materials do you offer for tennis court fencing?

We offer galvanized steel, aluminum, and high-density polyethylene among other options.

Do you offer windbreak fencing as an add-on or as a standalone product?

Both. You can choose to integrate windbreak fencing into your existing setup or opt for a standalone product.

How long does the installation process take?

The installation time can vary depending on the size and complexity of the project, but we aim to complete most installations within a week.
---
The height of the fence is crucial for ensuring proper security and minimal ball exit.
Material plays a key role in the durability, look, and maintenance of the fence.
Size of the mesh openings in the fence, affecting visibility and wind resistance.
Aesthetic choices to match your court or facility.
Horizontal supports at the top of the fence for added durability.
Secure and easy-to-operate gates for entrance and exit.
Additional features that can be integrated into the fence.
Assurance of quality and durability.
- 8 feet
- 10 feet
- 12 feet
- Galvanized Steel
- Aluminum
- High-Density Polyethylene
- 1 3/4 inch
- 2 inch
- 2 3/8 inch
- Black
- Green
- Custom colors
- Single Walkway Gates
- Double Wide Gates for Vehicles
- Windbreak Fencing
- Privacy Screens
- Scoreboards
- 1-year Limited Warranty
- 5-year Extended Warranty
Custom heights available upon request.
Material choice may affect pricing.
Smaller mesh size offers better ball containment.
Custom colors may require additional time.
Rounded top rails are generally safer for athletes.
ADA-compliant gates available.
Add-ons can be included during installation or added later.
Warranty terms and conditions apply.
For more information, reach out to us at info@milwaukeefencefinders.com or fill out our online inquiry form. We look forward to working with you and making your athletic visions a reality.
---
Related Services: Residential Fencing, Commercial Fencing, Security Fencing, Service Area
---
Fence Finders – Your Gateway to Superior Athletic Fencing Solutions.