Fence Installation Company in Germantown, WI
Book a Hassle Free estimate in Germantown
We understand time is precious, so we've made it simple and quick to schedule an in-person consultation online in less than 60 seconds! Just click HERE to view our appointment schedule and book an estimate!
Contact Milwaukee Fence Finders
Fence Finders proudly services the Germantown area with quality fencing and affordable prices. Our diverse experience installing many styles of fences gives us the upper hand, we're a full-service repair and installation provider.
Quality is Our Top Priority
While some local fence contractors choose to provide rock-bottom pricing by sourcing less than desirable fence materials – we take a different approach. 
Each fence we quote, we take a Good – Better – Best approach towards. We understand some customers are on budgets that need to be maintained. Once we understand the scope of the project, we will evaluate all the options that are available. If we have been provided a budget to work with, we will present any estimates that fit within the budget.
For example, if you're looking for a chain-link fence in your backyard, the breakdown would look something like this:
Good – 11  gauge galvanized chain link wire, terminal, and gate posts set in cement, top rail ran for rigidity.
Better – 9 gauge galvanized chain link wire, all posts set in cement, top rail ran for rigidity. 
Best – 9 gauge vinyl coated chain link (any color), all posts set in cement, top rail, and tension wire (if needed).
While all of the above chain link fence options above will provide a functional and long-lasting fence, the better and best options have some benefits that could make it a better fit for some homeowners. 
Fence Styles & Material Types We Work With
We offer the Good, Better, Best breakdown for all fence styles and material types we offer, including: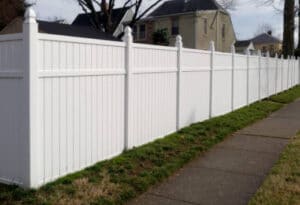 We install All Kinds of Fences in Germantown, WI