Fence Installation Company in

Germantown, WI
Welcome to Germantown, WI Fence Installation Services
Welcome to Germantown, WI, where we understand that a fence is more than just a barrier; it's a statement about your property and a symbol of your style. At Milwaukee Fence Finders, we take pride in offering top-rated fence installation services to enhance your property's aesthetics, security, and privacy. Whether you're looking for a wood, vinyl, chain link, or custom fencing solution, our team of expert fence builders is here to turn your vision into reality. Located in the heart of Germantown, our locally-owned company is deeply rooted in the community, serving both residential and commercial customers with unparalleled craftsmanship and dedication. Let's explore the unique benefits of choosing Milwaukee Fence Finders for all your fencing needs!
Milwaukee Fence Finders stands out as the best fence contractor near Germantown, WI, for numerous reasons. Our unmatched expertise in fence installation, repair, and replacement, combined with our commitment to customer satisfaction, has earned us a reputation as the go-to local fence contractors in the area. With a team of licensed professionals, we bring creativity, precision, and attention to detail to every project. Our mission is to deliver fencing solutions that not only meet but exceed your expectations. When you choose us, you're not just investing in a fence; you're investing in top-quality materials, superior craftsmanship, and a fence that will stand the test of time.
Check out what our
Germantown, WI

Customers are saying!
These guys are the real experts and have exceeded my expectations. Glad I went with them!
Heatherlee Muehlius
2023-07-10
Deb, Karen, Chad, Oscar and the installation team built a beautiful cedar fence for me. It was exactly what I wanted. I would recommend them to anyone!
I had a small job - to fix a chain link fence gate - and they treated me like I had an acre of fencing that needed to be put in. These people CARE about customer satisfaction and they do quality work - above what I was hoping for and below what I was paying for. I can't thank or recommend them enough for the quality work and personable service they provided - Highly recommend!
Milwaukee Fence Finders did an excellent job installing vinyl fence on my property. They were professional from the beginning to the end of the project. Arrived on time and completed the job on time. They also followed up after the project to ensure we were happy with the result.
Easy. Simple process. Really fast team. We had one small miscommunication where they zig'd instead of zag'd and put a post in the wrong spot. When I told them, they quickly fixed it and didn't ask any questions. Great experience.
Carrie Vande Zande
2023-06-28
We had a wonderful experience with Milwaukee Fence Finders. They were very quick to respond to any question or concerns. The installers called me during the install to clarify items and keep me posted on the progress and timeline. Our fence is beautiful and functions just as we hoped to keep our dogs from wandering and offering us privacy and a beautiful backdrop as well. I would definitely return to Milwaukee Fence with any needs in the future.
Fence looks great
Even though the schedulers were a little less communicative then we would have liked, the three gentleman that installed our fence were amazing! They worked hard with clay ground and rocks that were hidden, to put up an absolutely beautiful fence! They worked hard and were pleasant to talk to! Any questions we had they had the answers! We are so grateful for our beautiful fence!
Did a repair job of a chain link fence for me. Company was very responsive, price was competitive and they did a good job. There was one minor mistake they made, which when I brought it to their attention they were apologetic and promptly took care of it. Thank you for the good service.
See why
Germantown, WI

homeowners Choose us for their fence installation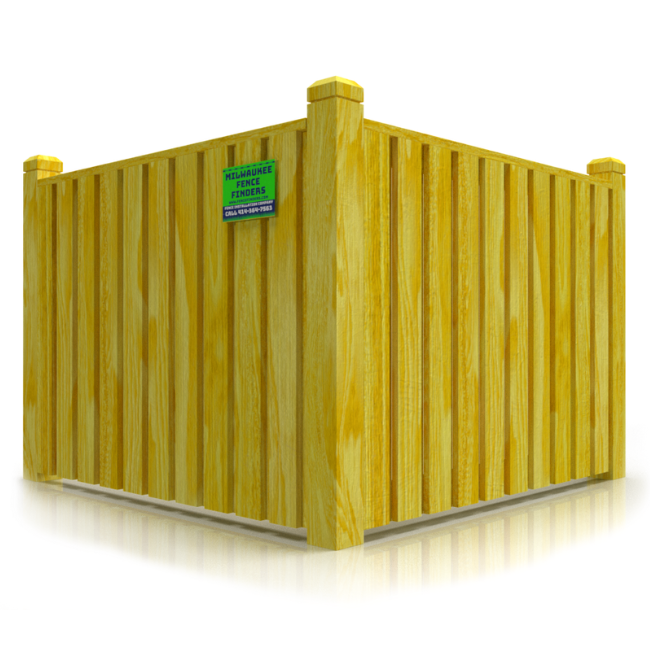 Enhanced Privacy – Your Personal Oasis
Enjoy Uninterrupted Privacy with Our Premium Fencing Solutions
With Milwaukee Fence Finders, you can create your personal oasis in Germantown, WI. Our top-rated fence installation services offer enhanced privacy, making your property a tranquil retreat away from the outside world. Choose from a variety of fence materials, such as durable vinyl or classic wood, and experience peace of mind knowing your sanctuary is secure from prying eyes.
Enhanced Curb Appeal – Elevate Your Property's Aesthetics
Impress Visitors with Beautifully Crafted Fences
Make a lasting impression on visitors with our meticulously crafted fences. At Milwaukee Fence Finders, we understand the importance of curb appeal. Our fences not only provide security but also enhance the overall aesthetics of your property. From charming picket fences to sleek modern designs, we have the perfect fence style to complement your home or business.
Security and Safety – Protect What Matters Most
Reliable Fences to Safeguard Your Loved Ones and Assets
Your safety and the security of your loved ones are our top priorities. Our expert team ensures that every fence installation in Germantown, WI, is carried out with utmost precision and quality. Whether you need a sturdy fence to keep children and pets safe or a robust barrier to protect your business, we've got you covered.
Durability – Fences Built to Last
Invest in Long-lasting Fencing Solutions
Our commitment to using high-quality materials and employing skilled craftsmanship results in fences that are built to withstand the test of time and the Wisconsin weather. With Milwaukee Fence Finders, you're making a wise investment in a durable fence that will remain sturdy and attractive for years to come.

Frequently Asked Questions
Q: What types of fences do you offer in Germantown, WI?
A: At Milwaukee Fence Finders, we offer a wide range of fencing materials and styles to suit your preferences and needs. Our options include wood, vinyl, chain link, and custom fences tailored to your unique vision.
Q: Are your fence installation services available for both residential and commercial properties?
A: Yes, absolutely! Whether you're a homeowner looking to enhance your property or a business owner seeking security solutions, our team is experienced in handling both residential and commercial fence installations.
Q: Do you offer fence repair services near me in Germantown?
A: Yes, we do! If your existing fence is damaged or in need of repairs, our skilled team can handle fence repair services to restore its functionality and appearance.
Q: How long does the fence installation process take?
A: The timeline for fence installation can vary depending on the size of the project and the type of fence you choose. However, we always strive to complete the installation promptly without compromising on quality.
Q: Is there a warranty on your fence installations?
A: Yes, all our fence installations in Germantown, WI, come with a lifetime craftsmanship warranty. We take pride in our work, and our warranty reflects our confidence in the quality of our fences.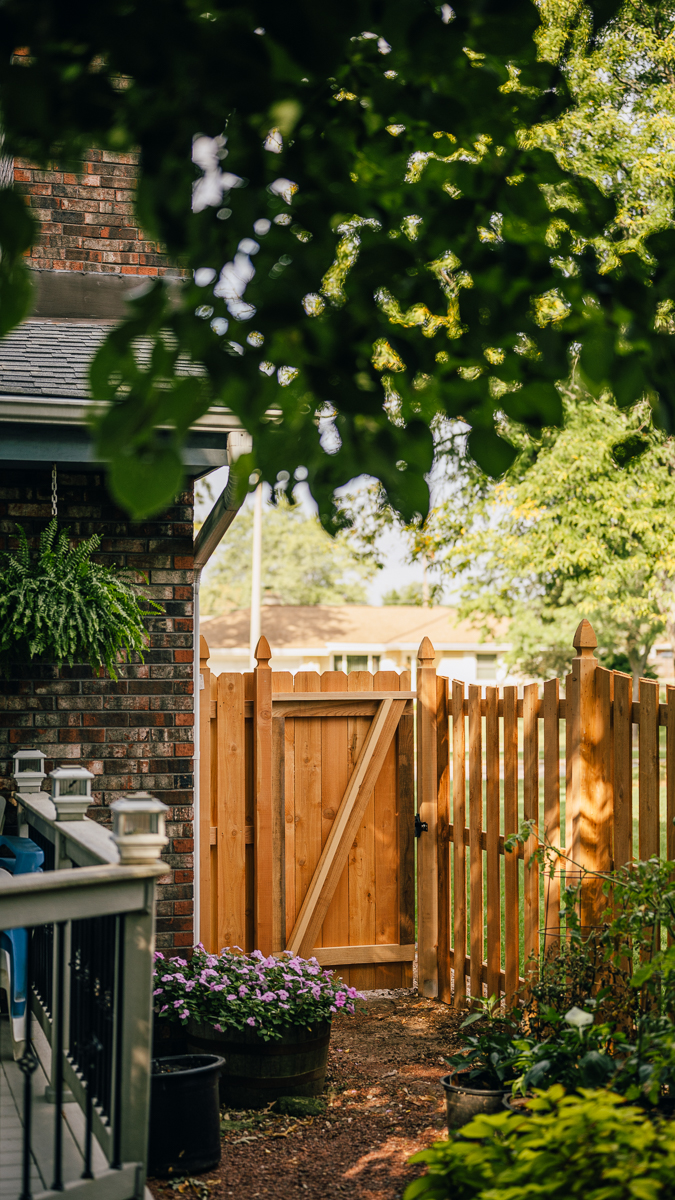 Fence Installation in Germantown: Material Variety and Styles
Choose Your Ideal Fence Material and Style
At Milwaukee Fence Finders, we offer an extensive selection of fence materials and styles to cater to your unique preferences. Let's take a closer look at the materials we provide and the popular fence styles in Germantown.
Wood Fences: A Timeless Classic
Wood fences bring a touch of traditional charm to any property. They are versatile and can be customized to suit various styles, from classic picket fences to privacy fences with lattice detailing. With proper maintenance, wood fences can withstand the elements and remain an enduring beauty in your yard.
Vinyl Fences: Low Maintenance, High Appeal
Vinyl fences have gained popularity for their low-maintenance and long-lasting qualities. They are resistant to rot, fading, and insects, making them an excellent choice for busy homeowners. Choose from a range of vinyl fence styles, including semi-private, privacy, and picket, to enhance your property's aesthetics.
Chain Link Fences: Budget-Friendly Security
Chain link fences provide security without obstructing the view. They are an affordable option for both residential and commercial properties. These fences are durable and require minimal maintenance, making them ideal for those seeking a cost-effective solution.
Custom Fences: Unleash Your Creativity
At Milwaukee Fence Finders, we believe your fence should reflect your personality and style. Our team of skilled craftsmen can create custom fences based on your unique design and specifications. Whether you have a specific vision or need help with ideas, we're here to bring your dream fence to life.
Popular Fence Styles in Germantown
Picket Fences – Classic Charm for Your Home Picket fences evoke a sense of Americana charm, making them a popular choice for residential properties. These fences consist of evenly spaced vertical pickets, creating an open and welcoming feel while defining your property boundaries.
Privacy Fences – Seclusion and Serenity Privacy fences are perfect for creating a peaceful retreat in your backyard. With minimal gaps between vertical slats, these fences provide maximum seclusion, keeping prying eyes away from your outdoor space.
Semi-Private Fences – The Best of Both Worlds If you desire some privacy while maintaining visibility, semi-private fences are an excellent option. They combine elements of both privacy and picket fences, offering a balance between security and openness.
Modern Fences – Sleek and Stylish For a contemporary look that complements modern architecture, modern fences are the way to go. Clean lines and minimalist designs create a sophisticated appearance that adds a touch of elegance to your property.
Homeowner's Guide to Germantown, WI Fence Regulations and Permit Process
DOWNLOAD GERMANTOWN WI FENCE PERMIT APPLICATION FORM
DOWNLOAD GERMANTOWN WI FENCE REGULATIONS HANDOUT
Adding a fence to your property in Germantown, WI, can enhance privacy, security, and aesthetics. However, it's essential to follow the local regulations and obtain a permit before proceeding with your fence installation. Here's a detailed step-by-step guide to help you navigate through the process:
Step 1: Familiarize Yourself with Fence Regulations
Before planning your fence, take the time to familiarize yourself with the fence regulations outlined in the Village of Germantown Zoning Code 17.50 (2)(f). These regulations cover the height and placement restrictions for fences in residential districts, ensuring that your fence complies with the community's guidelines.
Step 2: Contact the Building Inspector
Contact the Building Inspector at (262) 250-4760 during regular office hours (8:00 to 9:00 a.m. daily) to discuss your fence project. The Inspector will be a valuable resource to guide you through the permit application process and answer any questions you may have about the regulations.
Step 3: Prepare Required Documents
To apply for a fence permit, you must provide a copy of the survey for your property. The survey should indicate the proposed location of the fence. This step is crucial as it helps ensure compliance with setback requirements and property lines, avoiding any potential issues in the future.
Step 4: Review and Approval
All fences in Germantown require review and approval from the Building Inspector before a building permit can be issued. Ensure that your fence design adheres to the regulations outlined in the Village Code, and make any necessary adjustments before submitting the application.
Step 5: Fence Height and Placement
Understanding the height and placement restrictions is essential to designing a compliant fence. Here are the fence height and placement regulations for Germantown:
Germantown Wisconsin Fence Height Restrictions
Along the rear or side lot lines
Setback from the property line
For front yards, a maximum height of 6 feet may be allowed with Plan Commission approval, considering visibility, privacy, and access concerns.
Fences must not be closer than 2 feet to a public right of way.
Step 6: Finished Side and Unfinished Side
If your fence has a finished side and an unfinished side, the finished side must face the adjacent property. In case of any discrepancies, the Village Building Inspector will determine which side is the finished side.
Step 7: Easement Considerations
Fences should not be located within any type of easement. However, the Planning Commission may authorize fence encroachments into drainage easements under specific conditions, provided certain requirements are met.
Step 8: Kennels/Dog Runs
If you plan to have dog houses, kennels, or dog runs in residential districts, ensure a minimum side and rear yard setback of 15 feet to adhere to the Village Code.
Step 9: Lawn Maintenance Responsibility
As a property owner, you are responsible for maintaining any lands lying between your fence and the property line. Keep this in mind while planning the placement of your fence.
Step 10: Removal Costs
Should the Village or its agent need to remove your fence for any reason, the material costs (materials and labor) will be borne by the fence owner. Being aware of this helps you make informed decisions during the fence installation process.
Swimming Pool Fence Regulations
If you have a non-temporary swimming pool not enclosed within a permanent building, it must be completely enclosed by a fence of at least 4 feet in height. The fence should prevent access to the pool, and no voids, holes, or openings larger than 4 inches in one dimension are allowed. Gates or doors must have a self-closing and self-latching device for added safety and security.
For above-ground swimming pools with platforms and railings 4 feet or more in height above ground and temporary pools, fences are not required. However, all access points, such as ladders and stairways, must be adequately fenced or removed when the pool is not in use.
By following these guidelines and obtaining a permit, you can ensure that your fence installation complies with Germantown, WI, regulations, creating a secure and beautiful addition to your property. For any additional questions or clarifications, feel free to reach out to Building Inspection Services at (262) 250-4760. Happy fencing!
Disclaimer:
The information provided by Fence Finders LLC regarding building permits and regulations is for general informational purposes only. All information on the site is provided in good faith, however, we make no representation or warranty of any kind, express or implied, regarding the accuracy, adequacy, validity, reliability, availability, or completeness of any information on the site.
Disclaimer Cont.
While we strive to keep the information up to date and correct, we are not responsible or liable for any errors or omissions, or for the results obtained from the use of this information. Regulations and requirements may change, and the specific circumstances of your situation may affect the applicability of certain regulations.
We strongly recommend that you consult with your local municipality or a legal expert to understand the specific permit requirements for your fence installation project. Fence Finders LLC is not responsible for any decisions made based on the information provided on our site or in our communications.
By using our site or services, you agree to this disclaimer and our terms of service. If you do not agree, please do not use our site or services.