Fence Installation Services in

Newburg, WI
Discover Quality Fencing Solutions in Newburg, WI with Milwaukee Fence Finders
Welcome to Newburg, WI, a charming town where community spirit and natural beauty come together to create the perfect backdrop for your fence installation dreams. Milwaukee Fence Finders is delighted to serve the wonderful residents of Newburg, offering top-notch fencing solutions tailored to your specific needs. As you explore the various fence installation options available in our lovely town, we invite you to embark on a journey with us to discover the beauty, durability, and craftsmanship of our fences that truly stand the test of time. Let's dive in and explore why Milwaukee Fence Finders is the best fence contractor near Newburg, WI.
Why Choose Milwaukee Fence Finders in Newburg, WI?
When it comes to choosing a fence contractor in Newburg, there's no doubt that Milwaukee Fence Finders stands out from the crowd. With years of experience, dedication to customer satisfaction, and a talented team of professionals, we've earned our reputation as one of the best fence companies in town. Our commitment to providing top-quality materials, unmatched craftsmanship, and reliable fence installation services makes us the go-to choice for both residential and commercial projects. With Milwaukee Fence Finders, you can rest assured that your fence installation journey will be smooth, stress-free, and backed by our Lifetime Craftsmanship Warranty.
See what our customers in
Newburg

are saying!
These guys are the real experts and have exceeded my expectations. Glad I went with them!
Heatherlee Muehlius
2023-07-10
Deb, Karen, Chad, Oscar and the installation team built a beautiful cedar fence for me. It was exactly what I wanted. I would recommend them to anyone!
I had a small job - to fix a chain link fence gate - and they treated me like I had an acre of fencing that needed to be put in. These people CARE about customer satisfaction and they do quality work - above what I was hoping for and below what I was paying for. I can't thank or recommend them enough for the quality work and personable service they provided - Highly recommend!
Milwaukee Fence Finders did an excellent job installing vinyl fence on my property. They were professional from the beginning to the end of the project. Arrived on time and completed the job on time. They also followed up after the project to ensure we were happy with the result.
Easy. Simple process. Really fast team. We had one small miscommunication where they zig'd instead of zag'd and put a post in the wrong spot. When I told them, they quickly fixed it and didn't ask any questions. Great experience.
Carrie Vande Zande
2023-06-28
We had a wonderful experience with Milwaukee Fence Finders. They were very quick to respond to any question or concerns. The installers called me during the install to clarify items and keep me posted on the progress and timeline. Our fence is beautiful and functions just as we hoped to keep our dogs from wandering and offering us privacy and a beautiful backdrop as well. I would definitely return to Milwaukee Fence with any needs in the future.
Fence looks great
Even though the schedulers were a little less communicative then we would have liked, the three gentleman that installed our fence were amazing! They worked hard with clay ground and rocks that were hidden, to put up an absolutely beautiful fence! They worked hard and were pleasant to talk to! Any questions we had they had the answers! We are so grateful for our beautiful fence!
Did a repair job of a chain link fence for me. Company was very responsive, price was competitive and they did a good job. There was one minor mistake they made, which when I brought it to their attention they were apologetic and promptly took care of it. Thank you for the good service.
Why Fence Finders is The Best Fence Company in

Newburg, WI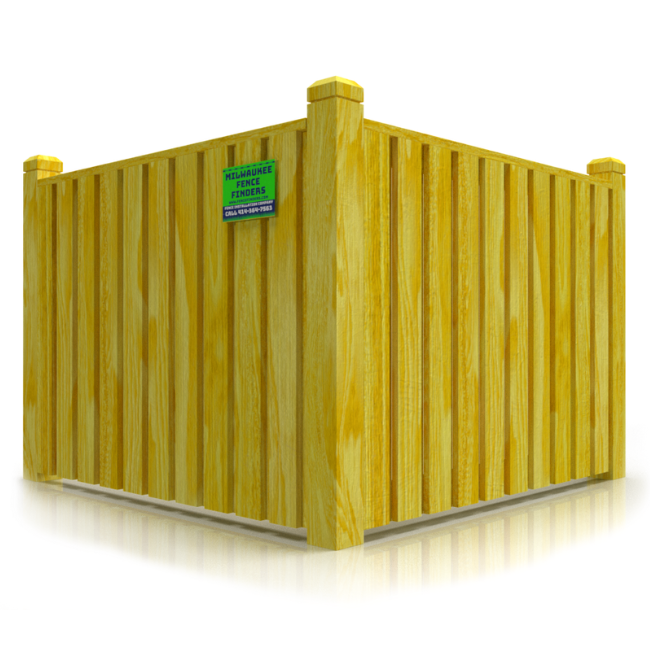 Unparalleled Durability: "Invest in a Lasting Fortress"
Our fences are crafted with the highest quality materials, ensuring they can withstand the test of time and the unpredictable Newburg weather. Whether you choose a wooden, vinyl, or chain-link fence, you'll enjoy the peace of mind knowing your property is protected by a fortress of durability.
Customized Design: "Your Vision, Our Creation"
At Milwaukee Fence Finders, we understand that every property is unique, and so are the preferences of its owners. Our skilled team works closely with you to bring your vision to life, providing customized fence designs that perfectly complement your property's aesthetics and meet your functional needs.
Enhanced Privacy: "Your Private Oasis"
Create a secluded sanctuary in the midst of Newburg's natural beauty with our privacy fencing options. Say goodbye to prying eyes and enjoy your outdoor space to the fullest, whether it's for a quiet retreat or entertaining guests.
Professional Installation: "Craftsmanship at Its Finest"
Our team of experienced and licensed fence installers ensures your fence is installed with precision and care. From the first post to the final gate latch, we leave no detail overlooked, delivering impeccable results that elevate the appeal and value of your property.

Frequently Asked Questions
Q1: Are there any specific regulations for fence installation in Newburg, WI?
A1: Yes, Newburg has specific regulations for fence installation. Generally, front yard fences should not exceed 4 feet in height, while backyard and side yard fences can be up to 6 feet tall. Corner lots might have additional restrictions to maintain visibility. It's essential to check local ordinances before starting your fence project.
Q2: How much does fence installation near me cost in Newburg, WI?
A2: The cost of fence installation can vary based on factors such as the fence type, material, length, and complexity. Milwaukee Fence Finders offers competitive pricing and free estimates, ensuring you get the best value for your investment.
Q3: Can I install a fence on uneven terrain?
A3: Yes, our skilled team can adapt the fence installation to suit uneven terrain. Our experience allows us to overcome challenges and create a seamless fence that follows the contours of your land.
Q4: How long does the fence installation process take?
A4: The duration of the fence installation depends on the project's scope and weather conditions. Our team works efficiently to complete the installation promptly without compromising on quality.
Q5: Do you offer fence repair services near me in Newburg, WI?
A5: Yes, we do! Milwaukee Fence Finders provides comprehensive fence repair services to address any damages or wear and tear your fence may encounter over time.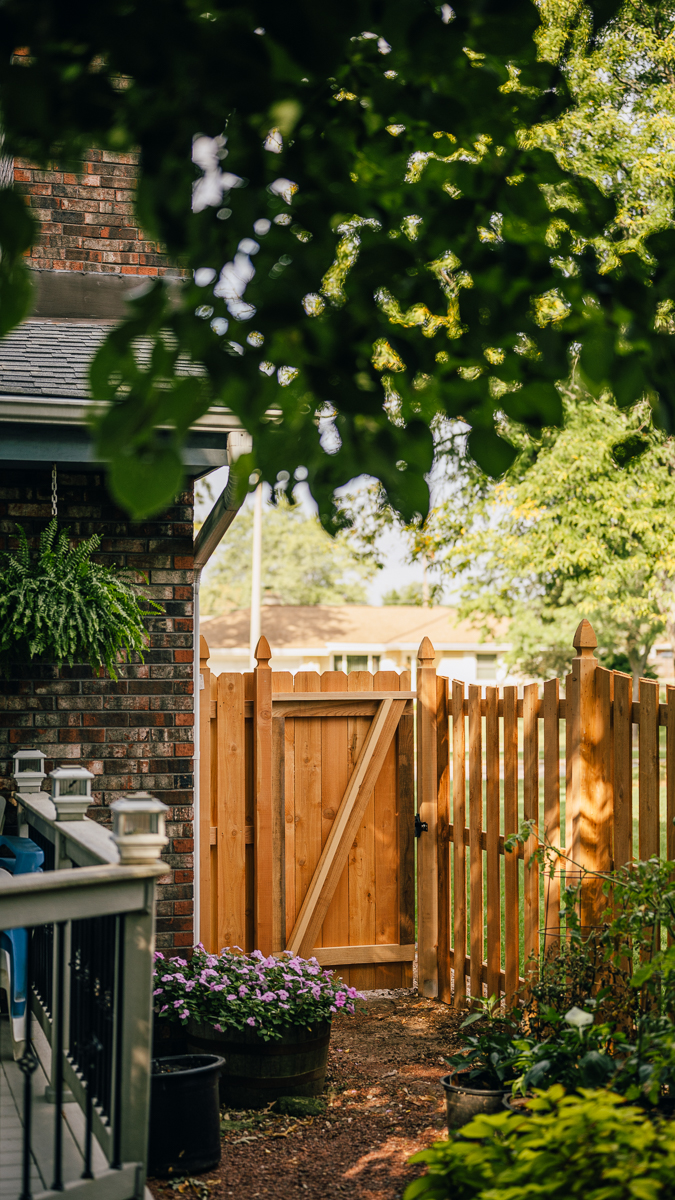 Popular Fencing Materials in Newburg, WI
At Milwaukee Fence Finders, we offer an array of fencing materials to cater to your preferences and needs. Here are some popular choices among Newburg residents:
Wood Fencing – A Timeless Classic: Wooden fences add a touch of rustic charm and natural elegance to any property. With various wood species and styles available, you can achieve a classic or contemporary look that complements your home.
Vinyl Fencing – Low Maintenance Beauty: Vinyl fences are beloved for their low maintenance requirements and versatility. These fences resist rot, fading, and warping, making them an ideal choice for Newburg's changing weather.
Chain Link Fencing – Practical and Secure: Chain link fences offer excellent security and visibility, making them a preferred choice for both residential and commercial properties in Newburg.
Most Popular Fence Styles in Newburg, WI
Other Fence Services Offered
In addition to fence installation, Milwaukee Fence Finders offers a range of services to keep your fencing in top shape:
Fence Repair and Maintenance: Our expert team can repair damaged fences and provide regular maintenance to extend their lifespan and keep them looking pristine.
Fence Replacement: When it's time to update your fence, our professionals will efficiently replace it, ensuring minimal disruption to your daily life.
Gates and Gate Operators: Complete your fence installation with our premium gates and gate operators, adding convenience and security to your property.
Specialty Fences: If you have a unique fencing idea, we're excited to bring it to life! Our team is experienced in crafting specialty fences that cater to your specific requirements.
Your Friendly Guide to Fence Regulations & Permits in Newburg, WI
DOWNLOAD NEWBURG WI FENCE PERMIT APPLICATION FORM
DOWNLOAD NEWBURG WI FENCE RULES AND REGULATIONS
If you're planning to construct a fence in the beautiful village of Newburg, WI, it's essential to familiarize yourself with the local fence regulations. These guidelines are designed to maintain safety, aesthetics, and harmony within the community. Read on to understand the key requirements and procedures for obtaining a fence permit in Newburg.
1. Permit Requirement
Before starting any fence construction, it's crucial to obtain a permit from the Building Inspector. This permit ensures that your fence complies with local codes and standards. Without a valid permit, constructing a fence in Newburg is prohibited.
2. Applying for a Permit
To apply for a fence permit, you must fill out the application form provided by the Village Administrator/Clerk. The application should include a sketch of your proposed fence, indicating its exact location on your property. Additionally, make sure to pay the required fee as specified in § 150.007.
Newburg, WI Fence Permit Fee: $50.00
3. General Requirements
a. Fences and Walls in Front Yards
On corner lots, no fence, wall, or shrub should obstruct the vision triangle prescribed in Chapter 155.
Fences, walls, or shrub plantings within ten feet of the front property line should not interfere with traffic visibility from a driveway.
In residential areas, fences, walls, or plantings in the front yard, extending 25 feet back from the property line, should not exceed three and a half feet in height.
b. Fences in Side Yards
Fences or walls along the side line of a lot should not exceed six feet in height unless the adjoining lot is not in a residential district.
Side yard fences or walls should not extend into the required street setback area, except for certain approved cases.
c. Fences in Rear Yards
Fences with a height of six feet or less are allowed within the required rear yards in residential districts.
d. Location and Consent
The property owner is responsible for ensuring the proper placement and location of the fence.
Fences should not be placed closer than one foot from the property line unless written consent is obtained from the neighboring property owner.
e. Dog Pens and Runs
Dog pens and runs should be erected in the rear yard and located at least 20 feet from any property line.
f. Fence Material Regulations
Wire fences must be of chain link construction or a vinyl-coated minimum wire gauge of No. 16 with a maximum opening of two inches by three inches.
Preferred wood options are redwood or cedar for durability. Other suitable and well-maintained woods are also permitted.
g. Exemptions
The term "fences" does not include racks or trellises used for supporting vines or flowers.
Barbed wire fences are generally prohibited in the village, except for farming purposes and approved security fences.
Electrically charged fences are prohibited, except for farming purposes.
4. Nonconforming Fences
Existing fences that do not comply with these regulations may remain in place. However, nonconforming fences requiring significant repairs or rebuilding must meet the current regulations if repairs or rebuilding exceed 50% of the fence. Such restoration must be completed within 90 days from the date repairs or rebuilding are needed.
5. Exceptions
Certain temporary fences that serve the public interest may be exempted from these regulations if granted a permit by the Village Board.
Understanding and adhering to the fence regulations in Newburg, WI, is crucial to ensure your fence project proceeds smoothly and in compliance with local laws. By obtaining the necessary permit and following the guidelines, you can create a beautiful and functional fence that complements the charm of your property and the village. Should you have any further questions or need assistance, feel free to reach out to the Building Inspector or Milwaukee Fence Finders, your trusted fence installation experts. Happy fencing!
Newburg Wisconsin Fence Height Restrictions
*Please note that in the front yard of a residential area, the fence height should not exceed 3.5 feet. In the back and side yards of both residential and non-residential areas, the fence height should not exceed 6 feet. However, please refer to the specific city code for any additional details or exceptions.
Disclaimer:
The information provided by Fence Finders LLC regarding building permits and regulations is for general informational purposes only. All information on the site is provided in good faith, however, we make no representation or warranty of any kind, express or implied, regarding the accuracy, adequacy, validity, reliability, availability, or completeness of any information on the site.
Disclaimer Cont.
While we strive to keep the information up to date and correct, we are not responsible or liable for any errors or omissions, or for the results obtained from the use of this information. Regulations and requirements may change, and the specific circumstances of your situation may affect the applicability of certain regulations.
We strongly recommend that you consult with your local municipality or a legal expert to understand the specific permit requirements for your fence installation project. Fence Finders LLC is not responsible for any decisions made based on the information provided on our site or in our communications.
By using our site or services, you agree to this disclaimer and our terms of service. If you do not agree, please do not use our site or services.