Expert Fence Installation Services in

Polk, WI
Your Trusted Local Fence Contractors
Welcome to Polk, WI, a charming town nestled in the heart of Washington County. With its picturesque landscapes and friendly community, Polk offers a peaceful escape from the hustle and bustle of city life. As a prominent presence in this area, Milwaukee Fence Finders takes pride in beautifying properties and ensuring security with our top-notch fence installation services in Polk, WI. Whether you need a classic wood fence to complement your home's aesthetics or a durable chain-link fence for added security, our team of experts is here to cater to all your fencing needs. Discover why we are the go-to fence contractors for both residential and commercial properties in Polk, WI, and experience the unmatched craftsmanship that comes with our Lifetime Craftsmanship Warranty.
What the
Town of Polk's

Home Owners are Saying
These guys are the real experts and have exceeded my expectations. Glad I went with them!
Heatherlee Muehlius
2023-07-10
Deb, Karen, Chad, Oscar and the installation team built a beautiful cedar fence for me. It was exactly what I wanted. I would recommend them to anyone!
I had a small job - to fix a chain link fence gate - and they treated me like I had an acre of fencing that needed to be put in. These people CARE about customer satisfaction and they do quality work - above what I was hoping for and below what I was paying for. I can't thank or recommend them enough for the quality work and personable service they provided - Highly recommend!
Milwaukee Fence Finders did an excellent job installing vinyl fence on my property. They were professional from the beginning to the end of the project. Arrived on time and completed the job on time. They also followed up after the project to ensure we were happy with the result.
Easy. Simple process. Really fast team. We had one small miscommunication where they zig'd instead of zag'd and put a post in the wrong spot. When I told them, they quickly fixed it and didn't ask any questions. Great experience.
Carrie Vande Zande
2023-06-28
We had a wonderful experience with Milwaukee Fence Finders. They were very quick to respond to any question or concerns. The installers called me during the install to clarify items and keep me posted on the progress and timeline. Our fence is beautiful and functions just as we hoped to keep our dogs from wandering and offering us privacy and a beautiful backdrop as well. I would definitely return to Milwaukee Fence with any needs in the future.
Fence looks great
Even though the schedulers were a little less communicative then we would have liked, the three gentleman that installed our fence were amazing! They worked hard with clay ground and rocks that were hidden, to put up an absolutely beautiful fence! They worked hard and were pleasant to talk to! Any questions we had they had the answers! We are so grateful for our beautiful fence!
Did a repair job of a chain link fence for me. Company was very responsive, price was competitive and they did a good job. There was one minor mistake they made, which when I brought it to their attention they were apologetic and promptly took care of it. Thank you for the good service.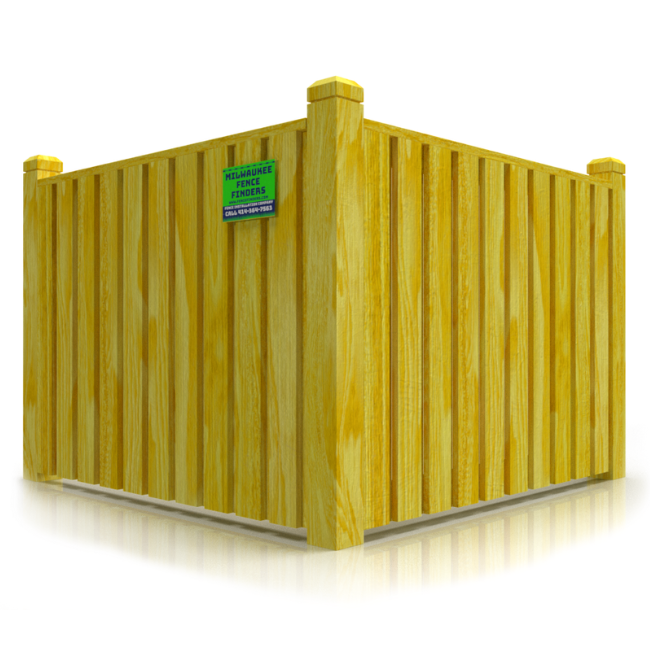 Enhanced Curb Appeal with Custom Fencing
Transform your property's curb appeal with our custom fencing solutions. Our team collaborates closely with you to understand your preferences and tailor the fence design to match your unique style and property features. From classic picket fences to modern privacy screens, we craft visually appealing fences that elevate your home's aesthetics.
Security and Privacy Reinforcement
Keep your loved ones and property safe with our sturdy fence installations. Whether you opt for a tall wooden privacy fence or a robust chain-link enclosure, our fences provide an effective deterrent to intruders, ensuring you have peace of mind.
Durable and Long-Lasting Fences
We take pride in our commitment to quality craftsmanship. Using premium materials and proven installation techniques, our fences are built to withstand the test of time and the elements. With our Lifetime Craftsmanship Warranty, you can trust that your investment is protected for years to come.
Commercial Fencing Solutions
Our fencing services extend beyond residential properties. We cater to businesses in Polk, WI, offering custom commercial fencing solutions. Whether you need security fencing, dumpster enclosures, or decorative features for your commercial space, we have the expertise to deliver outstanding results.

Frequently Asked Questions
Q: Are you the best fence company in Polk, WI?
A: Yes, Milwaukee Fence Finders is proud to be recognized as the top-rated fence contractor in Polk, WI. With our dedication to quality, diverse fencing options, and exceptional customer service, we have earned the trust of countless satisfied clients.
Q: What types of fences do you install?
A: We specialize in various fencing materials, including wood, vinyl, chain-link, and more. Our team can install classic picket fences, privacy fences, security fences, and custom designs based on your preferences.
Q: Can you repair my existing fence?
A: Absolutely! Our fence repair services near you are designed to restore the integrity and appearance of your fence. Whether it's storm damage, rotting wood, or loose posts, we have the expertise to handle repairs efficiently.
Q: How long does the fence installation process take?
A: The timeline for fence installation depends on the size and complexity of the project. We strive to complete installations promptly without compromising on quality, ensuring you can enjoy your new fence as soon as possible.
Q: Do you offer warranties on your fences?
A: Yes, we provide a Lifetime Craftsmanship Warranty on our fence installations, reflecting our confidence in the durability and quality of our work.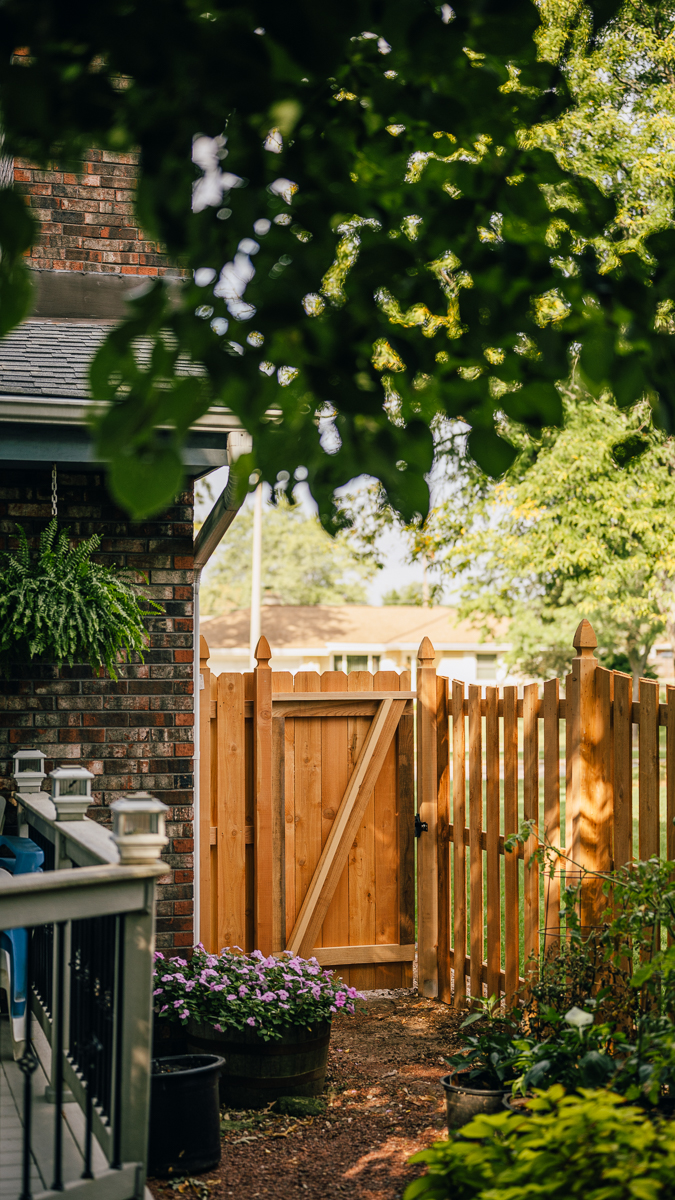 Fence Installation Experts in Polk, WI – Milwaukee Fence Finders
Residents and businesses in Polk, WI count on Milwaukee Fence Finders for top-tier, professional fence installation services that perfectly blend functionality with aesthetic appeal. Our seasoned team possesses an in-depth understanding of the region's distinct needs and excels in handling an array of fence materials, from wood and vinyl to chain-link and beyond. Whether your dream is a quaint wooden picket fence to amplify your home's curb appeal or a practical chain-link fence for enhanced security, we hold the prowess to turn your vision into reality.
Top Fence Styles in Polk, WI
Wooden Fences
Wooden fences are a perennial favorite among Polk residents, offering a timeless charm and harmonizing effortlessly with the local landscapes. Select from an assortment of wood types, stains, and designs to attain the quintessential look for your property.
Vinyl Fences
Increasingly favored, vinyl fences owe their rising popularity to their minimal maintenance demands and impressive robustness. They resist rot, color fading, and warping, positioning them as a splendid long-term fencing investment for Polk homeowners.
Chain-Link Fences
Chain-link fences present a cost-efficient, practical fencing solution for both residential and commercial properties in Polk, WI. They offer security without sacrificing visibility, making them perfect for pet enclosures and playground boundaries.
Complete Fence Services in Polk, WI
Besides fence installation, Milwaukee Fence Finders offers an extensive array of additional services to meet your specific fencing needs:
Fence Repair
If your existing fence exhibits signs of wear and tear, our local fence repair services can restore its prime condition. From mending minor damages to substituting entire sections, we pledge to maintain your fence's sturdiness and visual allure.
Gate Installations
Complement your new fence with a stylish and functional gate. We provide gate installations that align with your fence's design and material, thereby boosting your property's accessibility and security.
Our Guide to Fence Regulations and Permits in the Town of Polk, WI
DOWNLOAD TOWN OF POLK WI FENCE PERMIT APPLICATION 
If you're a property owner in the Town of Polk, Wisconsin, and you're planning to install a fence on your property, it's essential to be aware of the local fence regulations. These rules are in place to ensure the safety and aesthetics of the community. Here's a clear and concise guide to help you understand the key fence regulations:
1. Building Area Requirements:
Your property should have a minimum building area of 1,200 square feet, with at least 800 square feet on the first floor.
2. Yard Setbacks:
Street Yard Setback: Your fence should be at least 25 feet away from the right-of-way (the area between the road and your property).
Shore Yard Setback: If your property is near a shore, the fence should be at least 75 feet away from the shore.
Side Yard Setback: Maintain a minimum distance of 10 feet from the side property line.
Rear Yard Setback: Your fence should be at least 25 feet away from the rear property line.
3. Open Space Requirement:
You must reserve a minimum of 80% of your lot area for open space, which means landscaping or non-built areas.
4. Vacant Substandard Lots:
If you own multiple substandard lots, the town cannot force you to merge them without your consent.
You can sell a substandard lot or use it for building purposes if it meets all other requirements except the minimum lot size.
5. Fence Height:
In residential zoning districts, the maximum fence height within required side and rear setbacks is 6 feet.
For the street yard setback, solid fences cannot exceed 3 feet in height, but decorative, open fences may go up to 4 feet.
No residential fence is allowed in the shore yard.
In non-residential zoning districts, the maximum fence height is 8 feet, except for the street yard setback, where it's limited to 3 feet.
6. Special Cases:
Schools have no maximum height limit for their fences.
Sound barrier/privacy fences along certain roads can be up to 8 feet tall.
Security fences up to 10 feet in height are allowed on non-residential properties.
Recreational fences (e.g., for tennis courts) can go up to 10 feet in height.
7. Setback from Property Line:
Fences in residential districts must be set back at least 1 foot from the property line.
Fences in non-residential districts must be set back at least 2 feet from the property line.
8. Fence Materials and Construction:
Barbed wire and electrical fences are generally prohibited, except on active agricultural operations.
Approved materials include wood, vinyl, chain link, wrought iron, brick, stone, and other materials approved by the Plan Commission.
Front yard fences must be made of wood, brick, vinyl, or stone.
9. Maintenance:
Both the fence and the area surrounding it must be well-maintained and in good repair at all times.
10. Permit Requirements:
You need a zoning permit for all fences in residential districts, except for temporary seasonal fences.
Remember to follow these regulations to avoid any issues and ensure your fence complies with the Town of Polk's guidelines. If you have any specific questions or need further assistance, reach out to the local authorities or zoning office for clarification. Happy fencing!
Please note that these regulations are subject to change, and it's crucial to verify the current guidelines with the local authorities before proceeding with your fence installation.
Disclaimer:
The information provided by Fence Finders LLC regarding building permits and regulations is for general informational purposes only. All information on the site is provided in good faith, however, we make no representation or warranty of any kind, express or implied, regarding the accuracy, adequacy, validity, reliability, availability, or completeness of any information on the site.
Disclaimer Cont.
While we strive to keep the information up to date and correct, we are not responsible or liable for any errors or omissions, or for the results obtained from the use of this information. Regulations and requirements may change, and the specific circumstances of your situation may affect the applicability of certain regulations.
We strongly recommend that you consult with your local municipality or a legal expert to understand the specific permit requirements for your fence installation project. Fence Finders LLC is not responsible for any decisions made based on the information provided on our site or in our communications.
By using our site or services, you agree to this disclaimer and our terms of service. If you do not agree, please do not use our site or services.