Premium Fence Installation Services in

Richfield, WI
Your Trusted Local Fence Contractors for Richfield, Hubertus, Colgate and Surrounding Areas
Welcome to Richfield, WI, where the beauty of nature meets the charm of a close-knit community. Nestled amidst picturesque landscapes and local landmarks like Glacier Hills County Park and Holy Hill, Richfield is a haven for homeowners seeking the perfect balance of country living and modern amenities. If you're looking to add that extra touch of charm and security to your property, look no further than Milwaukee Fence Finders. We take pride in being the go-to fence contractors for Richfield and surrounding areas, offering top-quality fence installation, repair, and gate services that stand the test of time.
When it comes to fence installation near Richfield, Milwaukee Fence Finders is the clear choice for several reasons. Our dedication to craftsmanship and customer satisfaction sets us apart from the competition. With years of experience in the industry, our licensed fence contractors bring unparalleled expertise to every project. We use only the finest materials and employ advanced techniques to ensure your fence is not only durable but also aesthetically pleasing. Our commitment to excellence has earned us a reputation as one of the best fence companies in Richfield, WI, and we strive to maintain that status with every job we undertake.
Check out what our
Richfield, WI

Customers are saying!
These guys are the real experts and have exceeded my expectations. Glad I went with them!
Heatherlee Muehlius
2023-07-10
Deb, Karen, Chad, Oscar and the installation team built a beautiful cedar fence for me. It was exactly what I wanted. I would recommend them to anyone!
I had a small job - to fix a chain link fence gate - and they treated me like I had an acre of fencing that needed to be put in. These people CARE about customer satisfaction and they do quality work - above what I was hoping for and below what I was paying for. I can't thank or recommend them enough for the quality work and personable service they provided - Highly recommend!
Milwaukee Fence Finders did an excellent job installing vinyl fence on my property. They were professional from the beginning to the end of the project. Arrived on time and completed the job on time. They also followed up after the project to ensure we were happy with the result.
Easy. Simple process. Really fast team. We had one small miscommunication where they zig'd instead of zag'd and put a post in the wrong spot. When I told them, they quickly fixed it and didn't ask any questions. Great experience.
Carrie Vande Zande
2023-06-28
We had a wonderful experience with Milwaukee Fence Finders. They were very quick to respond to any question or concerns. The installers called me during the install to clarify items and keep me posted on the progress and timeline. Our fence is beautiful and functions just as we hoped to keep our dogs from wandering and offering us privacy and a beautiful backdrop as well. I would definitely return to Milwaukee Fence with any needs in the future.
Fence looks great
Even though the schedulers were a little less communicative then we would have liked, the three gentleman that installed our fence were amazing! They worked hard with clay ground and rocks that were hidden, to put up an absolutely beautiful fence! They worked hard and were pleasant to talk to! Any questions we had they had the answers! We are so grateful for our beautiful fence!
Did a repair job of a chain link fence for me. Company was very responsive, price was competitive and they did a good job. There was one minor mistake they made, which when I brought it to their attention they were apologetic and promptly took care of it. Thank you for the good service.
Why Fence Finders is The Best Fence Company in

Richfield, WI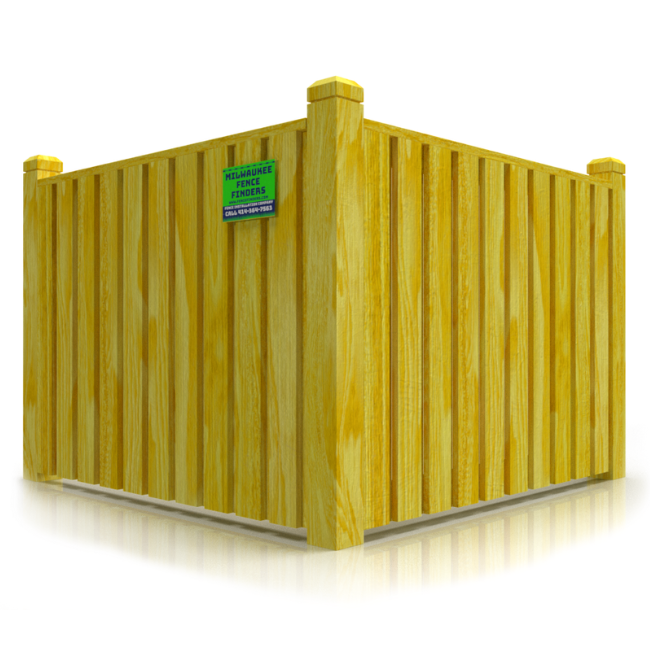 Secure Your Peace of Mind
Premium Fences for Enhanced Security
With Milwaukee Fence Finders, your safety and peace of mind are our top priorities. Our fences are built to withstand the test of time and provide the utmost security for your property. Whether it's a sturdy wood fence, a low-maintenance vinyl fence, or a practical chain-link fence, our installation experts ensure that every inch of your fence is carefully crafted for maximum protection. Rest easy, knowing that your property is safeguarded by the best fence contractors in Richfield.
Boost Your Curb Appeal
Stylish Fences That Stand Out
Enhance the curb appeal of your Richfield property with our exquisite fence designs. Our team of skilled craftsmen specializes in creating fences that not only serve their purpose but also add an artistic touch to your landscape. From classic picket fences to modern horizontal slat designs, our range of styles complements any architectural style. Experience the joy of owning a fence that not only defines your property but also makes a statement about your unique taste and style.
Unparalleled Durability
Fences Built to Last a Lifetime
At Milwaukee Fence Finders, we believe in delivering fences that are built to last. Using high-quality materials and proven construction methods, we ensure that your fence stands strong against the elements year after year. Our commitment to durability is further backed by our Lifetime Craftsmanship Warranty, giving you the confidence that your investment is protected. Say goodbye to frequent repairs and replacements; opt for a fence that will withstand the test of time.
Customization at Its Finest
Tailored Fences for Your Unique Needs
Every property is different, and we understand that your fence should reflect your specific needs and preferences. Our team works closely with you to understand your vision and brings it to life with custom fence solutions. From color choices to fence height, we tailor every aspect to suit your requirements perfectly. Whether it's a fence to protect your children and pets, secure your pool area, or add privacy to your backyard retreat, we've got you covered.

Frequently Asked Questions
Q: How do I find the best fence installation services near me in Richfield?
A: Look no further than Milwaukee Fence Finders. We are the top-rated fence company in Richfield, WI, offering premium fence installation services with a focus on quality, durability, and customer satisfaction.
Q: What types of fences do you offer for residential properties in Richfield?
A: Our diverse range of fences includes wood, vinyl, and chain-link fences, each offering unique benefits to suit your preferences and needs. Whether you want a classic wooden fence or a low-maintenance vinyl option, we have the perfect choice for you.
Q: Are your fence contractors licensed and insured in Richfield, WI?
A: Absolutely! All our fence contractors are licensed professionals with extensive experience in the industry. We are fully insured, giving you peace of mind knowing that your property is in safe hands.
Q: Can I request a custom fence design for my property in Richfield?
A: Of course! At Milwaukee Fence Finders, we specialize in providing custom fencing solutions. Our team will work closely with you to design a fence that perfectly complements your property and meets your unique requirements.
Q: Do you offer fence repair services near me in Richfield?
A:
Yes, we do! Our skilled team can handle all types of fence repairs, from minor damages to complete fence restoration. Trust us to bring your fence back to its former glory.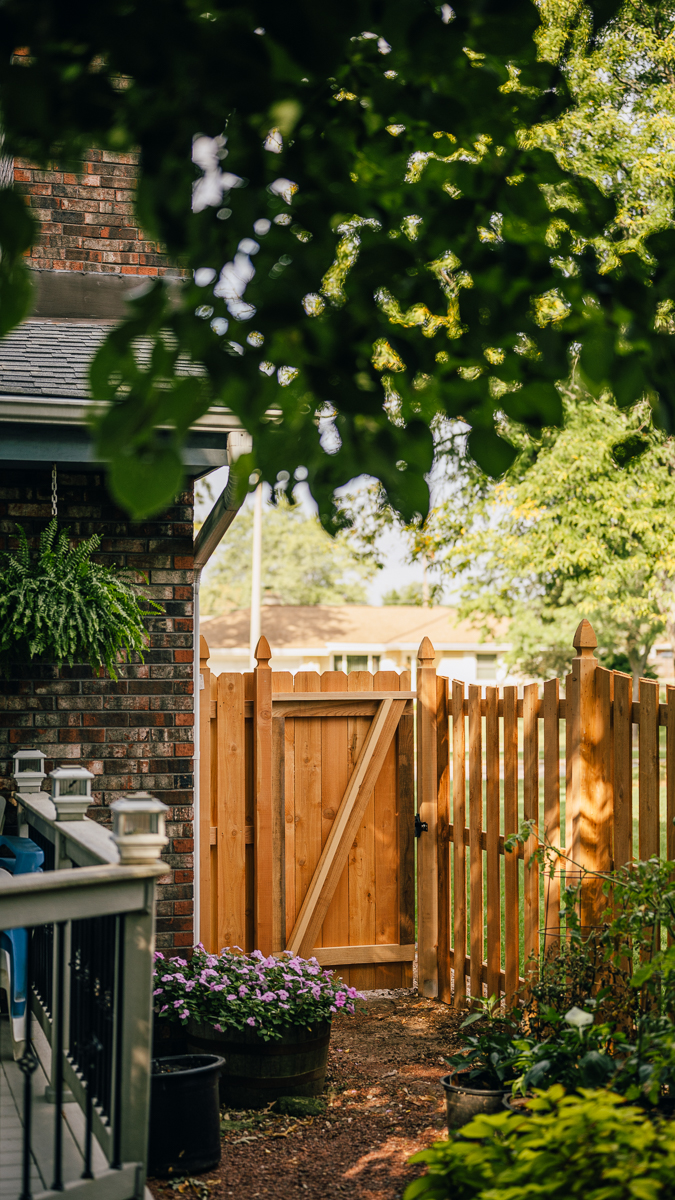 Fencing Materials in Richfield, WI
The Perfect Balance of Function and Aesthetics
In Richfield, we understand the importance of a fence that not only serves its functional purpose but also adds beauty to your property. Milwaukee Fence Finders offers a wide selection of high-quality fencing materials to cater to your specific needs.
Wood Fences: Classic Elegance
Wood fences are a timeless choice, offering a warm and inviting look to any property. They can be customized with different wood types, stains, and designs to match your preferences and complement the surrounding landscape. Whether you desire a picket fence for your front yard or a solid privacy fence for your backyard, our skilled craftsmen ensure the perfect installation.
Vinyl Fences: Low-Maintenance Delight
For those seeking a low-maintenance fencing solution, vinyl fences are an excellent option. Resistant to rot, insects, and fading, vinyl fences require minimal upkeep, allowing you to enjoy your fence without the hassle of regular maintenance. Choose from various colors and styles to suit your taste and enjoy a fence that stays beautiful for years to come.
Chain-Link Fences: Practical Security
Chain-link fences are a practical choice for properties where security and visibility are essential. Whether it's for a commercial property or enclosing your backyard, chain-link fences offer durability and affordability. Our installation experts ensure a secure and tight fit, giving you peace of mind about the safety of your property.
Most Popular Fence Styles in Richfield
In Richfield, homeowners appreciate fence styles that add a touch of charm and uniqueness to their properties. Here are some of the most popular fence styles:
Picket Fences: Iconic and traditional, picket fences are beloved for their elegant simplicity. They are ideal for defining boundaries and creating a warm, welcoming atmosphere.
Privacy Fences: Perfect for creating a secluded oasis in your backyard, privacy fences offer enhanced security and shield you from prying eyes.
Split Rail Fences: Rustic and charming, split rail fences are an excellent choice for properties with large open spaces and natural surroundings.
Ornamental Fences: Adding a touch of elegance, ornamental fences come in various intricate designs that elevate the aesthetics of any property.
Fence Repair and Gate Services in Richfield
In addition to expert fence installation, Milwaukee Fence Finders also provides top-notch fence repair, replacement, and gate services in Richfield. Our skilled team can handle all types of repairs, from minor fixes to complete fence restorations. If you're looking to enhance the functionality of your fence, we can also install secure and visually appealing gates for easy access to your property.
Homeowner's Guide to Fence Regulations and Permits in Richfield, Hubertus and Colgate, WI
RICHFIELD, HUBERTUS & COLGATE WI FENCE PERMIT APPLICATION FORM
RICHFIELD WI FENCE PERMIT APPLICATION REQUIREMENTS AND INFO
Adding a fence to your property can enhance its security, privacy, and curb appeal. However, before you start planning your dream fence, it's essential to understand the regulations and obtain the necessary permits in Richfield, WI. This homeowner's guide will walk you through the process, ensuring a smooth and hassle-free fence installation.
I. Classification of Fences Richfield's residential fences fall into two categories:
A. Perimeter Fence: This type of fence is placed around the perimeter of your lot, defining your property boundaries.
B. Privacy Fence: If you want a fence for your outdoor patio or to create a private area in your rear and side yard, a privacy fence is the perfect choice.
II. Required Application Materials To get started with your fence project, make sure you have the following application materials ready:
Survey: A detailed survey showing the exact location of your proposed fence helps ensure you're within your property lines.
Fence Description: Provide a complete description of your fence, such as the style (e.g., dog-eared, chain link, board on board, etc.).
County Approval: Obtain approval from the Washington County Land Use Office (SEE ATTACHED for details).
Building Permit Application: Complete the Village of Richfield Building Permit Application to initiate the permit process.
Building Permit Fees: Pay the necessary building permit fees, which are $50.00.
III. Understanding Project Requirements The requirements for your fence project depend on the type of fence you choose:
Perimeter Fence Height: Your perimeter fence cannot exceed 4 feet in height, measured from the surrounding grade to the top of the fence material. Avoid altering the grade to raise the fence's height.
Privacy Fence Height: A privacy fence can reach up to 8 feet in height, measured from the surrounding grade to the top of the fence material. Avoid altering the grade to maintain compliance.
IV. Seeking Building Inspector Assistance For any questions or guidance throughout your fence installation journey, don't hesitate to contact the Village of Richfield Building Inspectors during their office hours:
V. Contact Information For further assistance, you can reach the Village of Richfield at:
Address: 4128 Hubertus Road, Hubertus, WI 53033
Website: www.richfieldwi.gov
Phone: (262) 628-2260 Ext. 117 and 125
Fax: (262) 628-2984
VI. Additional Considerations
Utility Easements: While perimeter fences may be placed within utility easements, always check with the easement holder and be aware that the utility authority might remove the fence at your expense if necessary.
Drainage Easements: Avoid placing privacy fences within drainage easements. If needed, you can petition for permission from the zoning administrator after ensuring it won't impede stormwater flow.
Maintenance: Regularly maintain your fence to ensure its longevity and structural integrity.
Private Nuisance: Be mindful of any fencing practices that might be considered a private nuisance under § 844.10, Wis. Stats.
With this guide, you can confidently embark on your fence installation journey in Richfield, knowing you're well-prepared and compliant with local regulations. For any further information or guidance, reach out to the Village of Richfield Building Inspectors or the Washington County Planning and Parks Department. Happy fencing!
Richfield Wisconsin Fence Height Restrictions
*Please note that the height limit for perimeter fences in the front and side yards is 4 feet, while privacy fences in the rear yard can reach a maximum height of 8 feet. Ensure your fence complies with these height restrictions to adhere to local regulations and obtain the necessary permits.
Disclaimer:
The information provided by Fence Finders LLC regarding building permits and regulations is for general informational purposes only. All information on the site is provided in good faith, however, we make no representation or warranty of any kind, express or implied, regarding the accuracy, adequacy, validity, reliability, availability, or completeness of any information on the site.
Disclaimer Cont.
While we strive to keep the information up to date and correct, we are not responsible or liable for any errors or omissions, or for the results obtained from the use of this information. Regulations and requirements may change, and the specific circumstances of your situation may affect the applicability of certain regulations.
We strongly recommend that you consult with your local municipality or a legal expert to understand the specific permit requirements for your fence installation project. Fence Finders LLC is not responsible for any decisions made based on the information provided on our site or in our communications.
By using our site or services, you agree to this disclaimer and our terms of service. If you do not agree, please do not use our site or services.