Shorewood
Wood
Fence Installation Company
Your Trusted Fence Installation Company in
Shorewood, WI
Fence contractor serving Milwaukee Metropolitan Area
Looking for professional fence installation services in Shorewood, WI? Look no further! At Milwaukee Fence Finders, we specialize in creating beautiful and durable fences that enhance the aesthetics and security of your property. Our team of experienced professionals will work closely with you to understand your unique needs and design preferences. We offer a wide range of materials and styles to choose from, including wood, vinyl, aluminum, chain link, and more. With our attention to detail and commitment to customer satisfaction, you can trust us to deliver exceptional results. Contact us today for a seamless and hassle-free fence installation experience in Shorewood!
Need a Fence in
Shorewood

? Let's quote it…
Why Milwaukee Fence Finders is The Best Fence Contractor in

Shorewood Wisconsin
Cutting-Edge

Fence Design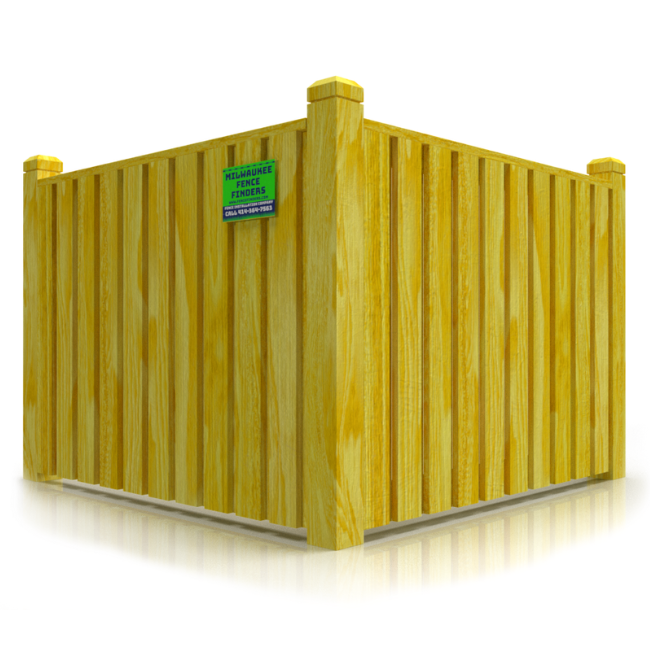 #2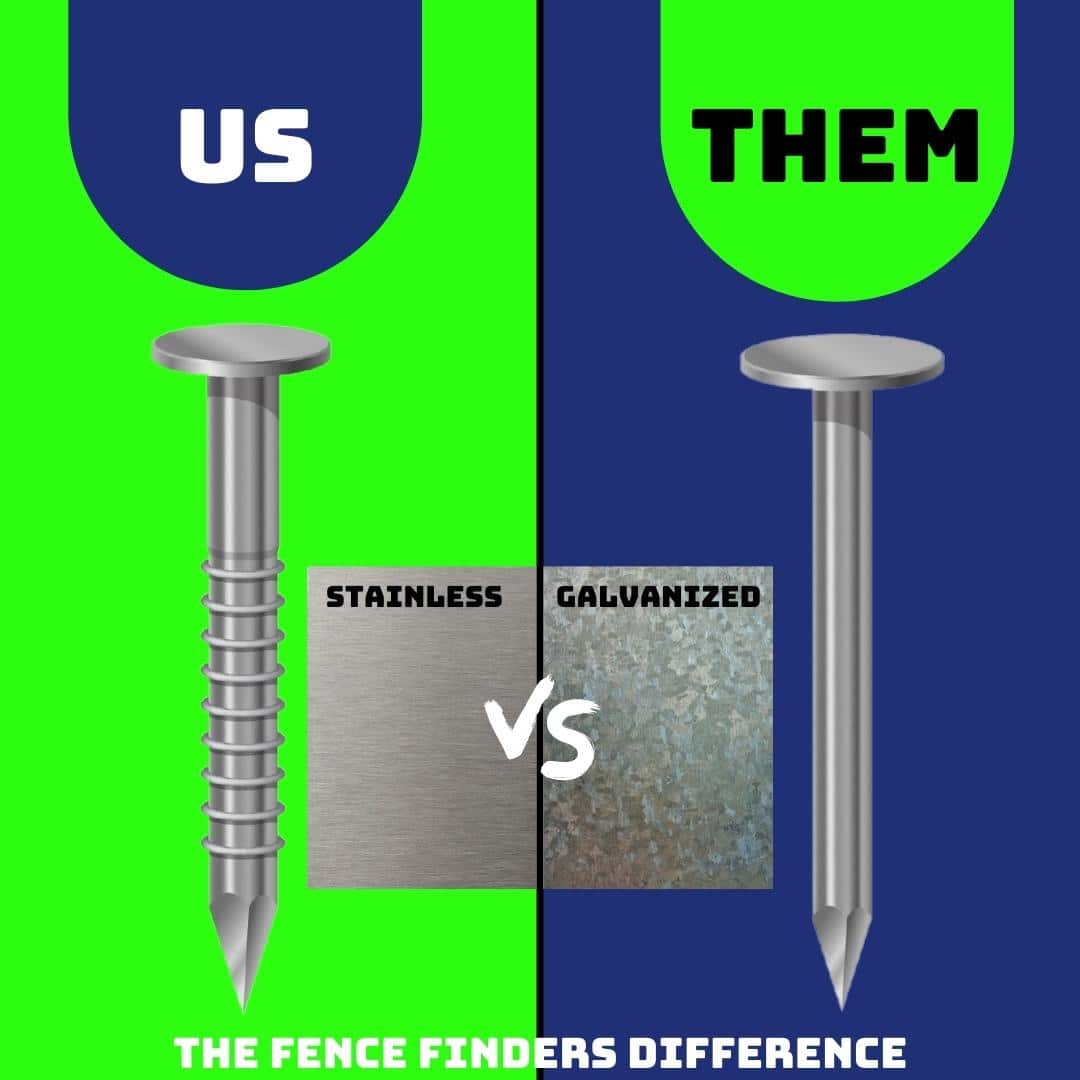 #1 – High Quality Cedar:
Experience the unparalleled quality of our hand-selected, premium-grade cedar for your fences. Sourced from sustainably managed forests, our cedar boasts exceptional durability and natural resistance to rot and insect damage. Its tight grain and fine texture ensure a smooth and refined finish, while its rich color variations add warmth and character to your property. With our superior cedar, you can enjoy a fence that not only enhances your landscape but also stands the test of time.
#2 – Premium Stainless Steel Fasteners:
In Shorewood, WI, we take pride in our commitment to using only the finest materials in our fence installations. That's why we utilize premium stainless steel fasteners for our wooden fences. These high-quality fasteners are renowned for their exceptional strength and corrosion resistance, ensuring that your fence remains sturdy and reliable in the face of changing weather conditions. With our meticulous attention to detail and the use of top-grade stainless steel fasteners, your fence in Shorewood will not only exude timeless elegance but also provide long-lasting durability and security for your property.
#3 – Enhanced Stability with Hourglass Post Holes:
In Shorewood, WI, we prioritize the stability and longevity of your fence. Our expert team at Milwaukee Fence Finders utilizes innovative hourglass-shaped post holes. This advanced design provides exceptional support, minimizing post movement and ensuring a solid, durable fence. Experience peace of mind knowing your Shorewood property is protected by a fence built with precision and expertise.
#4 – Meticulous Craftsmanship:
In Shorewood, WI, we pride ourselves on our meticulous craftsmanship and unwavering commitment to excellence. Using premium materials, we create fences that combine aesthetic appeal with durability, designed to withstand the changing climate of Shorewood.

What types of fences do you offer for installation in Shorewood, WI?
We offer a wide range of fence options including wood, vinyl, aluminum, chain link, and decorative metal fences. Our selection allows you to choose a fence that suits your specific needs and complements the aesthetics of your Shorewood property.
Do I need a permit for fence installation in Shorewood, WI?
Yes, a permit is typically required for fence installation in Shorewood, WI. Our team will assist you in obtaining the necessary permits and ensure that your fence installation complies with local regulations and zoning requirements.
How long does the fence installation process typically take?
The duration of the fence installation process can vary depending on the scope of the project. Factors such as the size of the fence and any customization requirements can impact the timeline. Our team will provide you with an estimated timeframe and work efficiently to complete the installation in a timely manner.
Can you customize the design of the fence to match my property's aesthetics?
Absolutely! We understand the importance of a fence that not only provides security but also enhances the visual appeal of your Shorewood property. Our team can work with you to customize the design, materials, and finishes of the fence to ensure it complements your property's aesthetics.
What is the warranty or guarantee offered on your fence installation services in Shorewood, WI?
We take pride in the quality of our workmanship and the materials we use. We offer a lifetime warranty on craftmanship on our fence installations to provide you with peace of mind. The specific details of the warranty will be discussed during the consultation process, ensuring that you have all the information you need.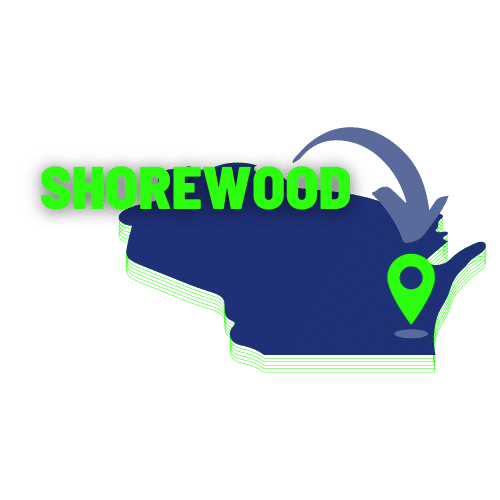 Shorewood WI Fence & Gate Repairs
Hey, fellow Wisconsinites! We all know how our state's climate likes to keep us on our toes, right? From sweltering summers to frosty winters, our weather patterns can really take a toll on our outdoor spaces. This is particularly true for our fences, decks, pergolas, and gazebos. That's why it's so important to choose materials that can stand up to the Shorewood weather rollercoaster. Cutting corners can lead to unnecessary headaches down the road.
But let's be real, even the toughest fences can show a bit of wear and tear or even suffer from occasional storm damage. That's when you need our skilled team at Milwaukee Fence Finders to step in! We don't just build new fences—we're also experts in repairing existing fences and gates, whether they're the welcoming barrier to your front walkway or the sturdy guard of your driveway.
So, why choose Shorewood Fence Finders for your fencing project? Well, we're your neighbors, just like you, with branches in Milwaukee, Waukesha, and Madison. We're incredibly proud of our smooth, hassle-free process that supports you from the first quote to the final installation. We're with you, every step of the way.
Our rock-solid reputation is built on three pillars: top-notch fences, fair pricing, and our steadfast dedication to your satisfaction. With over ten years of experience installing fences throughout Wisconsin, we're ready to tackle any fencing challenge you throw our way.
Want to know more? We're only a message away. Use the contact form below to reach out. If you prefer a face-to-face chat, set up a visit using our 'Book Now' feature. We'd be thrilled to pop over, take a look at your property, and provide a personalized quote.
Shorewood Residential & Commercial Gates
And let's not forget gates! The perfect partner for your fence, a well-crafted gate adds that final touch of class and security. We offer a variety of heights, materials, and styles to make sure your gate perfectly matches your Shorewood property. Let's join forces and make something truly special together!
Shorewood, WI Fence Installation Regulations
Planning to install or replace a fence in Shorewood, Wisconsin? Here are some guidelines to help you navigate the process.
General Requirements
Fences must be constructed with the finished side facing the adjacent property or street.
Fence posts should withstand wind pressure of at least 30 pounds per square foot.
Barbed wire and electrified fences are not allowed in Shorewood.
All fences must be erected within the lot dimensions.
Proper fence placement is the responsibility of the property owner.
Chain-linked fences are prohibited in commercial districts and front yards of residential districts.
Before erecting a fence, call the Digger's Hotline at 414.259.1181. Milwaukee Fence Finders does this for you if you're working with us on your fence project.
Fence Height and Placement Requirements
The regulations for fence height and placement are quite specific. They depend on where the fence will be placed in your yard:
| Location | Maximum Height |
| --- | --- |
| Front setback area (typically 25 feet from the front property line) | 4 feet |
| Corner lots within the front and street side yard setback | 4 feet |
| Not within the side yard setback area | 6 feet |
| Directly across from any garage in an alley, the width of which is 15 feet or less | Must be set back a minimum of 3 feet from the alley line |
Regulations for Fence Installation or Replacement
Any newly installed or replacement fencing extending 16 linear feet or more, or constructed to a height of more than four feet, requires a building permit. You can find applications at the Planning and Development Department at Village Hall or on Shorewood's website.
Building Permit Application Requirements
Submit a completed building permit application along with a current copy of the property survey.
The survey should indicate the exact location where the fence will be erected.
A current survey is one that is not more than 10 years old.
No fence should exceed a height of six feet.
No fence more than four feet in height may be erected between adjoining properties when the fence parallels an existing residence and the distance between the fence and the residence on either property is less than six feet.
Understanding Setbacks
Setbacks are zoning requirements that specify areas within a parcel that may not be built upon. They begin at a property line. Each zoning district has different setback requirements. The Planning and Development Department can verify your property's setback requirements.
Fence Requirements Diagram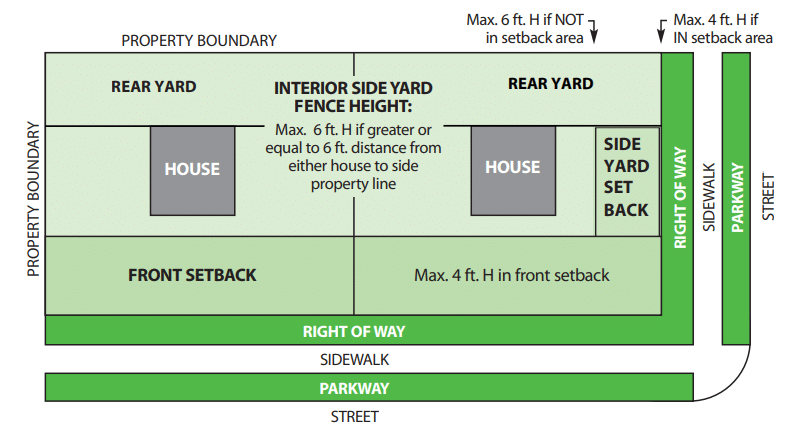 This diagram illustrates the setback and height requirements for fence installation in Shorewood, WI.
| Yard Area | Maximum Height |
| --- | --- |
| Front setback | 4 feet |
| Interior side yard, if the distance from either house to side property line is greater than or equal to 6 feet | 6 feet |
| Side yard, if not in setback area | 6 feet |
| Side yard, if in setback area | 4 feet |
We hope this guide simplifies the process of installing or replacing a fence in Shorewood, WI. If you have any further questions, please contact the Planning and Development Department.
If you would like to download a copy of the Shorewood, WI fence regulations, you can do so directly from the link below.
Steps to Apply for a Fence Building Permit in Shorewood, WI
Applying for a building permit in Shorewood, WI involves a simple process. Here's a step-by-step guide to help you navigate through it.
Understanding the Fence Permit Responsibility
While contractors often submit permit applications, the property owner is ultimately responsible for ensuring that all proper permits are obtained for any work done at the property. Homeowners are encouraged to ask their contractors for copies of approved permits. Starting work without a permit may result in triple permit fees for both the contractor and the property owner.
Permit Process
View the Permit Information Sheet to understand what work requires a permit.
Complete the building permit application. Be sure to include all necessary information.
Submit the permit application. This can be done via mail, hand delivery, or email. All permit fees are due at the time of submission. The typical review time for permits is 2-3 business days.
Wait for the permit to be approved. Do not begin any work until the permit has been approved.
Submitting the Permit
You can submit the permit application and fees in one of the following ways:
Method
Address
Mail or Hand Delivery
Village of Shorewood
Attn: Planning & Development Department
3930 N. Murray Ave.
Shorewood, WI 53211
Email
PAD@shorewoodwi.gov
Remember, building permits are an important part of ensuring that all work done on your property meets national, state, and local standards, and helps to maintain the value of your home. If you have any questions about the permit process, please contact the Planning and Development Department.
Disclaimer:
The information provided by Fence Finders LLC regarding building permits and regulations is for general informational purposes only. All information on the site is provided in good faith, however, we make no representation or warranty of any kind, express or implied, regarding the accuracy, adequacy, validity, reliability, availability, or completeness of any information on the site.
Disclaimer Cont.
While we strive to keep the information up to date and correct, we are not responsible or liable for any errors or omissions, or for the results obtained from the use of this information. Regulations and requirements may change, and the specific circumstances of your situation may affect the applicability of certain regulations.
We strongly recommend that you consult with your local municipality or a legal expert to understand the specific permit requirements for your fence installation project. Fence Finders LLC is not responsible for any decisions made based on the information provided on our site or in our communications.
By using our site or services, you agree to this disclaimer and our terms of service. If you do not agree, please do not use our site or services.