Expert Fence Installation Services in

Trenton, WI
Transforming Properties with Quality Fences
Welcome to Trenton, WI – a charming town known for its picturesque landscapes and close-knit community. Nestled near local landmarks like Riveredge Nature Center and Kettle Moraine State Forest, this thriving area is the perfect place to call home. At Milwaukee Fence Finders, we understand the importance of securing your property while enhancing its beauty. That's why we offer exceptional fence installation services tailored to meet your specific needs in Trenton, WI.
When it comes to fence installation services in Trenton, WI, Milwaukee Fence Finders stands out as the premier choice. With years of experience and a commitment to excellence, our team delivers superior craftsmanship that exceeds expectations every time. We take pride in offering:
Unparalleled Expertise: Our skilled professionals have extensive knowledge of various fencing materials and styles.

Exceptional Customer Service: We prioritize customer satisfaction by providing personalized attention throughout the entire process.

Quality Materials & Durability: We only use high-quality materials that are built to withstand Wisconsin's harsh weather conditions.

Lifetime Craftsmanship Warranty: Rest easy knowing that our work is backed by our lifetime craftsmanship warranty.
Check out what our
Trenton, WI

Customers are saying!
These guys are the real experts and have exceeded my expectations. Glad I went with them!
Heatherlee Muehlius
2023-07-10
Deb, Karen, Chad, Oscar and the installation team built a beautiful cedar fence for me. It was exactly what I wanted. I would recommend them to anyone!
I had a small job - to fix a chain link fence gate - and they treated me like I had an acre of fencing that needed to be put in. These people CARE about customer satisfaction and they do quality work - above what I was hoping for and below what I was paying for. I can't thank or recommend them enough for the quality work and personable service they provided - Highly recommend!
Milwaukee Fence Finders did an excellent job installing vinyl fence on my property. They were professional from the beginning to the end of the project. Arrived on time and completed the job on time. They also followed up after the project to ensure we were happy with the result.
Easy. Simple process. Really fast team. We had one small miscommunication where they zig'd instead of zag'd and put a post in the wrong spot. When I told them, they quickly fixed it and didn't ask any questions. Great experience.
Carrie Vande Zande
2023-06-28
We had a wonderful experience with Milwaukee Fence Finders. They were very quick to respond to any question or concerns. The installers called me during the install to clarify items and keep me posted on the progress and timeline. Our fence is beautiful and functions just as we hoped to keep our dogs from wandering and offering us privacy and a beautiful backdrop as well. I would definitely return to Milwaukee Fence with any needs in the future.
Fence looks great
Even though the schedulers were a little less communicative then we would have liked, the three gentleman that installed our fence were amazing! They worked hard with clay ground and rocks that were hidden, to put up an absolutely beautiful fence! They worked hard and were pleasant to talk to! Any questions we had they had the answers! We are so grateful for our beautiful fence!
Did a repair job of a chain link fence for me. Company was very responsive, price was competitive and they did a good job. There was one minor mistake they made, which when I brought it to their attention they were apologetic and promptly took care of it. Thank you for the good service.
See why
Trenton, WI

homeowners Choose us for their fence installation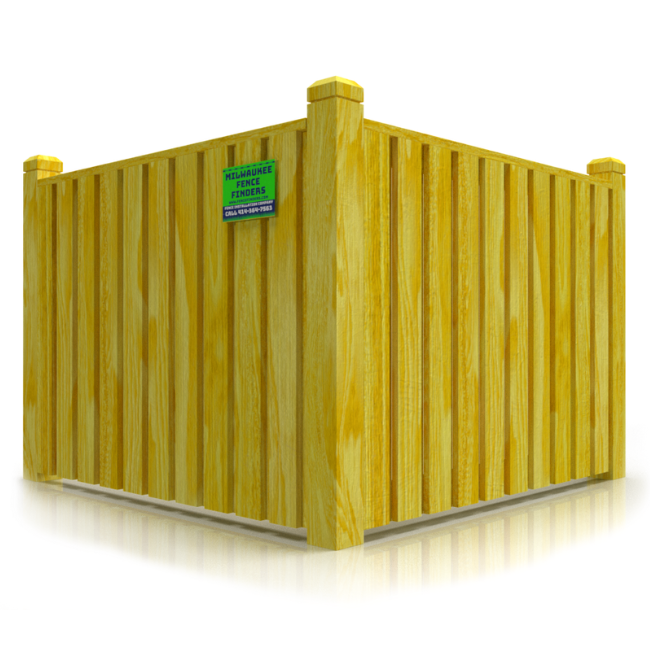 Enhance Security:
Protect what matters most with our secure fences designed to keep intruders out and loved ones safe. Our expert team carefully installs durable fences using premium materials that provide an added layer of security for your property.
Boost Curb Appeal:
Transform your property's appearance with our aesthetically pleasing fences. Whether you prefer classic wood, modern vinyl, or durable chain link, we offer a wide range of styles and finishes to complement any architectural style and enhance your curb appeal.
Increase Privacy:
Create a peaceful oasis in Trenton, WI with our privacy fences that shield your backyard from prying eyes. Enjoy outdoor activities without worrying about neighbors or passersby intruding on your personal space.
Reliable Fence Repair Services:
In addition to installation, Milwaukee Fence Finders offers prompt and reliable fence repair services in Trenton, WI. Our experienced technicians can fix damaged sections, replace broken parts, and ensure the longevity of your fence investment.

Frequently Asked Questions
Q: How much does fence installation cost in Trenton?
A: The cost of fence installation varies depending on factors such as the type of material used, the length of the fence line, and any additional features requested. Contact us for a free quote tailored to your specific needs.
Q: Are you licensed and insured?
A: Yes! We are fully licensed and insured to provide professional fencing services in Trenton, WI. Rest assured that our team adheres to industry standards while prioritizing safety throughout every project.
Q: Can you customize my fence design?
A: Absolutely! We understand that each property is unique. Our team will work closely with you to create a customized fence design that perfectly suits your preferences and complements your surroundings.
Q: How long does it take to install a new fence?
A: The duration of the installation process depends on various factors such as weather conditions and the complexity of the project. Our efficient team strives to complete installations promptly while ensuring top-quality results.
Q: Do you offer financing options for fence installations?
A: Yes! At Milwaukee Fence Finders, we offer flexible financing options designed to make quality fencing accessible to all. Contact us to learn more about our financing plans.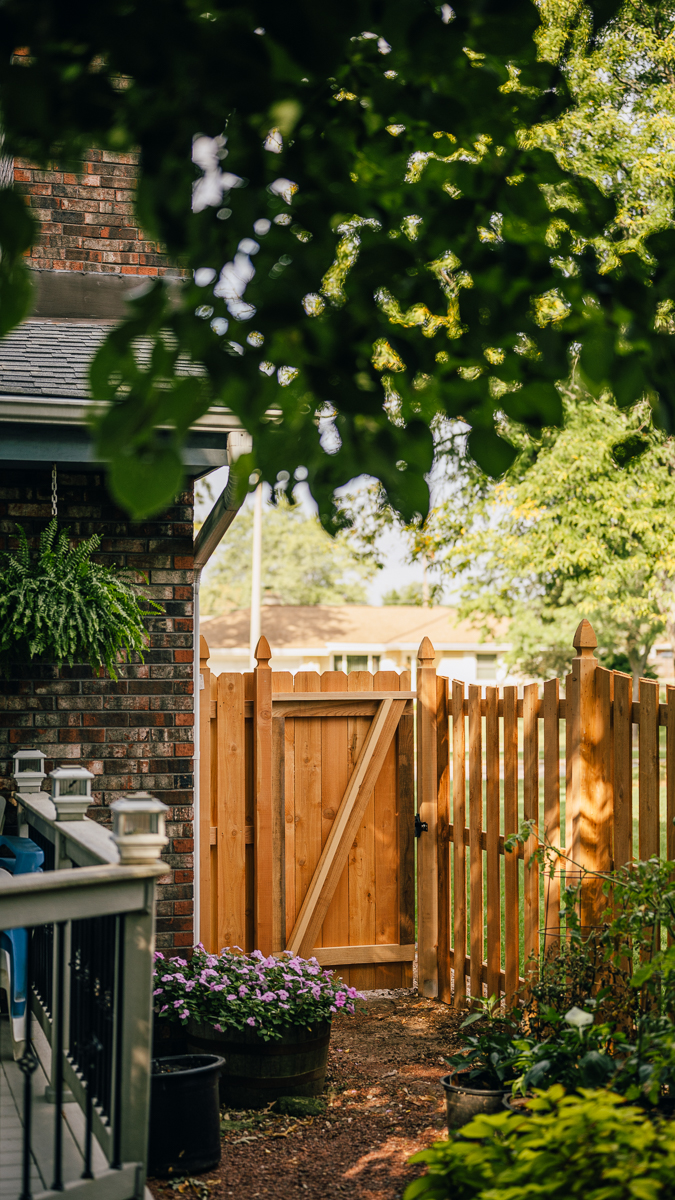 Discover the Most Popular Fences in Trenton, WI with Milwaukee Fence Finder
Trenton, Wisconsin, is a picturesque town known for its scenic landscapes and friendly community. When it comes to property enhancement and privacy, residents of Trenton have turned to various types of fences to accentuate their homes and gardens. Whether it's for aesthetic appeal, security, or defining property boundaries, the right fence can make a significant difference. Join us as we explore the most popular fences in Trenton, WI, with the help of Milwaukee Fence Finder.
Cedar Wood Fences:
Cedar wood fences are a beloved choice among Trenton residents due to their natural beauty and durability. These fences not only provide privacy but also add a touch of rustic charm to any property. The rich, warm tones of cedar wood complement the lush green surroundings of Trenton, making it a popular choice for homeowners looking to blend their fences seamlessly into nature.
Vinyl Fences:
Vinyl fences are gaining popularity in Trenton for their low maintenance and long-lasting properties. With the ability to mimic the appearance of wood or other materials, vinyl fences offer a versatile solution for those seeking a fence that requires minimal upkeep. Additionally, vinyl fences are resistant to rot, insects, and fading, making them ideal for the changing Wisconsin weather.
Wrought Iron Fences:
For an elegant and sophisticated look, wrought iron fences have become a preferred option among some homeowners in Trenton. These ornamental fences offer both security and aesthetic appeal, making them suitable for enhancing the curb appeal of any property. Wrought iron fences can be customized with intricate designs, giving homeowners the flexibility to express their individual style.
Chain Link Fences:
Chain link fences remain a practical and cost-effective choice for many Trenton residents. While they may not be the most visually appealing option, they offer excellent security and durability, making them ideal for enclosing large areas such as backyards or gardens. Additionally, chain link fences can be paired with climbing plants to add a touch of greenery and soften their appearance.
Aluminum Fences:
Aluminum fences are another popular choice in Trenton, known for their lightweight construction and resistance to rust and corrosion. These fences are available in various styles, including picket, privacy, and ornamental designs, allowing homeowners to choose the perfect option that aligns with their preferences.
Choosing the right fence for your property is a decision that should consider both functionality and aesthetics. Trenton, WI, offers a diverse range of popular fences to cater to the varied needs of its residents. Whether you seek the timeless charm of cedar wood, the low maintenance of vinyl, the elegance of wrought iron, the affordability of chain link, or the versatility of aluminum, Milwaukee Fence Finder can assist you in finding the perfect fence to complement your Trenton home. With a beautiful fence to encircle your property, you can enhance its appeal, ensure privacy, and add value to your slice of heaven in Trenton.
Understanding Fence Regulations and Permit Requirements in Trenton, WI
DOWNLOAD TRENTON WI FENCE PERMIT APPLICATION
Fences serve various purposes, from enhancing the aesthetics of a property to providing security and privacy. In Trenton, Wisconsin, like in many other towns, there are specific regulations and permit requirements in place to ensure that fences are constructed safely and in compliance with the local zoning codes. This article aims to provide an overview of the fence regulations in Trenton, including the different fence categories and the permit process.
Definition of Fences:
For the purpose of the regulations, a "fence" in Trenton is defined as a barrier made of vegetation, wood, stone, or metal that is intended to prevent entry or exit from a property. This definition also includes plantings such as hedges and shrubbery. It's essential to note that fences must not be constructed using unsightly or dangerous materials that could pose a nuisance or hazard. Additionally, snow fencing is not considered an acceptable material for fences within the town.
Categorization of Fences:
Trenton classifies fences into five categories:
Boundary Fence: These fences are placed on or within three feet of the property lines of adjacent properties.
Protective Fence: Constructed to enclose a hazard to the public health, safety, and welfare.
Architectural or Aesthetic Fence: Designed to enhance the appearance of the structure or the landscape.
Hedge: A row of closely planted bushes or small trees that may act as a barrier, enclosure, or boundary.
Picket Fence: Comprises pointed posts, stakes, pales, or pegs laced vertically with the sharp part pointing upward to form a part of the fence.
Fence Permit Requirements:
Before proceeding with fence construction in Trenton, a fence permit from the Town is required if the fence is proposed within 10 feet of a property line. To obtain the permit, the applicant must submit design information and a proposed site drawing at the time of filing. This process ensures that the proposed fence meets the necessary safety and zoning standards set by the town authorities.
Residential Fence Standards:
For residential properties, fences, hedges, and walls are allowed on the property lines in the side and rear yards of residential districts. However, they must not exceed a height of six feet and should be at least two feet away from any alley line. In the street yard, such fences, hedges, or walls are permitted, but their height must not exceed three feet, and they should be at least five feet away from a street right-of-way.
Security Fences and Prohibited Fences:
Security fences are allowed on property lines in all districts except residential zones, but they must not exceed a height of 10 feet and should be of an open type similar to woven wire or wrought iron fencing. However, certain types of fences are prohibited on residentially zoned property, such as those of dangerous construction, those designed to conduct electricity or electrically shock, and those incorporating barbed wire.
Maintaining Fences and Nonconforming Fences:
All fences in Trenton must be kept in good repair, and the finished or decorative side of the fence must face adjoining properties. Any fence or hedge existing before the effective date of the zoning code, which doesn't comply with the current regulations, can be maintained, but any alterations or improvements should adhere to the new guidelines. Agricultural fences are exempt from these regulations.
Temporary Fences:
Temporary fences erected for protection during planting, construction, or similar purposes must be visible and marked with warning devices at four-foot intervals. They are allowed without a permit but should not be in place for more than 45 days.
Trenton, WI, has established comprehensive fence regulations to maintain the safety, aesthetics, and harmony of the community. Whether you're planning to install a boundary fence, an architectural feature, or a protective enclosure, it's essential to familiarize yourself with the town's regulations and secure the necessary permits before proceeding. Adhering to these guidelines will not only help avoid potential fines and penalties but also ensure that your fence project contributes positively to the overall appeal of Trenton's neighborhoods.
Trenton Wisconsin Fence Height & Setback Restrictions
Setback from Street Right-of-Way
Note: The table includes the height restrictions for residential fences and security fences, along with the required setbacks from alley lines and street right-of-ways. Please remember that these regulations are subject to change or updates, and it's crucial to verify the most current information with the relevant local authorities before installing any fence in Trenton, WI.
Disclaimer:
The information provided by Fence Finders LLC regarding building permits and regulations is for general informational purposes only. All information on the site is provided in good faith, however, we make no representation or warranty of any kind, express or implied, regarding the accuracy, adequacy, validity, reliability, availability, or completeness of any information on the site.
Disclaimer Cont.
While we strive to keep the information up to date and correct, we are not responsible or liable for any errors or omissions, or for the results obtained from the use of this information. Regulations and requirements may change, and the specific circumstances of your situation may affect the applicability of certain regulations.
We strongly recommend that you consult with your local municipality or a legal expert to understand the specific permit requirements for your fence installation project. Fence Finders LLC is not responsible for any decisions made based on the information provided on our site or in our communications.
By using our site or services, you agree to this disclaimer and our terms of service. If you do not agree, please do not use our site or services.