Premier Fence Installation Services in

West Bend, WI
Your Trusted Fence Contractor Creating Lasting Boundaries
Welcome to the picturesque town of West Bend, WI, where community spirit and natural beauty come together to create an enchanting atmosphere. Nestled along the scenic Milwaukee River, West Bend is known for its charming downtown, historical landmarks like the Old Courthouse Museum, and a thriving arts scene. At Milwaukee Fence Finders, we're proud to offer our expert fence installation services to the residents of West Bend and its surrounding areas. Whether you're looking to enhance the security of your property, add privacy to your backyard oasis, or boost curb appeal, our team of skilled craftsmen is here to bring your fencing dreams to life.
Milwaukee Fence Finders stands as the premier fence contractor near West Bend, WI, for several compelling reasons. With years of experience and a dedication to excellence, our team delivers top-notch craftsmanship that exceeds expectations. We take pride in offering a diverse range of materials, ensuring that each customer finds the perfect fence to suit their style and needs. Our commitment to customer satisfaction shines through with our lifetime craftsmanship warranty, providing you with peace of mind for years to come. Experience the finest in fence installation services with Milwaukee Fence Finders, your trusted partner in creating lasting boundaries.
What are customers in
West Bend

saying about our fences?
These guys are the real experts and have exceeded my expectations. Glad I went with them!
Heatherlee Muehlius
2023-07-10
Deb, Karen, Chad, Oscar and the installation team built a beautiful cedar fence for me. It was exactly what I wanted. I would recommend them to anyone!
I had a small job - to fix a chain link fence gate - and they treated me like I had an acre of fencing that needed to be put in. These people CARE about customer satisfaction and they do quality work - above what I was hoping for and below what I was paying for. I can't thank or recommend them enough for the quality work and personable service they provided - Highly recommend!
Milwaukee Fence Finders did an excellent job installing vinyl fence on my property. They were professional from the beginning to the end of the project. Arrived on time and completed the job on time. They also followed up after the project to ensure we were happy with the result.
Easy. Simple process. Really fast team. We had one small miscommunication where they zig'd instead of zag'd and put a post in the wrong spot. When I told them, they quickly fixed it and didn't ask any questions. Great experience.
Carrie Vande Zande
2023-06-28
We had a wonderful experience with Milwaukee Fence Finders. They were very quick to respond to any question or concerns. The installers called me during the install to clarify items and keep me posted on the progress and timeline. Our fence is beautiful and functions just as we hoped to keep our dogs from wandering and offering us privacy and a beautiful backdrop as well. I would definitely return to Milwaukee Fence with any needs in the future.
Fence looks great
Even though the schedulers were a little less communicative then we would have liked, the three gentleman that installed our fence were amazing! They worked hard with clay ground and rocks that were hidden, to put up an absolutely beautiful fence! They worked hard and were pleasant to talk to! Any questions we had they had the answers! We are so grateful for our beautiful fence!
Did a repair job of a chain link fence for me. Company was very responsive, price was competitive and they did a good job. There was one minor mistake they made, which when I brought it to their attention they were apologetic and promptly took care of it. Thank you for the good service.
Why Fence Finders is The Best Fence Company in

West Bend, WI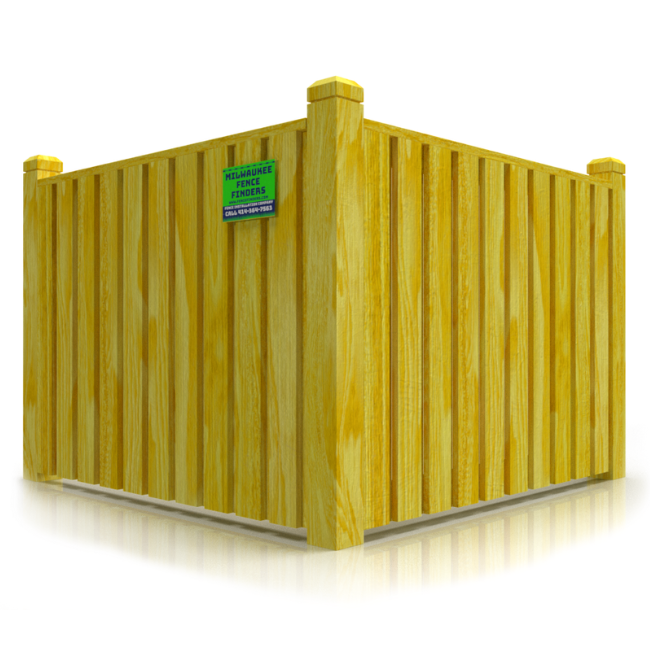 Unparalleled Security
Protecting What Matters Most
Safety and security are paramount, and our fences provide unparalleled protection for your property and loved ones. With sturdy materials and expert installation, our fences act as a strong deterrent to trespassers, keeping your home and belongings safe. From privacy fences that shield your backyard retreat to robust perimeter fencing, our options are designed to meet your unique security needs. Gain confidence in the safety of your property with Milwaukee Fence Finders by your side.
Aesthetic Elegance
Elevate Your Property's Curb Appeal 
Make a striking first impression with the artistic elegance of our fences. Whether you prefer the classic charm of a picket fence, the modern allure of vinyl fencing, or the rustic appeal of wooden fences, our designs complement any architectural style. Enhance the beauty of your property and add curb appeal with a fence tailored to your taste. With Milwaukee Fence Finders, your property becomes a showcase of refined aesthetics.
Enduring Durability
Fences Built to Last
Our commitment to quality extends to using the finest materials, ensuring that your fence stands strong against the test of time and the elements. Experience enduring durability with our expert installation techniques and superior materials, ensuring that your investment remains intact for years to come. Count on Milwaukee Fence Finders for fences that withstand the passage of time while retaining their beauty and functionality.
personalized solutions
Custom Fencing for Your Needs
At Milwaukee Fence Finders, we believe in catering to your unique requirements. Our team works closely with you to understand your preferences and needs, creating personalized fencing solutions that exceed expectations. Whether you desire privacy, security, or a blend of both, we have the perfect fence style and design to meet your specifications. Experience the joy of owning a tailor-made fence that complements your lifestyle and adds value to your property.

What are the popular fence materials in West Bend, WI?
West Bend residents favor a variety of fence materials, with vinyl, wood, and ornamental iron being the top choices. Vinyl fences are cherished for their low maintenance and versatile design options, while the timeless appeal of wooden fences continues to charm homeowners. Ornamental iron fences add an elegant touch, combining aesthetics with durability to create lasting impressions.
What is the average cost of fence installation in West Bend?
The cost of fence installation in West Bend can vary depending on factors such as fence type, material, and property size. On average, residents can expect to invest between $2,500 to $6,000 for a new fence, including materials and labor. For a precise estimate tailored to your needs, reach out to our team for a free quote.
Does Milwaukee Fence Finders offer fence repair services in West Bend?
Absolutely! Milwaukee Fence Finders not only specializes in fence installation but also provides top-notch fence repair services in West Bend and surrounding areas. Whether your fence needs minor repairs or substantial restoration, our skilled team can breathe new life into your existing fence, saving you time and money.
How long does it take to install a fence in West Bend?
The timeline for fence installation in West Bend depends on various factors, including the fence type, size, and weather conditions. On average, our efficient team at Milwaukee Fence Finders can complete a standard residential fence installation within a few days. Rest assured, we prioritize timely project completion without compromising on craftsmanship.
Can I install a fence on a corner lot in West Bend?
Yes, you can install a fence on a corner lot in West Bend, WI. However, there are specific regulations to consider. The height of the fence in the side yard facing the street is often restricted to ensure visibility for drivers. We recommend checking the local zoning ordinances or consulting our expert team at Milwaukee Fence Finders for guidance.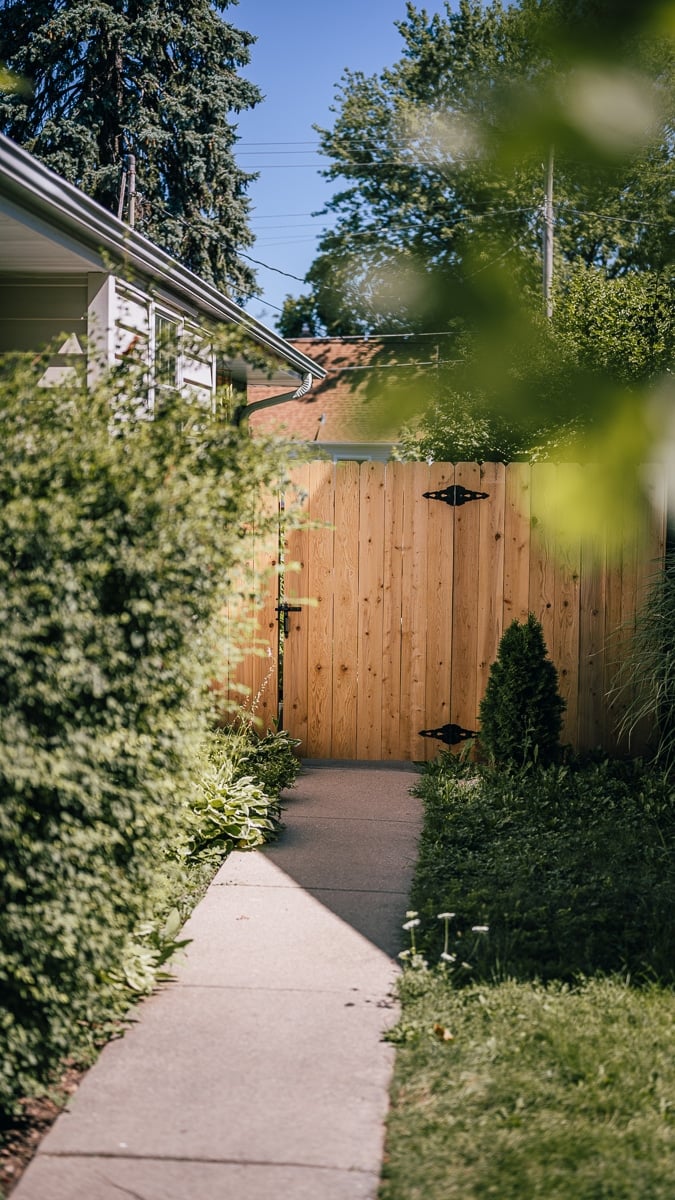 A World of Fencing Possibilities in West Bend
Discover the Perfect Fence for Your Lifestyle
When it comes to fence installation in West Bend, the possibilities are endless. At Milwaukee Fence Finders, we offer an array of materials to suit your preferences, from classic wood fences that evoke warmth and charm to low-maintenance vinyl fences with an impressive range of colors and textures. If you seek the elegance of wrought iron or the contemporary appeal of aluminum, our ornamental fences will exceed your expectations. Explore our diverse selection and find the ideal fence to elevate your property's aesthetics and functionality.
Popular Fence Styles in West Bend
Timeless Designs that Stand the Test of Time
In West Bend, certain fence styles have captured the hearts of homeowners, standing as enduring favorites. The classic charm of picket fences remains beloved, adding a touch of nostalgia to any property. Privacy fences, a sought-after choice, create intimate backyard retreats shielded from prying eyes. For those who desire a balance of security and visibility, semi-private fences strike the perfect harmony. Additionally, the sleek lines and modern allure of contemporary fences continue to captivate residents seeking a distinctive look. At Milwaukee Fence Finders, we bring these popular styles to life, customizing each fence to reflect your unique taste.
Expert Fence Repair and Replacement Services
Restoring Beauty and Functionality
Even the sturdiest fences may require attention and care over time. At Milwaukee Fence Finders, we take pride in offering comprehensive fence repair and replacement services to preserve the integrity and beauty of your investment. Our skilled technicians can address issues such as rotting wood, loose panels, damaged hardware, and more. When repair is no longer viable, our team excels in providing seamless fence replacements, ensuring your property retains its appeal and security. Trust in our expertise to keep your fence looking pristine and standing strong.
A Gate for Every Entrance
Access with Elegance and Security
The entrance to your property deserves an inviting and secure gate, and at Milwaukee Fence Finders, we have the perfect options for you. Whether you seek a grand entrance with ornate wrought iron gates or a modern touch with automated sliding gates, our selection caters to all preferences. Enhance your property's functionality with practical and aesthetically pleasing gates that make a lasting impression. Let our team guide you in selecting the ideal gate to complement your fence and elevate your property's overall appeal.
Fence Regulation Guide for West Bend, WI Homeowners
Quick Access Links:
DOWNLOAD WEST BEND WI FENCE PERMIT APPLICATION FORM
DOWNLOAD WEST BEND WI FENCE INSTALLATION REGULATIONS AND RESTRICTIONS
Residential Fence Summary: City of West Bend
Note: Private covenants may apply. Check your covenants, with your developer, or the Washington County Register of Deeds Office.
Zoning Permit Requirement Before starting any fence construction or installation, you must obtain a zoning permit from the Division of Building Inspection. To authorize the permit, submit the following:
Completed "Residential Fence Permit Application"
Two copies of a plat of survey
A sketch or photo of the fence
Lot Line Identification It is your responsibility to locate the actual lot corner survey markers to identify the lot lines accurately. After completing the fence installation, contact the Division of Building Inspection at 262-335-5140 for a final inspection. Install strings along the property lines between corners in preparation for the final fence inspection.
Setback Requirements
Fences must be at least six inches from all lot lines.
Maintain a minimum distance of 4 feet from any alley.
Encroachments on required setbacks are permitted at fence corners when adjacent property owners agree in writing.
Height Requirements
Fences in SIDE & REAR yards must not exceed 6 feet in height.
Fences in STREET yards must not exceed 4 feet in height.
Vision clearance triangle fences on corner lots should not exceed 3 feet in height, measured from existing grade.
Fences adjacent to alleys are considered part of the SIDE or REAR yard and must not exceed 6 feet in height.
Access Requirements
Street yard fences must include an access gate that is at least three feet wide for every 80 feet of continuous fencing, unless approved otherwise by the Zoning Administrator.
Prohibited Fences
Barbed wire, electrical, chicken wire, razor wire, spiked, sharp picket, single and multiple strand, and other materials deemed by the Zoning Administrator as a nuisance, hazard, or aesthetic blight are not allowed.
Chain link type fences are prohibited in street yards.
Vision Triangles (Vision Clearance Triangle at Intersections & Driveways)
Vision clearance triangles are areas bounded by two intersecting streets, railroad, or alley right-of-way lines, with a line joining points located 25 feet from the point of intersection (or 35 feet for arterial streets).
Obstructions, including structures, signage, parking, or vegetation, are not allowed between heights of 3 feet and 12 feet within vision clearance triangles.
See Diagrams Below for Visions Triangle Information
West Bend Wisconsin Fence Height Restrictions
Disclaimer Cont.
While we strive to keep the information up to date and correct, we are not responsible or liable for any errors or omissions, or for the results obtained from the use of this information. Regulations and requirements may change, and the specific circumstances of your situation may affect the applicability of certain regulations.
We strongly recommend that you consult with your local municipality or a legal expert to understand the specific permit requirements for your fence installation project. Fence Finders LLC is not responsible for any decisions made based on the information provided on our site or in our communications.
By using our site or services, you agree to this disclaimer and our terms of service. If you do not agree, please do not use our site or services.